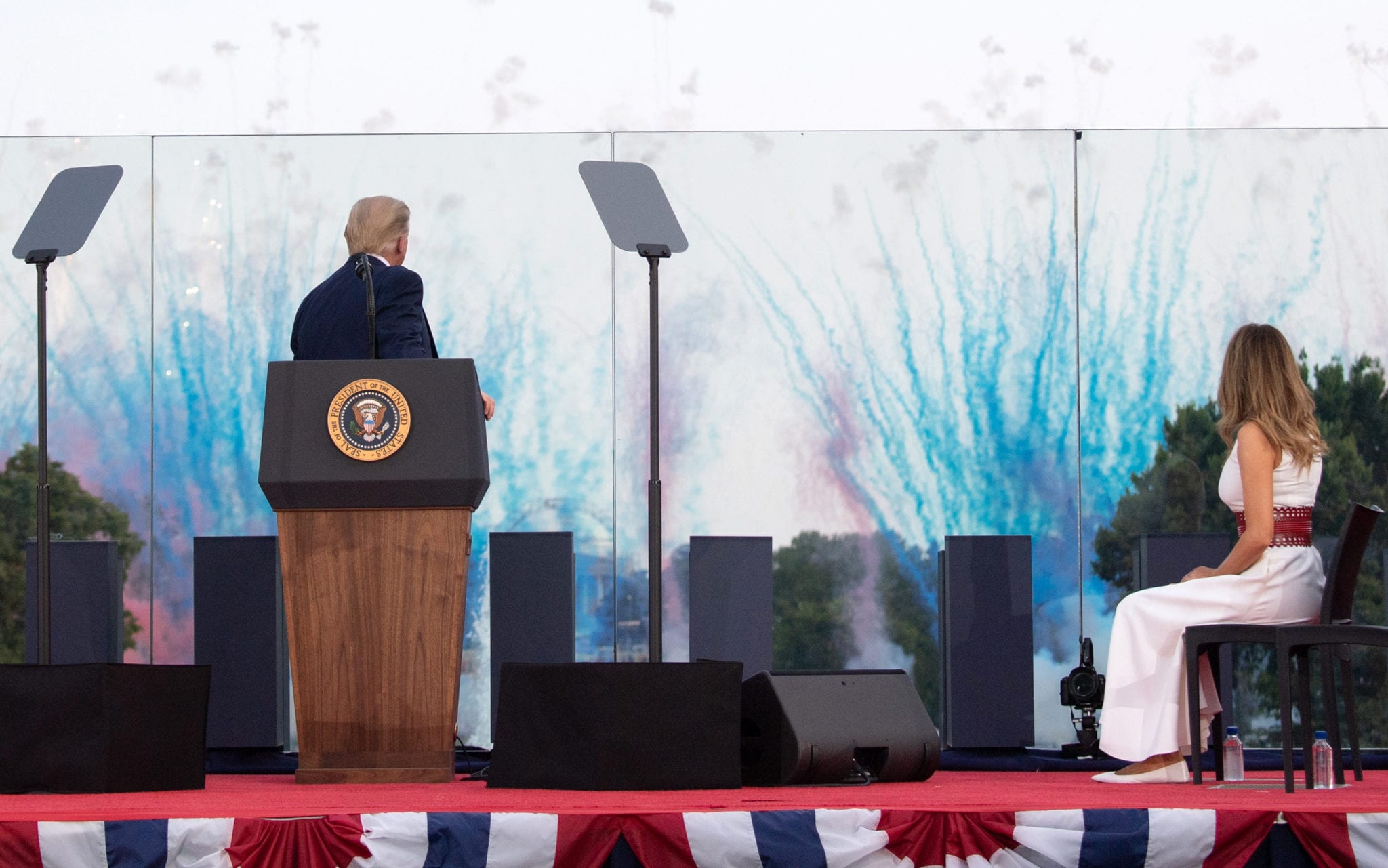 Donald and Melania Trump watch the smoke of fireworks from the South Lawn of the White House on July 4, 2020 (via Getty)
Which drug de­vel­op­ers of­fer Trump a quick, game-chang­ing 'so­lu­tion' as the pan­dem­ic roars back? Eli Lil­ly and Ab­Cellera look to break out of the pack
We are unleashing our nation's scientific brilliance and will likely have a therapeutic and/or vaccine solution long before the end of the year.

— Donald Trump, July 4
Next week administration officials plan to promote a new study they say shows promising results on therapeutics, the officials said. They wouldn't describe the study in any further detail because, they said, its disclosure would be "market-moving."

— NBC News, July 3
Something's cooking. And it's not just July 4 leftovers involving stale buns and uneaten hot dogs.
Over the long weekend observers picked up signs that the focus in the Trump administration may swiftly shift from the bright spotlight on vaccines being promised this fall, around the time of the election, to include drugs that could possibly keep patients out of the hospital and take the political sting out of the soaring Covid-19 numbers causing embarrassment in states that swiftly reopened — as Trump cheered along.
So far, Gilead has been the chief beneficiary of the drive on drugs, swiftly offering enough early data to get remdesivir an emergency authorization and into the hands of the US government. But their drug, while helpful in cutting stays, is known for a limited, modest effect. And that won't tamp down on the hurricane of criticism that's been tearing at the White House, and buffeting the president's most stalwart core defenders as the economy suffers.
We've had positive early-stage vaccine data, most recently from Pfizer and BioNTech, playing catchup on an mRNA race led by Moderna — where every little sign of potential trouble is magnified into a lethal threat, just as every advance excites a frenzy of support. But that race still has months to play out, with more Phase I data due ahead of the mid-stage numbers looming ahead. A vaccine may not be available in large enough quantities until well into 2021, which is still wildly ambitious.
So what about a drug solution?
Trump's initial support for a panacea focused on hydroxychloroquine. But that fizzled in the face of data underscoring its ineffectiveness — killing trials that aren't likely to be restarted because of a recent population-based study offering some support. And there are a number of existing drugs being repurposed to see how they help hospitalized patients.
Premium subscription required
Unlock this article along with other benefits by subscribing to one of our paid plans.