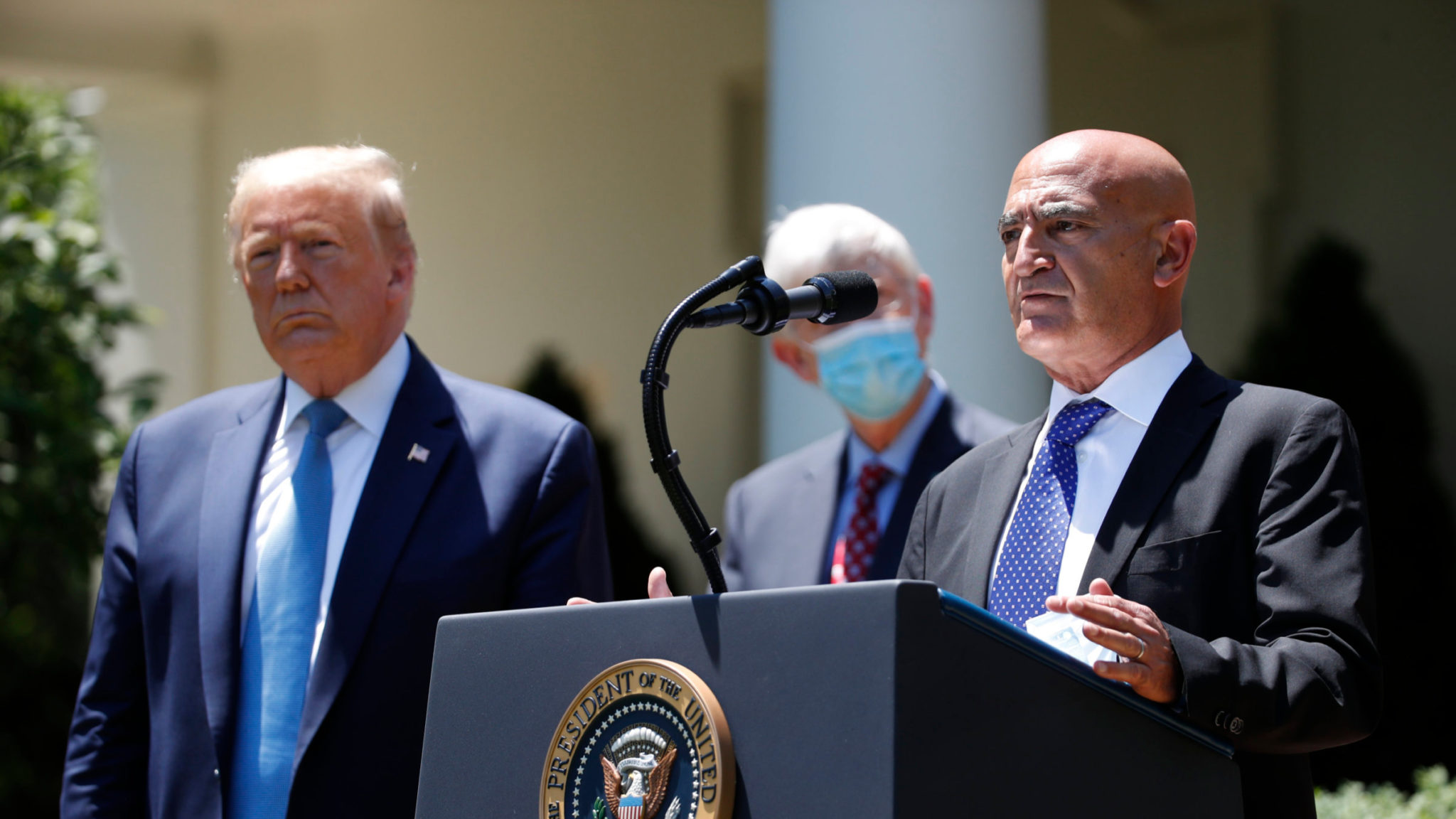 President Donald Trump (left) and Moncef Slaoui, head of Operation Warp Speed (Alex Brandon, AP Images)
White House names fi­nal­ists for Op­er­a­tion Warp Speed — with 5 ex­pect­ed names and one no­table omis­sion
A month af­ter word first broke of the Trump Ad­min­is­tra­tion's plan to rapid­ly ac­cel­er­ate the de­vel­op­ment and pro­duc­tion of a Covid-19 vac­cine, the White House has se­lect­ed the five vac­cine can­di­dates they con­sid­er most like­ly to suc­ceed, The New York Times re­port­ed.
Most of the names in the plan, known as Op­er­a­tion Warp Speed, will come as lit­tle sur­prise to those who have watched the last four months of vac­cine de­vel­op­ments: Mod­er­na, which was the first vac­cine to reach hu­mans and is now the fur­thest along of any US ef­fort; J&J, which has not gone in­to tri­als but re­ceived around $500 mil­lion in fund­ing from BAR­DA ear­li­er this year; the joint As­traZeneca-Ox­ford ven­ture which was grant­ed $1.2 bil­lion from BAR­DA two weeks ago; Pfiz­er, which has been work­ing with the mR­NA biotech BioN­Tech; and Mer­ck, which just en­tered the race and ex­pects to put their two vac­cine can­di­dates in­to hu­mans lat­er this year.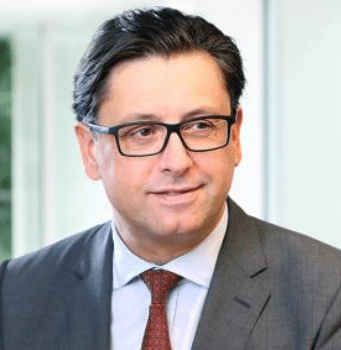 Paul Hud­son
No­tably ab­sent from that list is Sanofi. The French vac­cine gi­ant has worked with BAR­DA since the agency's ear­ly days and re­ceived $30 mil­lion in fund­ing ear­li­er this year for its re­com­bi­nant DNA Covid-19 vac­cine ef­fort. The omis­sion comes af­ter CEO Paul Hud­son caused an in­ter­con­ti­nen­tal stir last month when he said that the US would get the "right to the largest pre-or­der" of their vac­cine be­cause the fed­er­al gov­ern­ment had backed the project at-risk, al­though the com­pa­ny lat­er walked back some of those com­ments.
A cou­ple oth­er much-hyped vac­cine ef­forts were left out, in­clud­ing those from No­vaVax and In­ovio. In­vestors, who had sent their stocks cloud-bound dur­ing the pan­dem­ic, quick­ly took note of their ex­clu­sion, sink­ing shares 12% and 11%, re­spec­tive­ly.
It's pos­si­ble, though, that oth­er names may arise. Bloomberg re­port­ed late yes­ter­day that the White House had se­lect­ed 7 dif­fer­ent can­di­dates, al­though they were able to give on­ly the names of the five that the Times re­port­ed.
A for­mal an­nounce­ment is ex­pect­ed to be made lat­er this month, the New York Times re­port­ed. A spokesper­son for HHS, which over­sees the vast bulk of the gov­ern­ment's vac­cine and drug re­sponse, de­clined to com­ment.
The new win­now­ing ap­pears to be part of the third phase of the project, which was for­mal­ly an­nounced in a press re­lease on May 15. HHS said at the time that 14 dif­fer­ent vac­cine can­di­dates had been se­lect­ed out of the 100-plus in de­vel­op­ment but, with the ex­cep­tion of bil­lion­aire physi­cian Patrick Soon-Sh­iong, none of the mak­ers of those can­di­dates said whether they were part of the project and nei­ther did the gov­ern­ment.
Ac­cord­ing to HHS, those 14 can­di­dates would then be cut down to 8 dif­fer­ent can­di­dates and, fi­nal­ly, to 3-5 can­di­dates that will pro­ceed to "large-scale ran­dom­ized tri­als." These can­di­dates are al­so those that, in part­ner­ship with the gov­ern­ment, will go in­to large-scale man­u­fac­tur­ing be­fore they've been ful­ly test­ed or au­tho­rized — a cru­cial step for as­sur­ing that when a vac­cine is proven, it can al­so be rapid­ly de­ployed.
The com­pa­nies will al­so like­ly get ad­di­tion­al fund­ing, the New York Times re­port­ed, on top of the rough­ly $2.2 bil­lion al­ready al­lo­cat­ed be­tween Mod­er­na, J&J, and As­traZeneca. BAR­DA re­ceived $6.5 bil­lion un­der the CARES Act, al­though that fund is not ex­clu­sive­ly for vac­cines.
The ad­min­is­tra­tion has not pub­licly set goal­posts for the op­er­a­tion, but in late April Bloomberg quot­ed an of­fi­cial at 300 mil­lion dos­es by Jan­u­ary and most state­ments have giv­en a sim­i­lar range. NI­AID chief An­tho­ny Fau­ci said on Tues­day "by the be­gin­ning of 2021 we hope to have a cou­ple of hun­dred mil­lion dos­es."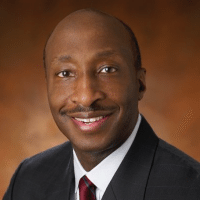 Ken Fra­zier Mer­ck
That time­line would be or­ders of mag­ni­tude faster than the or­di­nary pace of vac­cine de­vel­op­ment, which can of­ten take at least a decade, and some vi­rol­o­gist and vac­cine de­vel­op­ers have ques­tioned how at­tain­able it is. That group in­cludes Mer­ck CEO Ken Fra­zier, who told FT that a 12-18 month time­line for a vac­cine was "very ag­gres­sive" and "not some­thing I would put out there that I would want to hold Mer­ck to."
Much of the work to reach that goal is al­ready un­der­way. As­traZeneca's agree­ment with BAR­DA called for the com­pa­ny to pro­vide 300 mil­lion dos­es to the US, start­ing in Oc­to­ber, and Mod­er­na signed an agree­ment with Swiss CMO Lon­za to pro­duce a bil­lion dos­es per year, with the first batch­es com­ing in Ju­ly.
The se­lect­ed can­di­dates cov­er at least three dif­fer­ent tech­nolo­gies, in­clud­ing mR­NA from Mod­er­na and BioN­Tech and ade­n­ovi­ral vec­tors from J&J and As­traZeneca. Mer­ck has two can­di­dates, one that us­es a vec­tor called VSV and an­oth­er that us­es a measles virus vec­tor. It was not clear which can­di­date was se­lect­ed by the gov­ern­ment, al­though the VSV one has al­ready been backed by $38 mil­lion from BAR­DA and the agency put sev­er­al hun­dred mil­lion dol­lars be­hind an Ebo­la vac­cine from Mer­ck that used the same plat­form.
The fur­thest along of the ef­forts are As­traZeneca and Mod­er­na, both of which are now in Phase II. Fau­ci said in an in­ter­view with JA­MA on Tues­day that Mod­er­na could move in­to a glob­al, 30,000-per­son Phase III tri­al next month.
For a look at all End­points News coro­n­avirus sto­ries, check out our spe­cial news chan­nel.