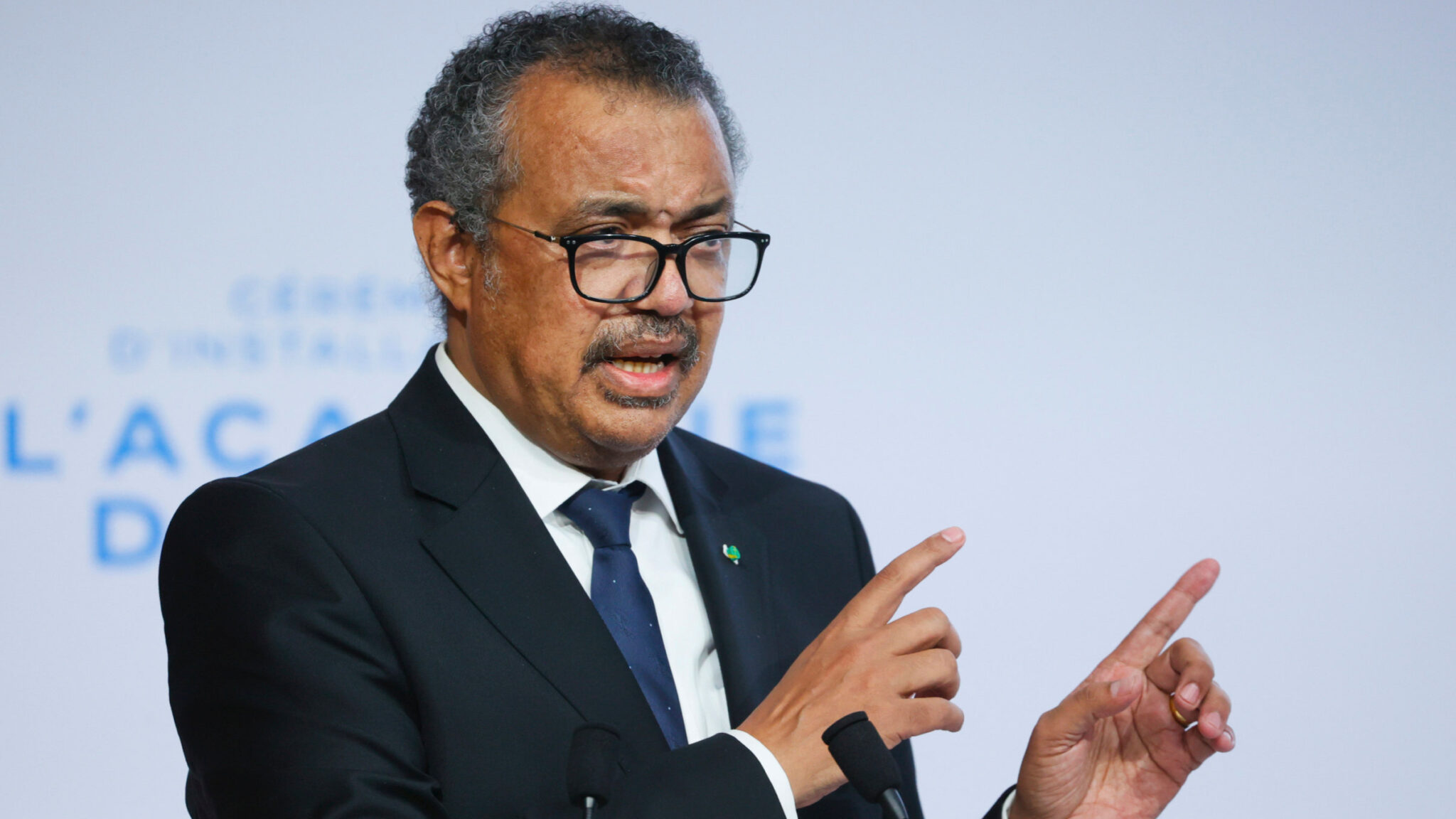 Tedros Adhanom Ghebreyesus (Denis Balibouse/Pool Photo via AP Images)
WHO rec­om­mends against the use of con­va­les­cent plas­ma for Covid-19
The World Health Or­ga­ni­za­tion said late to­day that it's not rec­om­mend­ing the use of con­va­les­cent plas­ma as a treat­ment for Covid-19 for mild or se­vere cas­es, but some US ex­perts dis­agree with the rec­om­men­da­tions and say there are pa­tients who can ben­e­fit from the plas­ma of those who've re­cov­ered from Covid-19.
The rec­om­men­da­tion is in­formed by a re­view of 16 RCTs and a "meta-analy­sis on an­ti­bod­ies and cel­lu­lar ther­a­pies for covid-19," the WHO said, adding in a state­ment:
De­spite its ini­tial promise, cur­rent ev­i­dence shows that it [con­va­les­cent plas­ma] does not im­prove sur­vival nor re­duce the need for me­chan­i­cal ven­ti­la­tion, and it is cost­ly and time-con­sum­ing to ad­min­is­ter. As such, the WHO makes a strong rec­om­men­da­tion against the use of con­va­les­cent plas­ma in pa­tients with non-se­vere ill­ness, and a rec­om­men­da­tion against its use in pa­tients with se­vere and crit­i­cal ill­ness, ex­cept in the con­text of a ran­domised con­trolled tri­al (RCT).
The WHO wrote in the BMJ that, "Most im­por­tant­ly, giv­en there was no ben­e­fit demon­strat­ed in any of the crit­i­cal or im­por­tant out­comes for non-se­vere covid-19, the GDG [Guide­line De­vel­op­ment Group] did not see any jus­ti­fi­ca­tion for the re­sources (in­clud­ing time and cost) that would be as­so­ci­at­ed with ad­min­is­tra­tion of con­va­les­cent plas­ma."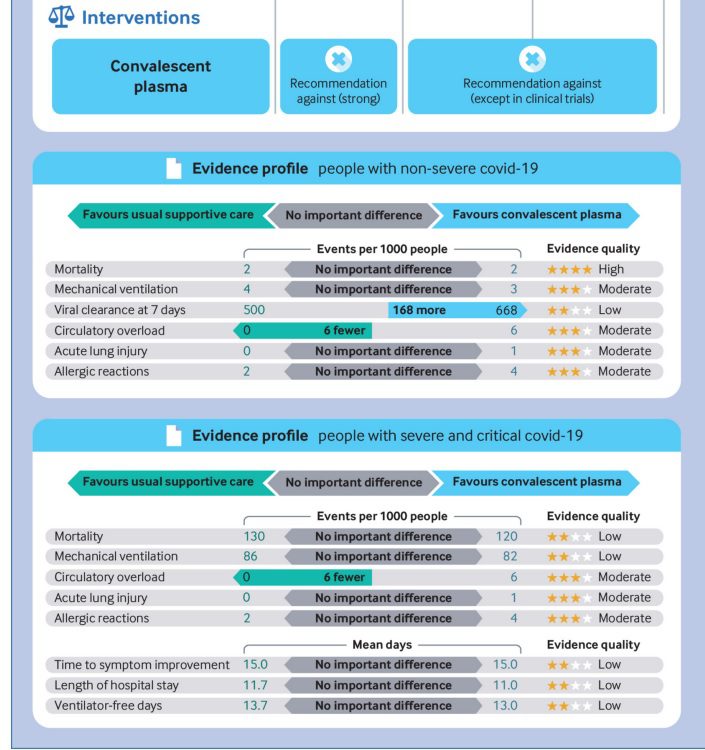 The an­nounce­ment builds on re­cent­ly pub­lished da­ta show­ing that while con­va­les­cent plas­ma has proven to be gen­er­al­ly safe, it al­so failed to show signs of ef­fi­ca­cy in some large RCTs of out­pa­tients, in­clud­ing on mor­tal­i­ty in a UK tri­al of those hos­pi­tal­ized with Covid, pub­lished in The Lancet in May, and an­oth­er for out­pa­tients in Au­gust in the New Eng­land Jour­nal of Med­i­cine.
In the re­sults pub­lished in the NE­JM, the NIH-fund­ed tri­al en­rolled more than 500 pa­tients, ran­dom­ized to re­ceive ei­ther plas­ma or place­bo with­in one week af­ter the on­set of symp­toms. Covid-19 pro­gres­sion oc­curred in 77 pa­tients (30%) in the con­va­les­cent plas­ma group and in 81 pa­tients (31.9%) in the place­bo group. Five pa­tients in the plas­ma group and one pa­tient in the place­bo group died, and the tri­al was stopped ear­ly in Feb­ru­ary due to lack of ef­fi­ca­cy.
But ex­perts still think there may be times when con­va­les­cent plas­ma could help peo­ple with Covid-19, ei­ther when it's de­tect­ed ear­ly enough and high enough titers can be used (as CBER di­rec­tor Pe­ter Marks has said) or for those whose im­mune sys­tems may be de­fi­cient in some way.
"Based on avail­able da­ta I do not agree with this con­clu­sion" from the WHO, Shmuel Shoham, as­so­ciate pro­fes­sor of med­i­cine at Johns Hop­kins Uni­ver­si­ty, told End­points News. "When used at the right time and with high enough titers, COVID-19 Con­va­les­cent Plas­ma (CCP) is ef­fec­tive and gen­er­al­ly safe. The wide­spread avail­abil­i­ty of CCP makes it an op­tion in places where mon­o­clon­al an­ti­bod­ies are not read­i­ly avail­able. There is ad­di­tion­al da­ta that will soon be avail­able from the Johns Hop­kins out­pa­tient stud­ies."
The FDA still main­tains an EUA for con­va­les­cent plas­ma, which was nar­rowed last Feb­ru­ary to on­ly high titer units and for hos­pi­tal­ized pa­tients who are in the ear­ly stages of the dis­ease. It re­mains to be seen if the WHO's new rec­om­men­da­tion will change the EUA.
An FDA spokesper­son told End­points that it's aware of but not com­ment­ing on the WHO's an­nounce­ment, and the FDA EUA for con­va­les­cent plas­ma re­mains in ef­fect at this time. The EUA was reis­sued on March 9, 2021 and amend­ed in June. The FDA does not col­lect da­ta on how many peo­ple have been treat­ed with con­va­les­cent plas­ma un­der the EUA, and about 70,000 peo­ple ac­cessed con­va­les­cent plas­ma un­der an ex­pand­ed ac­cess pro­gram at the Mayo Clin­ic that the FDA helped to es­tab­lish.
Jeff Hen­der­son, as­so­ciate pro­fes­sor of med­i­cine at Wash­ing­ton Uni­ver­si­ty School of Med­i­cine in St. Louis, told End­points, "Much has been learned about COVID-19 patho­gen­e­sis in the past year and a half. Rel­e­vant to ther­a­peu­tics, we have learned that SARS-CoV-2 patho­gen­e­sis pro­ceeds through an ear­ly phase of vi­ral repli­ca­tion to a lat­er phase of in­flam­ma­tion-as­so­ci­at­ed tis­sue dam­age. Stud­ies that take this in­to ac­count have de­tect­ed ef­fi­ca­cy sig­nals when high titer COVID-19 con­va­les­cent plas­ma is ad­min­is­tered ear­ly in dis­ease to pa­tients with mild to mod­er­ate COVID-19."