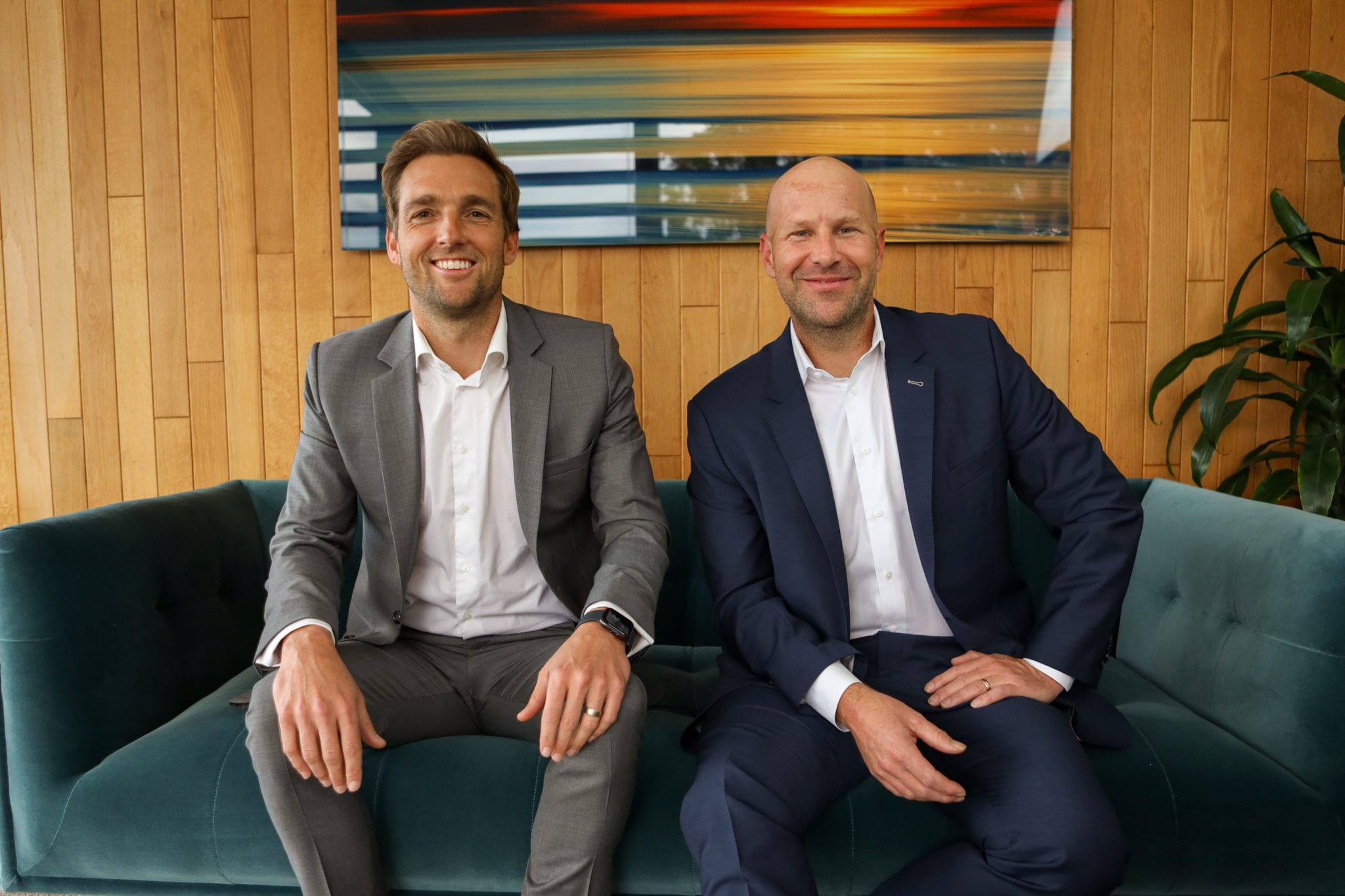 Tyra co-founders Todd Harris (L) and Daniel Bensen
Why do some tar­get­ed can­cer ther­a­pies stop work­ing? For Tyra, that's the $106M ques­tion
Tar­get­ed can­cer ther­a­pies can be quite ef­fec­tive. Un­til, for some pa­tients, the can­cer mu­tates, and the treat­ment stops work­ing.
"It's not un­like re­sis­tance in an­tibi­otics," said Todd Har­ris, an MIT grad and for­mer NIH fel­low. "The can­cer is mu­tat­ing a lot. It's un­der a lot of pres­sure."
Of­ten­times, that mu­ta­tion can be as sim­ple as a sin­gle amino acid shift­ing, es­sen­tial­ly block­ing the bind­ing site of a drug. And when that hap­pens, Har­ris said, you need new chem­istry that binds to the pro­tein dif­fer­ent­ly, avoid­ing the mu­tat­ed site.
That's what Har­ris launched Tyra Bio­sciences to do — and on Wednes­day, the two-year-old biotech un­veiled a $106 mil­lion Se­ries B round for its push to­ward the clin­ic.
"Our goal is to de­sign drugs that are re­al­ly ef­fec­tive against the pro­tein and are still ef­fec­tive when that mu­ta­tion oc­curs," said Har­ris, the com­pa­ny's co-founder and CEO.
To do so, Tyra — named af­ter Tyr, the Norse god of war — us­es its x-ray crys­tal­log­ra­phy plat­form dubbed SNAP. The tech­nique isn't new, Har­ris said. It in­volves shoot­ing x-ray beams to dis­cov­er the three-di­men­sion­al struc­ture of a par­tic­u­lar pro­tein. What dif­fer­en­ti­ates Tyra, though, is an in-house team that col­lects the so-called SNAP­shots two to five times a week — giv­ing the team an atom-by-atom look at how a drug is bind­ing to a spe­cif­ic pro­tein.
"We can lit­er­al­ly look at the types of in­ter­ac­tions that are mak­ing one mol­e­cule work bet­ter than an­oth­er, and then con­tin­ue to op­ti­mize and re­fine the de­signs of new mol­e­cules to ex­ploit, you know, a find­ing or a sur­prise that we get when we look at how this is ex­act­ly bind­ing to the pro­tein," Har­ris said.
Har­ris has yet to re­lease which tar­gets the team is go­ing af­ter, but said they plan on nom­i­nat­ing a can­di­date this year which they hope to en­ter in­to the clin­ic next year. He plans on us­ing the Se­ries B funds to ad­vance the lead pro­gram and "sev­er­al fol­low-on pro­grams."
When Tyra reeled in a $50 mil­lion Se­ries A in Jan­u­ary 2020, the team com­prised four peo­ple. Now, the com­pa­ny has 15 full-time staffers. Up­on an­nounc­ing the Se­ries B, Har­ris al­so shared news of two new C-suite ap­point­ments and the pro­mo­tion of Robert Hud­kins to CTO.
Hi­roo­mi Ta­da, whose re­sume in­cludes roles at In­cyte, Glax­o­SmithK­line and As­traZeneca, is join­ing Tyra as CMO. And Piyush Pa­tel, who worked with Hud­kins for a num­ber of years at Cephalon, is com­ing aboard as chief of de­vel­op­ment.
"We're hav­ing a lot of fun. It's re­al­ly an ex­cep­tion­al team, and a re­al­ly im­por­tant prob­lem we're seek­ing to solve," Har­ris said.
The ar­ti­cle has been up­dat­ed to clar­i­fy that x-ray crys­tal­log­ra­phy in­volves x-ray beams.