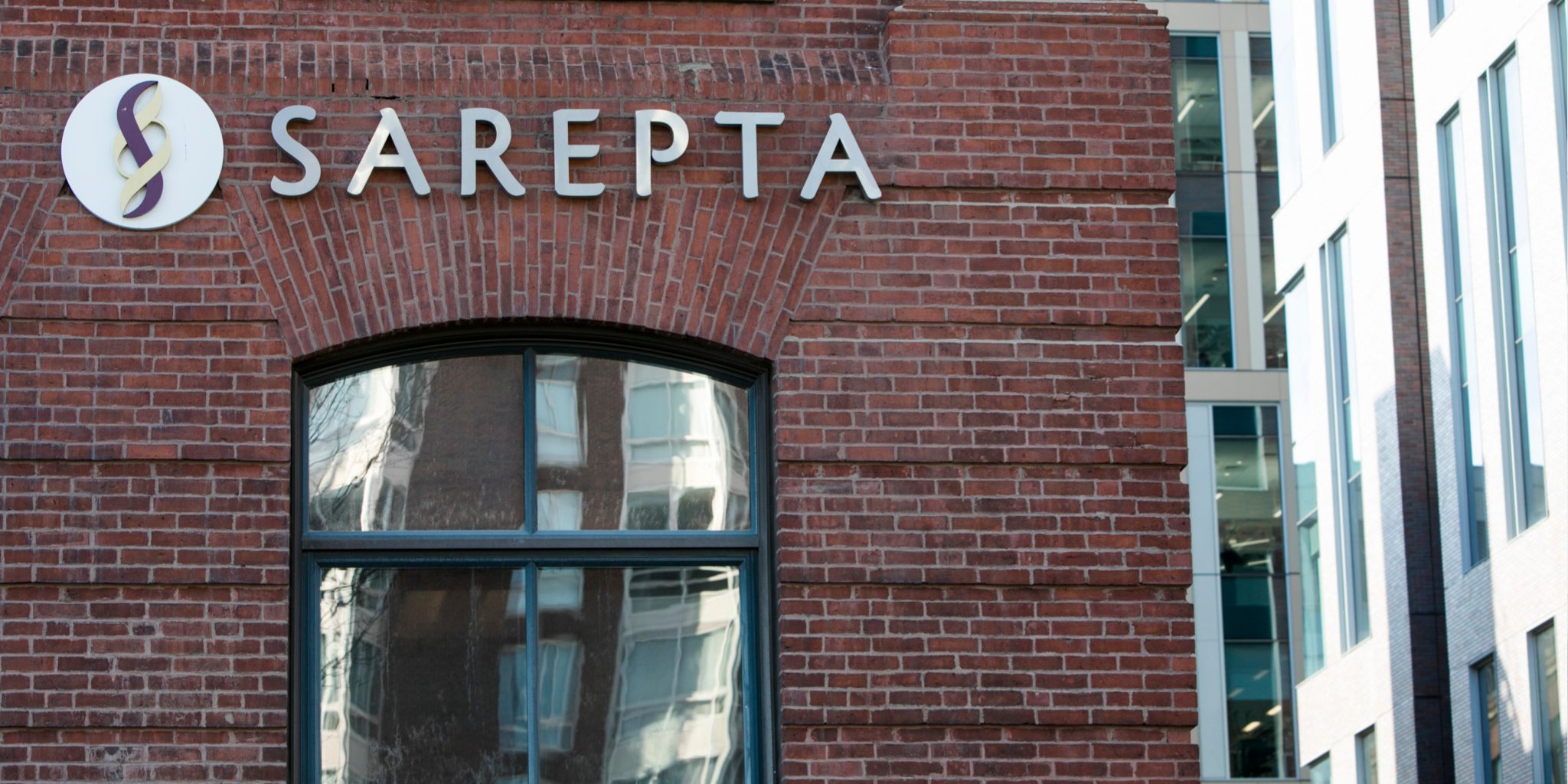 Should Sarep­ta's patents be seized by the gov­ern­ment? Pa­tient ad­vo­cates pitch con­tro­ver­sial drug pric­ing pro­pos­al
Six ad­vo­ca­cy groups are send­ing a big ask to the fed­er­al gov­ern­ment to low­er the price of one rather ex­pen­sive drug for Duchenne mus­cu­lar dy­s­tro­phy, pe­ti­tion­ing health reg­u­la­tors to flex pow­er it's nev­er ex­er­cised be­fore.
Amidst a years-long de­bate over drug pric­ing, Sarep­ta has hit a sen­si­tive chord with the high price tag of its DMD drug Ex­ondys 51 (eteplirsen), which goes for a around $300,000 per year.
The or­ga­ni­za­tions draft­ed a let­ter to the De­part­ment of Health and Hu­man Ser­vices (HHS), plead­ing that Sec­re­tary Alex Azar act to low­er the price of the drug. Specif­i­cal­ly, the group wants HHS to lever­age a piece of leg­is­la­tion called the Bayh-Dole Act — along with con­trac­tu­al agree­ments with fund­ing agen­cies — to take over own­er­ship of five patents on Ex­ondys 51. They can do that, the group in­sists, be­cause the in­tel­lec­tu­al prop­er­ty was backed by fed­er­al re­search dol­lars. Grant re­cip­i­ents are re­quired to dis­close fed­er­al fund­ing that con­tributes to a patent­ed in­ven­tion on their patent ap­pli­ca­tion — a step that both Sarep­ta and the Uni­ver­si­ty of West­ern Aus­tralia failed to do.
By tak­ing ti­tle to the patents, the HHS could lever­age their po­si­tion to low­er the price of Ex­ondys, the or­ga­ni­za­tions said.
An­a­lysts at Leerink, who cov­er Sarep­ta's stock $SRPT, sent a note to in­vestors this morn­ing not­ing the un­like­li­hood that such ac­tion would be tak­en by the gov­ern­ment.
"Bot­tom Line: To­day's let­ter from sev­er­al groups de­liv­ered to HHS Sec­re­tary (Alex) Azar high­lights the lengths that some are will­ing to go in or­der to force drug prices low­er; how­ev­er we be­lieve these groups have an up­hill bat­tle, and even if they were to pre­vail there would be lim­it­ed read through to oth­er rare dis­ease com­pa­nies whose busi­ness mod­els re­ly on pre­mi­um pric­ing."
Leerink re­minds in­vestors that a sim­i­lar strat­e­gy was used against Gilead, Ver­tex, and No­var­tis, among oth­ers. Those ef­forts failed, an­a­lysts said in a note.
But KEI, one of the or­ga­ni­za­tions that wrote the let­ter, said Leerink's note is mis­lead­ing.
"If they are re­fer­ring to re­search we've sub­mit­ted to HHS on drugs mar­ket­ed by Gilead and oth­er firms, that state­ment isn't quite ac­cu­rate," KEI spokesper­son Kim Tre­anor wrote in an email. "Our re­search has been sub­mit­ted very re­cent­ly and is still be­ing re­viewed by HHS, so no res­o­lu­tion to these cas­es has oc­curred as of yet."
The let­ter writ­ers do ac­knowl­edge, how­ev­er, that the ac­tion they're re­quest­ing is un­prece­dent­ed:
In the past, the fed­er­al gov­ern­ment has, on sev­er­al oc­ca­sions, asked re­cip­i­ents of fed­er­al grants and con­tracts to cor­rect fail­ures to dis­close fed­er­al fund­ing of the in­ven­tions, but has not ex­er­cised its rights to take the ti­tle of such patents for pur­pos­es of in­flu­enc­ing drug prices. In this re­spect, we rec­og­nize that we are ask­ing HHS to do some­thing new.
And lat­er, the let­ter re­it­er­ates what the or­ga­ni­za­tions are up against:
We re­spect­ful­ly ask for a meet­ing with your staff to fur­ther dis­cuss this is­sue, not­ing that as a prac­ti­cal mat­ter, if the de­ci­sions are del­e­gat­ed sole­ly to the NIH (Of­fice of Tech­nol­o­gy Trans­fer) staff it is high­ly un­like­ly any ac­tion will be tak­en to mod­er­ate the price of this drug.
Read the full let­ter here, writ­ten and sub­mit­ted by KEI, Health GAP, Pa­tients for Af­ford­able Drugs, Peo­ple of Faith for Ac­cess to Med­i­cines, So­cial Se­cu­ri­ty Works and Uni­ver­si­ties Al­lied for Es­sen­tial Med­i­cines.
---
Im­age: Sarep­ta Ther­a­peu­tics. AP IM­AGES