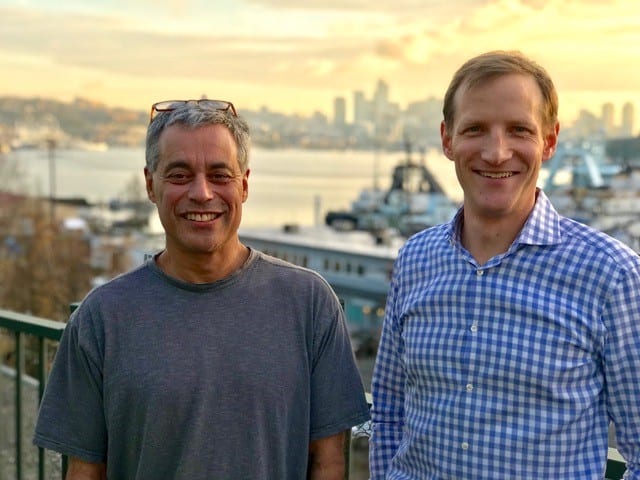 Jim Roberts and Brian Finrow (Lumen Bioscience)
With a $4M fed­er­al grant, Lu­men jumps in­to the Covid-19 treat­ment race
It's been less than a month since Lu­men Bio­science an­nounced a $16 mil­lion Se­ries B to en­gi­neer spir­uli­na — a nu­tri­ent-packed su­per food — for dis­eases like trav­el­er's di­ar­rhea, norovirus and C. dif­fi­cile col­i­tis. And now, the biotech has pulled in an­oth­er $4 mil­lion to do the same for Covid-19.
The ap­proach is quite sim­i­lar to oth­er gas­troin­testi­nal tar­gets the com­pa­ny is pur­su­ing, co-founders and Bri­an Fin­row and Jim Roberts said. The Seat­tle-based com­pa­ny is work­ing on a camelid an­ti­body cock­tail to com­bat GI in­fec­tion com­mon among Covid-19 pa­tients. In a study pub­lished in the Amer­i­can Jour­nal of Gas­troen­terol­o­gy, a ma­jor­i­ty of Covid-19 pa­tients showed GI and res­pi­ra­to­ry symp­toms, and 25% had on­ly GI symp­toms.
Fin­row and Roberts, CEO and CSO re­spec­tive­ly, told End­points News they saw a "big gap" here — while many drug de­vel­op­ers are fo­cused on res­pi­ra­to­ry ther­a­pies, few, if any, are honed in on GI symp­toms.
"The clin­i­cal con­se­quences of lung in­fec­tion are ob­vi­ous. And that's why most or es­sen­tial­ly all ex­ist­ing ther­a­pies are tar­get­ed at lung in­fec­tion," Roberts said.
"There's just not re­al­ly good tools for go­ing af­ter dis­eases of the GI tract. And so the in­dus­try — and aca­d­e­m­ic re­searchers — for lack of tools haven't done much. But … what we've got is a new tool that makes it ac­tu­al­ly quite straight­for­ward to do this," Fin­row added lat­er.
The fi­nanc­ing comes from the US Army Med­ical Re­search and De­vel­op­ment Com­mand, op­er­at­ing through the Med­ical Tech­nol­o­gy En­ter­prise Con­sor­tium. It will fund de­vel­op­ment of the oral can­di­date through IND sub­mis­sion, and ini­tial en­gi­neer­ing for a new man­u­fac­tur­ing plant in Wash­ing­ton state, which will have the ca­pac­i­ty to pro­duce 1 bil­lion-plus dos­es per year.
The goal is to hit the clin­ic by late spring, ac­cord­ing to Roberts. The com­pa­ny is sift­ing through a pan­el of 10 to 20 an­ti­bod­ies to find the right com­bi­na­tion, which could be al­tered in the fu­ture if the virus mu­tates. "That's an ad­van­tage of our plat­form, and it's very easy for us to swap things in and out like that," Roberts said.
Lu­men be­gan its Covid-19 pro­gram at the on­set of the pan­dem­ic. "This (Seat­tle) was ground ze­ro for the US … We start­ed think­ing about what we might be able to do to help the sit­u­a­tion," Fin­row said.
The duo be­lieves they can de­vel­op the treat­ment on a large scale — and do so in­ex­pen­sive­ly. Oth­er bi­o­log­ic drugs can cost be­tween $100 to $200 per gram to make, Fin­row told End­points ear­li­er this month. But spir­uli­na — which is so cheap to grow that peo­ple eat it — could "break this cost prob­lem," he said. The man­u­fac­tur­ing sys­tem, he added, is as sim­ple as a fish tank with LED lights on the out­side.
So far, on­ly two treat­ments have been grant­ed emer­gency use au­tho­riza­tion to treat Covid-19 in the US: Gilead's remde­sivir and con­va­les­cent plas­ma. The lat­ter has been the cen­ter of con­tro­ver­sy, with a pan­el of ex­perts con­vened by the NIH con­clud­ing ear­li­er this month that "there are cur­rent­ly no da­ta from well-con­trolled, ad­e­quate­ly pow­ered ran­dom­ized clin­i­cal tri­als that demon­strate the ef­fi­ca­cy and safe­ty of con­va­les­cent plas­ma for the treat­ment of COVID-19." Gilead, on the oth­er hand, said back in June that it would charge US in­sur­ers $520 per vial, or $3,120 for a full course of remde­sivir.
"Our ther­a­peu­tics are so in­ex­pen­sive, that they cer­tain­ly could be tak­en as a pre­ven­ta­tive when you're at risk, which is vir­tu­al­ly all peo­ple for the time be­ing," Roberts said. "And if ei­ther route of ini­tial in­fec­tion is through the GI tract, which it seems to be in many cas­es, then this would be con­sid­ered a pre­ven­ta­tive."
For a look at all End­points News coro­n­avirus sto­ries, check out our spe­cial news chan­nel.