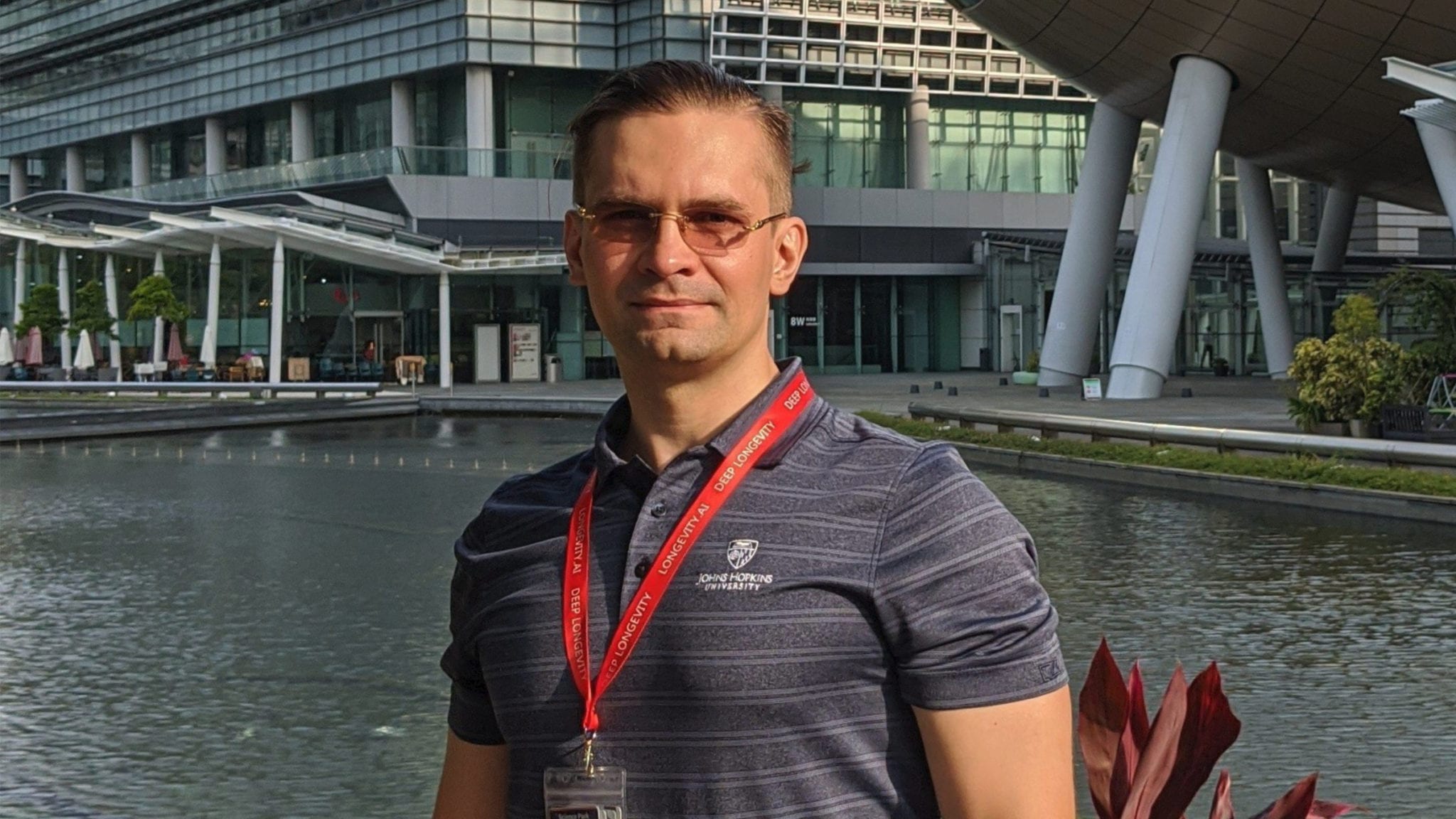 Alex Zhavoronkov, Insilico CEO
With a new $255M megaround in hand, Alex Zha­voronkov has big plans for In­sil­i­co. Are they fea­si­ble?
If you take Alex Zha­voronkov at his word, it won't be long un­til he rules over biotech's AI drug dis­cov­ery are­na from atop his perch as In­sil­i­co CEO.
On the heels of a megaround an­nounced Tues­day morn­ing, the me­dia-savvy ex­ec out­lined a vi­sion of the not-so-dis­tant fu­ture where AI-fo­cused com­pa­nies crash and burn akin to the dot-com bub­ble in the ear­ly 2000s. Zha­voronkov likened the cur­rent en­vi­ron­ment to 1998, when there was a glut of biotechs that soaked up cap­i­tal but proved un­able to de­liv­er on their promis­es, he opined to End­points News.
Once that hap­pens, he claims, In­sil­i­co will be primed to emerge as the field's Ama­zon or Google.
Zha­voronkov has made blus­tery claims be­fore, though, gen­er­at­ing con­tro­ver­sy back in 2019 with a pa­per claim­ing he "dis­cov­ered" a drug in just 21 days. And he's far from alone in seek­ing to emerge as the win­ner of the first era of ma­chine learn­ing life sci­ence star­tups: Blue-chip biotech in­vestors such as GV, ARCH and Cas­din Cap­i­tal have thrown hun­dreds of mil­lions of dol­lars be­hind In­sitro and Re­cur­sion. Soft­Bank alone re­cent­ly wrote Ex­sci­en­tia a check for up to $300 mil­lion.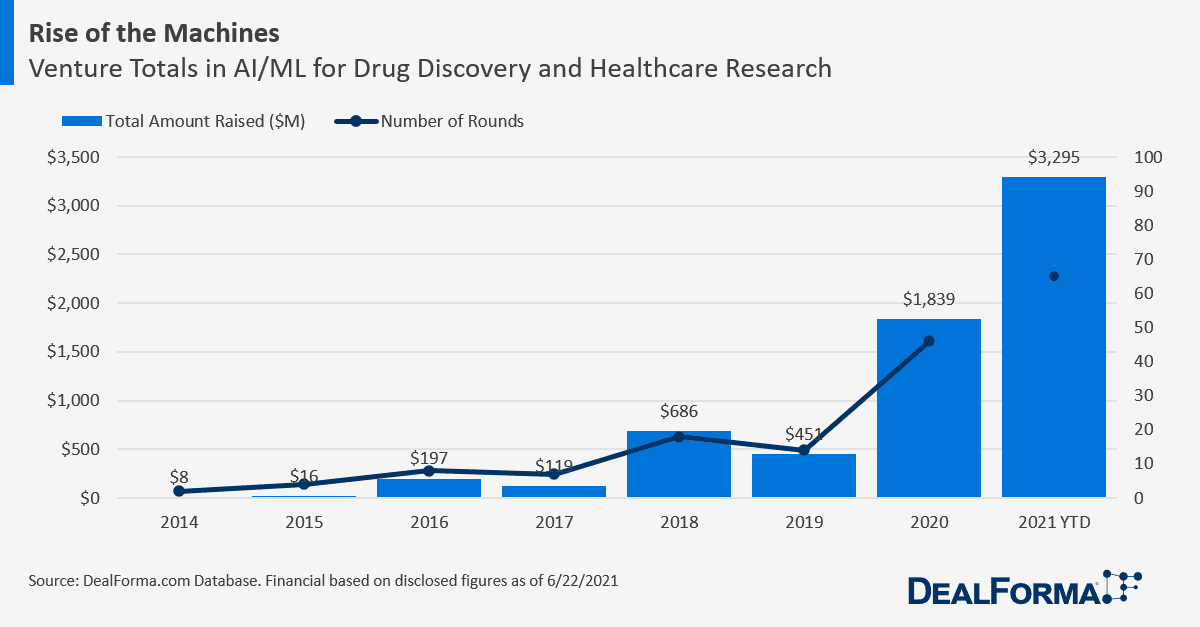 First, the nit­ty grit­ty of the raise: Zha­voronkov pulled in a huge $255 mil­lion Se­ries C for In­sil­i­co on Tues­day, by far the biotech's biggest raise and more than 300% over­sub­scribed, he said. The funds will be used to push for­ward In­sil­i­co's slate of 16 pre­clin­i­cal pro­grams, in­clud­ing its lead com­pound for id­io­path­ic pul­monary fi­bro­sis, which they will try to put in the clin­ic by the end of 2021.
As he has in the past, Zha­voronkov kept much of the prod­uct can­di­date in­for­ma­tion — things like drug tar­gets and in­di­ca­tions — close to the vest. In ad­di­tion to the fi­bro­sis lead, he said on­ly that "more than half" of the 16 pro­grams will be in on­col­o­gy, with In­sil­i­co al­so fo­cus­ing on meta­bol­ic dis­eases, im­munol­o­gy, CNS and Covid-19.
He de­clined fur­ther com­ment on whether the raise rep­re­sents a pre­cur­sor to an IPO, though he not­ed giv­en the size and in­vestors in­volved (Tues­day's lead is War­burg Pin­cus, with no­table par­tic­i­pa­tion from Lil­ly Asia Ven­tures, Or­biMed and Deer­field) it would be "log­i­cal to as­sume" In­sil­i­co has plans for a po­ten­tial fu­ture ex­it.
But most of the ex­cite­ment dri­ving the mas­sive raise, Zha­voronkov says, has been the way In­sil­i­co has built out its oth­er ser­vices. Where­as bio­phar­mas tra­di­tion­al­ly pre­fer to keep their pre­clin­i­cal bi­ol­o­gy and chem­istry work in-house, In­sil­i­co has con­tract­ed out most of these ef­forts to about 80 CROs, the chief told End­points. It's al­lowed for a "fric­tion­less" busi­ness mod­el where the biotechs can do many things all at once that big­ger com­pa­nies usu­al­ly per­form se­quen­tial­ly.
"It's saved a lot of time, a lot of cost, and in­creased the prob­a­bil­i­ty of suc­cess," he told End­points. "We don't have to wait for one ex­per­i­ment to con­clude and we can do some in par­al­lel, and if it fails we'll learn."
On top of that, In­sil­i­co has start­ed sell­ing its soft­ware to oth­er phar­ma com­pa­nies and open­ing its dis­cov­ery plat­form up for an­nu­al sub­scrip­tions. Zha­voronkov says he prefers when oth­ers can uti­lize In­sil­i­co's IP be­cause it helps bring more at­ten­tion to the AI space as a whole while de­moc­ra­tiz­ing R&D ca­pa­bil­i­ties.
If one were to in­dulge Zha­voronkov in his grandeur, he'd de­scribe how "dozens" of com­pa­nies are al­ready try­ing to copy how In­sil­i­co op­er­ates. There have been sev­er­al in­stances, he claims, of peo­ple at­tend­ing the biotech's pre­sen­ta­tions sole­ly to take pic­tures of their slide decks. Rather than fret over los­ing com­pa­ny se­crets, Zha­voronkov says this is "a won­der­ful thing."
There's a reck­on­ing com­ing for the AI space, how­ev­er, that will like­ly re­sult in sig­nif­i­cant con­sol­i­da­tion, he says. As in­vestor ap­petite for the area has heat­ed up, it's sud­den­ly be­come much eas­i­er to launch a com­pa­ny and raise lots of mon­ey, com­pared to where In­sil­i­co was sev­en years ago when Zha­voronkov got start­ed.
Where­as In­sil­i­co strug­gled to ini­tial­ly drum up cash, nowa­days there are peo­ple who have "just quit an in­ter­net firm and sud­den­ly get $100 mil­lion," he says. It's on­ly a mat­ter of time be­fore the bub­ble bursts, he added.
"Some com­pa­nies just start, get a huge amount of mon­ey, and what they start do­ing is they start hir­ing, they start in­flat­ing the salaries," Zha­voronkov said. "And that's a bad thing. At some point in time, it needs to cor­rect. The ques­tion here is when, and the ques­tion here is when will the less so­phis­ti­cat­ed in­vestors stop fund­ing this sec­tor."
When­ev­er this hap­pens — Zha­voronkov es­ti­mates signs will start to ap­pear with­in the next 12 to 24 months — In­sil­i­co is prepar­ing to jump at some of the tal­ents that will end up on oth­er com­pa­nies' chop­ping blocks. If Zha­voronkov has his way, the ten­drils he's laid out will con­tin­ue to evolve and push in­to new sec­tors past just soft­ware of­fer­ings. In this way, he likens In­sil­i­co to Ama­zon, a com­pa­ny that has its hands in every­thing.
Whether or not this fu­ture comes true re­mains to be seen. It's im­pos­si­ble to pre­dict how the mar­ket might move or re­act to any giv­en phe­nom­e­non. And de­spite the com­pa­ny's promi­nence in the space, In­sil­i­co is still wait­ing on that first clin­i­cal tri­al.
But Zha­voronkov be­lieves he's in po­si­tion to take ad­van­tage of what­ev­er might hap­pen.
"If the in­vestors want­ed us to just be­come a phar­ma com­pa­ny, I imag­ine I would not still be at the helm of the com­pa­ny," Zha­voronkov said. "We want to have our AWS, and not just be a book­store. We'll have our Prime and Prime En­ter­tain­ment, we need to branch out and be­come even big­ger to dom­i­nate. It can­not just end at the book­store."