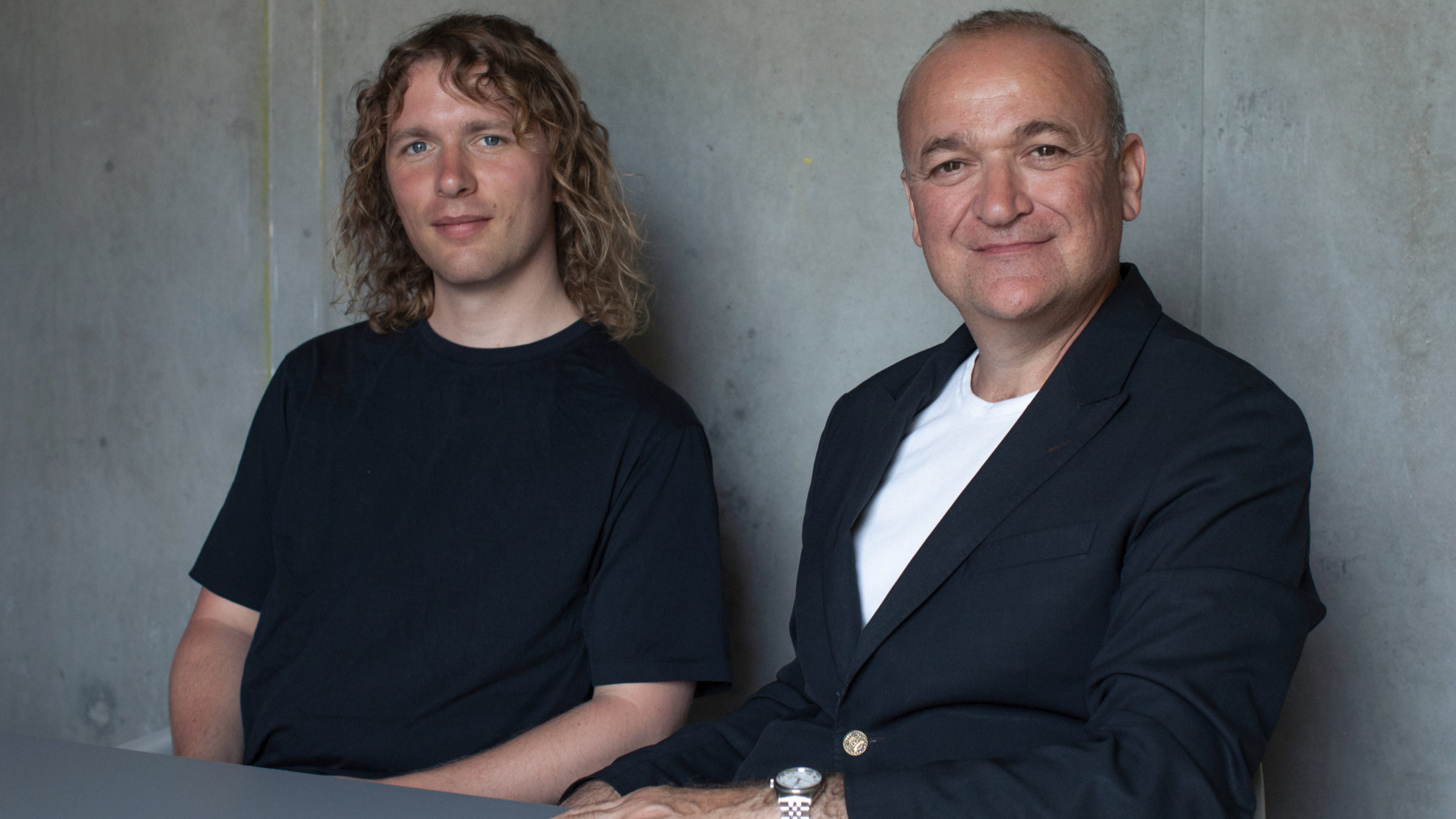 Lachlan MacKinnon (L) and Adrian Woolfson (Replay)
With AAV al­ter­na­tive and DNA writ­ing tech, a new hub-and-spoke start­up wants to 'de­moc­ra­tize' gene ther­a­pies
When Adri­an Woolf­son was head of R&D at Sang­amo, he be­gan con­tem­plat­ing start­ing his own com­pa­ny. His goal? Solve some of the key chal­lenges plagu­ing ge­nom­ic med­i­cine he'd seen while work­ing on a wide spec­trum of Sang­amo's pro­grams.
Then, he met Lach­lan MacK­in­non, a biotech in­vestor, in Lon­don, and the two re­al­ized they shared a sim­i­lar vi­sion, de­spite their "or­thog­o­nal" back­grounds, he told End­points News.
Re­play, their new hub-and-spoke start­up, looks to change the way gene ther­a­pies are made. With $55 mil­lion in seed mon­ey, the biotech has col­lect­ed a se­ries of plat­forms, in­clud­ing an HSV vec­tor, pro­tein rewrit­ing al­go­rithm and a DNA writ­ing tool from George Church's lab.
"We iden­ti­fied es­sen­tial­ly three key chal­lenges that we're solv­ing for, which we think will de­fine the fu­ture," Woolf­son, who is the chair­man and pres­i­dent, said. "The first of those is pay­load ca­pac­i­ty; the sec­ond is the need for an off-the-shelf, low cost scal­able, and ex­ten­sive­ly ge­nom­ic en­gi­neered cell ther­a­py plat­form; and the third is the abil­i­ty to as­sem­ble big DNA."
Re­play's pri­ma­ry tech­nol­o­gy is its HSV de­liv­ery sys­tem. While AAV vec­tors can gen­er­al­ly on­ly hold about 4.7 kilo­bas­es of a gene, HSV vec­tors can hold about 150 kilo­bas­es. With that in­creased ca­pac­i­ty, ther­a­pies us­ing the vi­ral vec­tor could ex­tend to dis­eases with big­ger genes, like mus­cu­lar dy­s­tro­phy, and genes with their in­trons (and reg­u­la­to­ry parts) in­tact, Woolf­son not­ed.
Woolf­son added Re­play has two class­es of HSV vec­tors. "We've got our gene-delet­ed HSV, but we've al­so got what we call an am­pli­con — which is an HSV in which we've stripped out vir­tu­al­ly all of the genes — and this is al­most a non-vi­ral vec­tor," Woolf­son said. "And we think that will ac­tu­al­ly be prob­a­bly the most com­pelling of all."
How­ev­er, the ju­ry re­mains out on whether an HSV-based ther­a­py will be safer than the stan­dard AAV, as the vi­ral vec­tor trig­gers a dan­ger­ous im­mune re­sponse. Woolf­son ac­knowl­edged that like for AAV, the body has neu­tral­iz­ing an­ti­bod­ies against HSV, though he added that HSV has evolved to bet­ter evade the im­mune sys­tem.
A suite of biotechs has grown out of the ef­fort to solve the var­i­ous prob­lems re­lat­ed to gene ther­a­pies. Splice­Bio is try­ing to solve the pay­load lim­i­ta­tion through pro­tein splic­ing, and Aper­tu­ra is work­ing on cus­tom-de­signed AAV vec­tors that it hopes can get AAVs to dif­fi­cult-to-ac­cess ar­eas.
Re­play has al­so li­censed a DNA writ­ing tech­nol­o­gy, used for build­ing syn­thet­ic strands of DNA. "We think we can re­ca­pit­u­late what we're see­ing with DNA se­quenc­ing and dra­mat­i­cal­ly bring down the cost of writ­ing to help to pi­o­neer a new era of genome writ­ing," Woolf­son said.
So far, the plat­form com­pa­ny has spun out five dif­fer­ent prod­uct com­pa­nies — four HSV gene ther­a­py com­pa­nies fo­cused on mono­genic dis­or­ders, in­clud­ing one for Parkin­son's and one for Duchenne mus­cu­lar dy­s­tro­phy, and one en­zyme writ­ing com­pa­ny.
Re­play's seed round was led by KKR and OMX Ven­tures, and al­so in­clud­ed AR­TIS Ven­tures and Lans­downe Part­ners, SALT, DeciBio Ven­tures, and Ax­i­al.