With ex­pan­sive Covid-19 clin­i­cal plan in full gear, Ox­ford team re­ports pos­i­tive an­i­mal da­ta on ade­n­ovirus-based vac­cine
A few days af­ter the first UK vol­un­teers were dosed with a Covid-19 vac­cine de­vel­oped at Ox­ford Uni­ver­si­ty's Jen­ner In­sti­tute, the team said a cru­cial an­i­mal study has come back pos­i­tive.
The pre­lim­i­nary re­sults, first re­port­ed by the New York Times, mark the sec­ond pos­i­tive ex­per­i­ment of a vac­cine can­di­date in­volv­ing rhe­sus macaque mon­keys dis­closed in re­cent days. Chi­na's Sino­vac post­ed promis­ing da­ta with its in­ac­ti­vat­ed virus vac­cine can­di­date on a preprint serv­er last Mon­day. No­tably, US biotech Mod­er­na skipped the an­i­mal tri­als al­to­geth­er be­fore jump­ing in­to hu­man tri­als, with the promise to run those stud­ies in par­al­lel.
Ox­ford's clin­i­cal ef­fort is no­table for its scale. While oth­er Phase I tri­als en­rolled on­ly dozens of par­tic­i­pants, the UK tri­al — which had a con­trol arm with a menin­gi­tis vac­cine — had aimed for 1,100 vol­un­teers and re­cruit­ed the ma­jor­i­ty of them by the time they kicked off the tri­al last week.
"This is re­al­ly im­por­tant, be­cause mov­ing quick­ly to as­sess a vac­cine ef­fi­ca­cy while COVID in­fec­tions are still com­mon can pro­vide valu­able in­for­ma­tion re­gard­ing Cor­re­lates of Pro­tec­tion (CoPs)," Ever­core ISI an­a­lyst Josh Schim­mer wrote in a note, adding that "vac­cines which can be ad­min­is­tered as a sin­gle dose (po­ten­tial­ly ade­n­ovirus vec­tor ones) will have a key ad­van­tage since they need few­er vials. Jen­ner is al­so study­ing a 2-dose reg­i­men."
Dubbed ChA­dOx1 nCoV-19, the vac­cine us­es a weak­ened ver­sion of an ade­n­ovirus that in­fects chim­panzees to car­ry ge­net­ic ma­te­r­i­al that codes for the spike pro­tein on the new coro­n­avirus. The Jen­ner team, led by Sarah Gilbert, had em­ployed the same ap­proach to de­vel­op ex­per­i­men­tal vac­cines against Ebo­la, MERS and malar­ia.
Sci­en­tists at the NIH's Rocky Moun­tain Lab­o­ra­to­ry in­oc­u­lat­ed six mon­keys with sin­gle dos­es of the vac­cine last month. When "chal­lenged" by heavy quan­ti­ties of SARS-CoV-2, the pri­mates stayed healthy on day 28, re­searcher Vin­cent Mun­ster told the Times. He ex­pects to share the re­sults with oth­er sci­en­tists with­in days.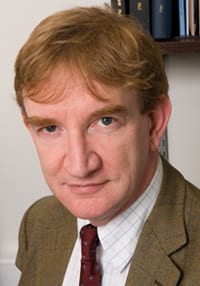 Adri­an Hill
Should the safe­ty and ef­fi­ca­cy sig­nals be repli­cat­ed in the hu­man tri­al — and giv­en the cir­cum­stances, a dozen in­fec­tions on the place­bo arm com­pared with on­ly one or two on the vac­cine arm would count as vic­to­ry, ac­cord­ing to Jen­ner In­sti­tute di­rec­tor Adri­an Hill — Ox­ford is plot­ting a Phase II/III ef­fort with 5,000 peo­ple next month.
All of that could cul­mi­nate in an emer­gency ap­proval in Sep­tem­ber, beat­ing the 12- to 18-month time­line that seemed to have been the con­sen­sus (and would al­ready be un­prece­dent­ed). But oth­er de­vel­op­ers such as Mod­er­na CEO Stéphane Ban­cel have sim­i­lar­ly sug­gest­ed that the ear­li­est vi­able vac­cines should be avail­able by the fall — if on­ly to the most at-risk pop­u­la­tions.
On Mon­day the Oslo-based Coali­tion for Epi­dem­ic Pre­pared­ness In­no­va­tions, a ma­jor fun­der of mul­ti­ple vac­cine ef­forts, lent cre­dence to the idea.
Richard Hatch­ett, the group's head, not­ed that sev­er­al vac­cine can­di­dates it's back­ing may en­ter a sec­ond phase of test­ing as soon as late spring or the sum­mer. Lat­er in the day Mod­er­na — the first US biotech to launch a Covid-19 vac­cine tri­al — an­nounced it's filed an IND to be­gin Phase II.
Fore­see­ing po­ten­tial is­sues with man­u­fac­tur­ing, CEPI is set­ting up pro­duc­tion fa­cil­i­ties and dis­tri­b­u­tion in every re­gion. While it on­ly has ca­pac­i­ty for a few mil­lion dos­es in-house, the Ox­ford team said it's work­ing with "a half dozen" com­pa­nies across Eu­rope and Asia, in­clud­ing the Serum In­sti­tute of In­dia, to po­ten­tial­ly churn out bil­lions of dos­es if it se­cures ap­proval. No agree­ment, how­ev­er, has been reached in North Amer­i­ca.
"I per­son­al­ly don't be­lieve that in a time of pan­dem­ic there should be ex­clu­sive li­cens­es," Hill said. "So we are ask­ing a lot of them. No­body is go­ing to make a lot of mon­ey off this."
So­cial im­age: The first vol­un­teer re­ceives a jab of the Ox­ford vac­cine. Cred­it: AP Im­ages
For a look at all End­points News coro­n­avirus sto­ries, check out our spe­cial news chan­nel.