J&J researchers rolled out data from the first two pivotal trials of their anti-depression drug esketamine today, blazing a trail that they say leads straight to an FDA filing in a matter of months with a groundbreaking approach to treating major depression.
The data are mixed, with some hits and misses, as you'll see further below as I set out the data points. But there are some important caveats to note about the numbers for a low-dose, intranasal formulation of a powerful anesthetic and frequently abused party drug — better known as Special K — which will invite a very careful examination by regulators.
First, and foremost, the FDA doesn't require perfection in depression studies, a field where a high placebo response is a virtual given. Because these were hard-to-treat patients, they couldn't reserve solely a placebo for the control arm of the studies. One group received esketamine in a nasal spray with an active depression drug while the control arm was given an active depression drug — inviting a high response in the control group, which they got.
Nevertheless, they still beat the control group response in the first key Phase III. And the investigators say that studies reading out in the next few months will complete a picture of positive results that regulators will not be able to reject for these patients.
"We believe with these studies that we're going to meet that hurdle," says David Hough, Janssen's clinical trial leader for esketamine.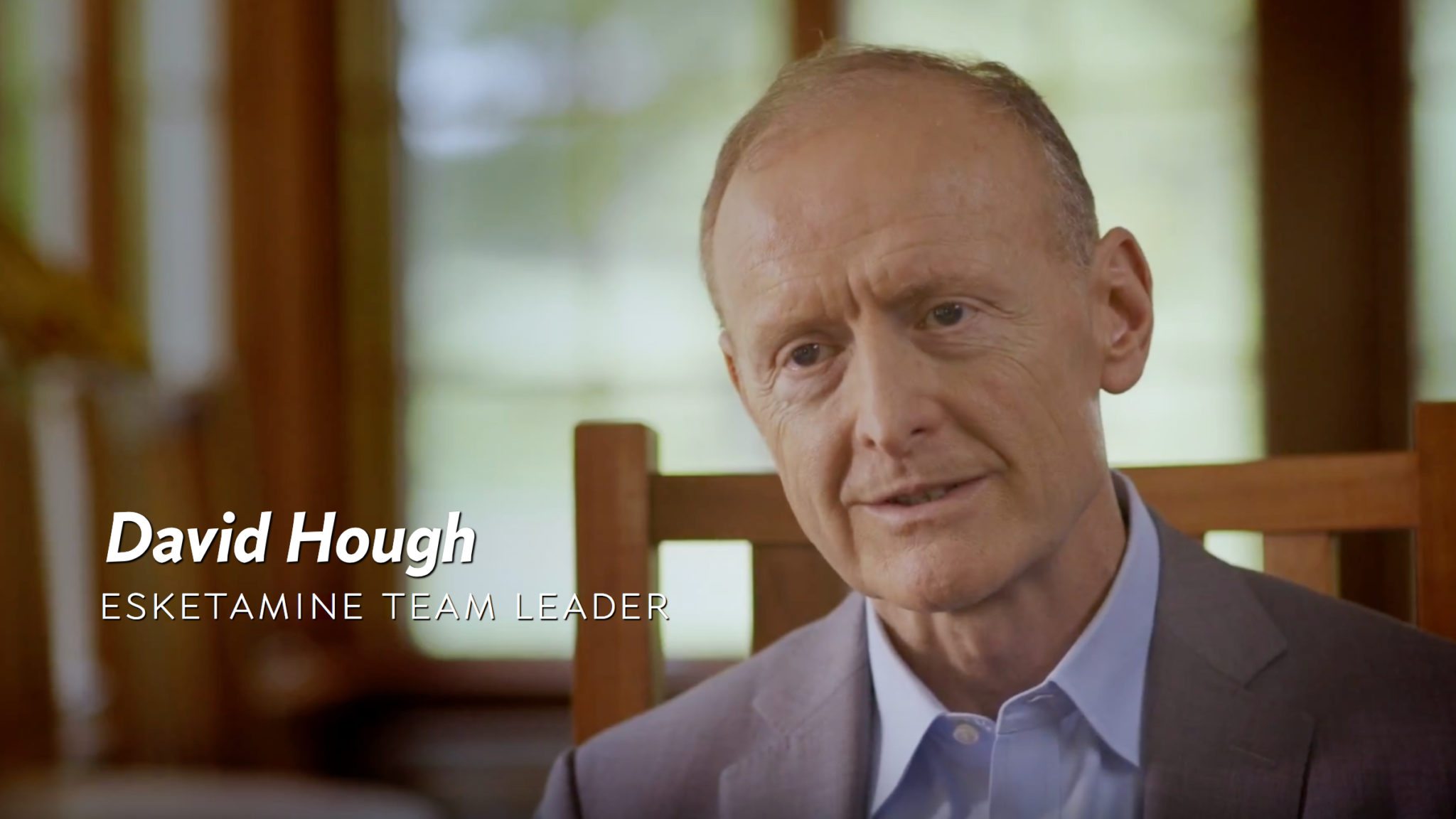 ---
The first study among patients with hard-to-treat major depression hit a clearly statistically significant result for the commonly used Montgomery-Åsberg Depression Rating Scale, or MADRS. And a low dose version used in elderly patients missed statistical significance — they hit a p-value of 0.029 in a trial that set the bar for significance at 0.025.
The first study also missed a key secondary: onset of clinical effect in 24 hours maintained through 28 days in a relatively short trial. And because of that miss they couldn't formally present data on the next two secondaries.
Two other key measures scored for the esketamine combo.
There was a 69.3% response rate in the esketamine/depression drug combo group versus a (very high) 52% in the control group at 28 days.
The remission rate at day 28 was 52.5% for the esketamine combo and 31% for the esketamine and placebo nasal spray group.
"This is not garden variety depression," says Hough. The patients in these studies had tried and failed anywhere from two to 5 different depression meds.
Among the side effects of the esketamine combination, researchers found that some patients suffered from dissociation, not unexpected in a drug that at high doses is sometimes used to induce schizophrenic behavior in clinical trials. J&J's approach to that will be to provide this drug only under careful supervision in a clinical setting. That might complicate marketing, if approved, but in a time of widespread opioid abuse, J&J knows there will be careful clinical restrictions on distribution.
If approved, Hough says the plan would be to use the drug twice a week initially for 4 weeks and then start lowering the frequency until they get the right maintenance level.
If they can win here, they add, this will be the first new drug for treatment-resistant cases of major depression in decades.
"We were very pleased," says Hough, who's prepping the rollout on more promising data from three more studies.
Over the years a host of academics have repeatedly seen ketamine score high for swift if temporary treatment of depression and suicidal thinking. But its powerful effects overall prevent its use. That's what set J&J down this path with a low-dose version of the drug, while Allergan and others are testing NMDA drugs that mimic particular aspects of the party drug, looking for a narrow hit on depression without the illicit side effects.
---
The best place to read
Endpoints News

? In your inbox.

Comprehensive daily news report for those who discover, develop, and market drugs. Join 47,300+ biopharma pros who read Endpoints News by email every day.

Free Subscription
---
---
---