With hits and miss­es in first piv­otal tri­als, J&J con­fi­dent­ly maps a path to the FDA with its ma­jor de­pres­sion med es­ke­t­a­mine
J&J re­searchers rolled out da­ta from the first two piv­otal tri­als of their an­ti-de­pres­sion drug es­ke­t­a­mine to­day, blaz­ing a trail that they say leads straight to an FDA fil­ing in a mat­ter of months with a ground­break­ing ap­proach to treat­ing ma­jor de­pres­sion.
The da­ta are mixed, with some hits and miss­es, as you'll see fur­ther be­low as I set out the da­ta points. But there are some im­por­tant caveats to note about the num­bers for a low-dose, in­tranasal for­mu­la­tion of a pow­er­ful anes­thet­ic and fre­quent­ly abused par­ty drug — bet­ter known as Spe­cial K — which will in­vite a very care­ful ex­am­i­na­tion by reg­u­la­tors.
First, and fore­most, the FDA doesn't re­quire per­fec­tion in de­pres­sion stud­ies, a field where a high place­bo re­sponse is a vir­tu­al giv­en. Be­cause these were hard-to-treat pa­tients, they couldn't re­serve sole­ly a place­bo for the con­trol arm of the stud­ies. One group re­ceived es­ke­t­a­mine in a nasal spray with an ac­tive de­pres­sion drug while the con­trol arm was giv­en an ac­tive de­pres­sion drug — invit­ing a high re­sponse in the con­trol group, which they got.
Nev­er­the­less, they still beat the con­trol group re­sponse in the first key Phase III. And the in­ves­ti­ga­tors say that stud­ies read­ing out in the next few months will com­plete a pic­ture of pos­i­tive re­sults that reg­u­la­tors will not be able to re­ject for these pa­tients.
"We be­lieve with these stud­ies that we're go­ing to meet that hur­dle," says David Hough, Janssen's clin­i­cal tri­al leader for es­ke­t­a­mine.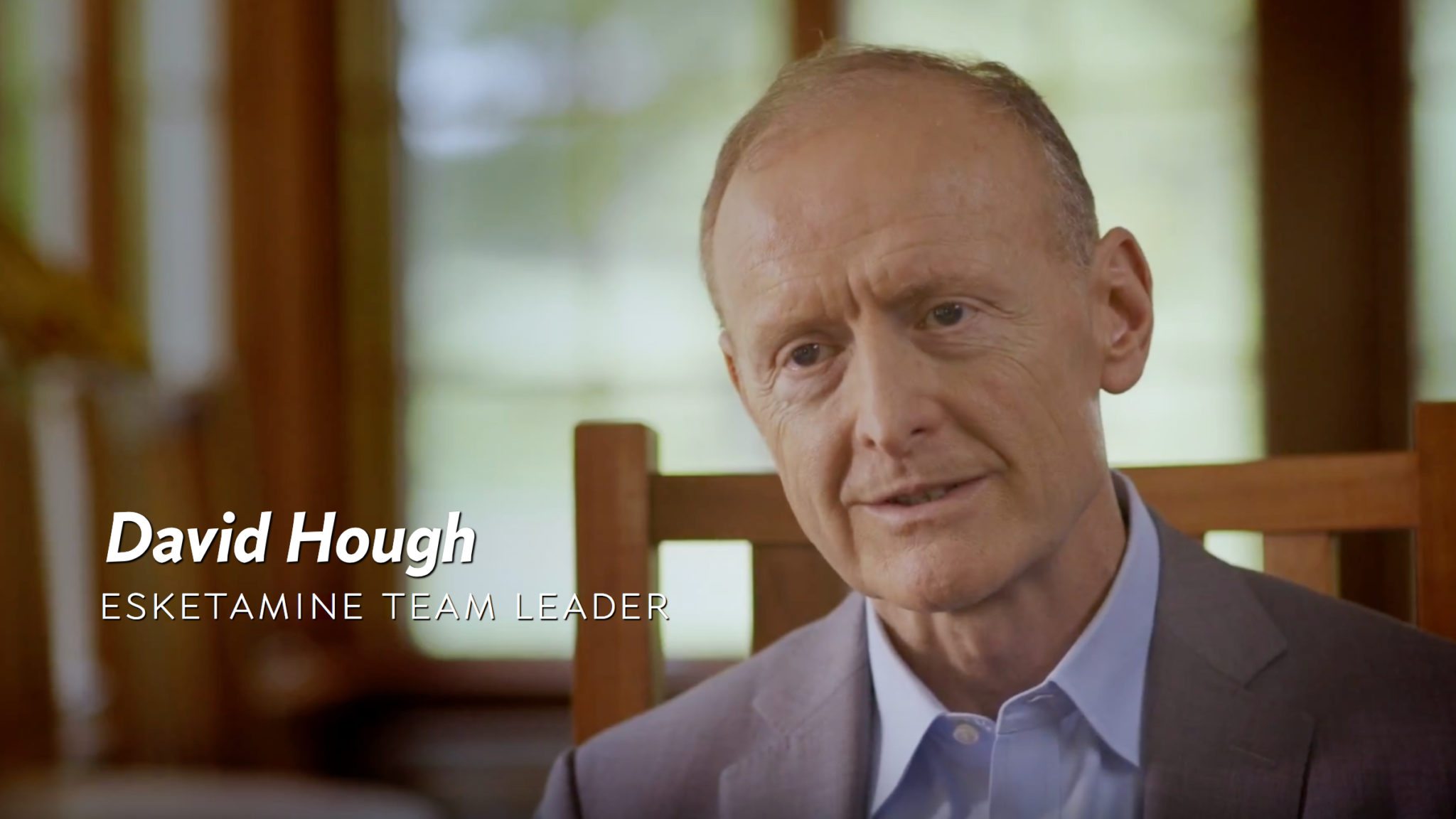 ---
The first study among pa­tients with hard-to-treat ma­jor de­pres­sion hit a clear­ly sta­tis­ti­cal­ly sig­nif­i­cant re­sult for the com­mon­ly used Mont­gomery-Ås­berg De­pres­sion Rat­ing Scale, or MADRS. And a low dose ver­sion used in el­der­ly pa­tients missed sta­tis­ti­cal sig­nif­i­cance — they hit a p-val­ue of 0.029 in a tri­al that set the bar for sig­nif­i­cance at 0.025.
The first study al­so missed a key sec­ondary: on­set of clin­i­cal ef­fect in 24 hours main­tained through 28 days in a rel­a­tive­ly short tri­al. And be­cause of that miss they couldn't for­mal­ly present da­ta on the next two sec­on­daries.
Two oth­er key mea­sures scored for the es­ke­t­a­mine com­bo.
There was a 69.3% re­sponse rate in the es­ke­t­a­mine/de­pres­sion drug com­bo group ver­sus a (very high) 52% in the con­trol group at 28 days.
The re­mis­sion rate at day 28 was 52.5% for the es­ke­t­a­mine com­bo and 31% for the es­ke­t­a­mine and place­bo nasal spray group.
"This is not gar­den va­ri­ety de­pres­sion," says Hough. The pa­tients in these stud­ies had tried and failed any­where from two to 5 dif­fer­ent de­pres­sion meds.
Among the side ef­fects of the es­ke­t­a­mine com­bi­na­tion, re­searchers found that some pa­tients suf­fered from dis­so­ci­a­tion, not un­ex­pect­ed in a drug that at high dos­es is some­times used to in­duce schiz­o­phrenic be­hav­ior in clin­i­cal tri­als. J&J's ap­proach to that will be to pro­vide this drug on­ly un­der care­ful su­per­vi­sion in a clin­i­cal set­ting. That might com­pli­cate mar­ket­ing, if ap­proved, but in a time of wide­spread opi­oid abuse, J&J knows there will be care­ful clin­i­cal re­stric­tions on dis­tri­b­u­tion.
If ap­proved, Hough says the plan would be to use the drug twice a week ini­tial­ly for 4 weeks and then start low­er­ing the fre­quen­cy un­til they get the right main­te­nance lev­el.
If they can win here, they add, this will be the first new drug for treat­ment-re­sis­tant cas­es of ma­jor de­pres­sion in decades.
"We were very pleased," says Hough, who's prep­ping the roll­out on more promis­ing da­ta from three more stud­ies.
Over the years a host of aca­d­e­mics have re­peat­ed­ly seen ke­t­a­mine score high for swift if tem­po­rary treat­ment of de­pres­sion and sui­ci­dal think­ing. But its pow­er­ful ef­fects over­all pre­vent its use. That's what set J&J down this path with a low-dose ver­sion of the drug, while Al­ler­gan and oth­ers are test­ing NM­DA drugs that mim­ic par­tic­u­lar as­pects of the par­ty drug, look­ing for a nar­row hit on de­pres­sion with­out the il­lic­it side ef­fects.