Wuhan virus out­break trig­gers in­evitable small-biotech ral­ly
Every few years, a pub­lic health cri­sis (think Ebo­la, Zi­ka) spurred by a rogue pathogen trig­gers a small-biotech ral­ly, as drug­mak­ers emerge from the wood­work with am­bi­tious plans to treat the mount­ing out­break. In most cas­es, that en­thu­si­asm nev­er quite de­liv­ers.
Things are no dif­fer­ent, as the coro­n­avirus out­break in Wuhan, Chi­na takes hold. There have been close to 300 con­firmed hu­man in­fec­tions in Chi­na, and at least four deaths. Coro­n­avirus­es are a large fam­i­ly of virus­es, which in­clude MERS and SARS. On Tues­day, the CDC re­port­ed the virus was de­tect­ed in a US trav­el­er re­turn­ing from Wuhan.
Shares of Mary­land-based vac­cine de­vel­op­er, No­vavax, which has seen a steady stream of set­backs with its RSV vac­cine and is cur­rent­ly in late-stage de­vel­op­ment with a flu vac­cine, saw its shares $NVAX cat­a­pult on Tues­day — clos­ing up more than 71% at $9.82. The com­pa­ny's tech­nol­o­gy has al­so been used to de­vel­op ex­per­i­men­tal vac­cines for MERS and SARS.
In an email to End­points News on Wednes­day, the com­pa­ny said it ex­pects to de­vel­op a vac­cine can­di­date from the ge­net­ic se­quence of the Wuhan coro­n­avirus. The stock was down near­ly 16% at $8.25 on Wednes­day morn­ing, af­ter the drug­mak­er al­so dis­closed plans to sell $100 mil­lion worth of shares in a pub­lic of­fer­ing af­ter the mar­ket closed on Tues­day.
Mean­while, mR­NA-fo­cused Mod­er­na al­so un­veiled its plans on Wednes­day. The com­pa­ny is­sued a state­ment say­ing it is work­ing with NIH's vac­cine re­search cen­ter on a po­ten­tial vac­cine re­sponse to the cur­rent pub­lic health emer­gency. Shares of the Cam­bridge, Mass­a­chu­sets-based de­vel­op­er $MR­NA — which pulled off a his­toric $604 mil­lion IPO in late 2018 — were up near­ly 9% at 22.80.
"Mar­kets tend to bot­tom with the peak in new cas­es and news flow," JP Mor­gan an­a­lysts said, as cit­ed by Mar­ket­Watch. "A pos­i­tive bias is ap­pro­pri­ate on phar­ma stocks broad­ly and mak­ers of di­ag­nos­tic kits and pro­tec­tive equip­ment (like gloves)."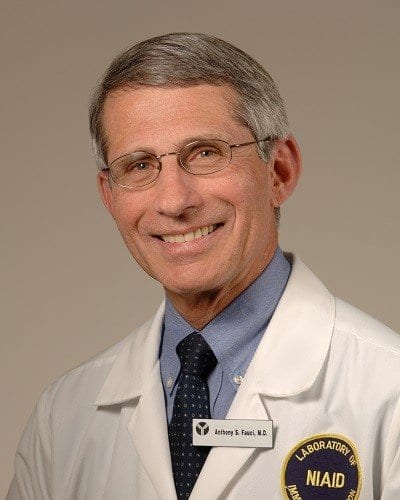 An­tho­ny Fau­ci NI­AID
Ther­a­peu­tics will like­ly make the cut be­fore vac­cines do, An­tho­ny Fau­ci, di­rec­tor of NIH's Na­tion­al In­sti­tute of Al­ler­gy and In­fec­tious Dis­eases (NI­AID), sug­gest­ed in an in­ter­view with Bio­Cen­tu­ry.
The agency plans to in­ves­ti­gate the ef­fi­ca­cy of ex­ist­ing an­tivi­rals and mon­o­clon­al an­ti­bod­ies, as well as de­vel­op a ther­a­py us­ing an­ti­bod­ies de­rived from blood drawn from a pa­tient di­ag­nosed in the state of Wash­ing­ton (the trav­el­er) to fight the Chi­na coro­n­avirus strain, he said in the re­port.
Oth­er biotech stocks al­so rose as new coro­n­avirus cas­es came to light.
Shares of a de­vel­op­er of nano-med­i­cines for vi­ral in­fec­tions, NanoVi­ri­cides, jumped more than 150% on Tues­day, but the shares $NNVC pared gains on Wednes­day, falling more than 52% to $4.07. Aethlon Med­ical $AEMD, a de­vice mak­er de­vel­op­ing a he­mo­p­u­ri­fi­er to com­bat vi­ral dis­eases, jumped more than 15% to $2.6. Shares of In­ovio Phar­ma­ceu­ti­cals $INO — which is work­ing on a MERS vac­cine — al­so ticked high­er on Tues­day, al­though the stock was in the red on Wednes­day. BioCryst Phar­ma­ceu­ti­cals, which is de­vel­op­ing a yel­low fever and Mar­burg virus drug that has shown ear­ly promise in coro­n­avirus­es, al­so saw its shares $BCRX rise about 5.5% to $3.09 on Wednes­day.
Max­im Ja­cobs, man­ag­ing ed­i­tor of in­vest­ment re­search firm Edi­son, sug­gest­ed the out­cry over coro­n­avirus­es was mis­placed.
Coro­n­avirus­es typ­i­cal­ly cir­cu­late among an­i­mals, such as camels, cats, and bats. Rarely, there is an­i­mal-to-per­son trans­mis­sion, as is sus­pect­ed in the Wuhan out­break. Many pa­tients af­flict­ed in Chi­na were linked to a large seafood and an­i­mal mar­ket, al­though there are cas­es where pa­tients were not ex­posed to the mar­ket at all, which sug­gests there is "lim­it­ed per­son-to-per­son spread…though it's un­clear how eas­i­ly or sus­tain­ably this virus is spread­ing be­tween peo­ple," the CDC said.