Yes, Mar­tin Shkre­li can drop his bad boy per­sona, at least for one mo­ment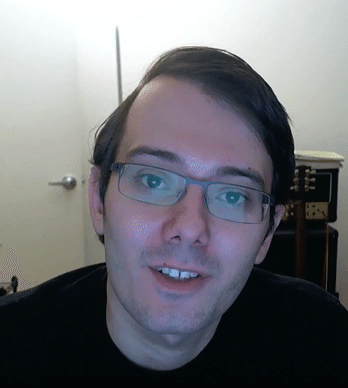 Mar­tin Shkre­li
It turns out that Mar­tin Shkre­li can de­liv­er a sober, straight­for­ward com­pli­ment in re­sponse to a group of crit­ics, with­out any rant­i­ng or the kind of loopy barbs so of­ten on dis­play dur­ing his trade­mark trolling on Twit­ter.
Ear­li­er this week some high school stu­dents in Aus­tralia at­tract­ed glob­al head­lines when they made Dara­prim — an old drug that Shkre­li's Tur­ing ac­quired and then jacked the price of by 5,000%-plus — for $2 a dose. Tur­ing's price: $750.
Al­ice Williamson, a post­doc at the Uni­ver­si­ty of Syd­ney, thought that if a group of high school stu­dents got to­geth­er and made this drug for next to noth­ing, it would il­lus­trate just how un­scrupu­lous Shkre­li was in goug­ing pa­tients.
"I said 'Why don't we get stu­dents to make Dara­prim in the lab', be­cause to me the route looked pret­ty sim­ple," she told The Guardian. "I thought if we could show that stu­dents could make it in the lab with no re­al train­ing, we could re­al­ly show how ridicu­lous this price hike was and that there was no way it could be jus­ti­fied."
High pro­file blog­ger Derek Lowe has al­ready of­fered a com­mon­sense re­sponse, not­ing that there's a lot that goes in­to mak­ing a mar­ket­ed drug that is easy to over­look when stu­dents are for­mu­lat­ing some­thing in the lab. But, it is in­ter­est­ing to note that Shkre­li, who was forced to ex­it the CEO's job at Tur­ing, was hap­py to take to YouTube and cite the stu­dents' suc­cess — as well as some up­dates on his own re­search — with­out at­tack­ing any­one.
"Tech­nol­o­gy has low­ered the costs of a myr­i­ad of goods and ser­vices dra­mat­i­cal­ly," he said in his state­ment, read­ing pre­pared re­marks. "We should con­grat­u­late these stu­dents for their in­ter­est in chem­istry and I'll be ex­cit­ed about what is to come in this stem fo­cused 21st cen­tu­ry."
No ref­er­ence to mo­rons or any oth­er fa­vorite put­downs on dis­play as he clashed with politi­cians and jour­nal­ists or his mul­ti­tude of on­line crit­ics over the past year.
The young Shkre­li is slat­ed to go on tri­al next sum­mer on fraud charges com­plete­ly un­re­lat­ed to the price of Dara­prim. And he man­aged to make it through at least one day lim­it­ing him­self to a care­ful­ly craft­ed com­pli­ment.