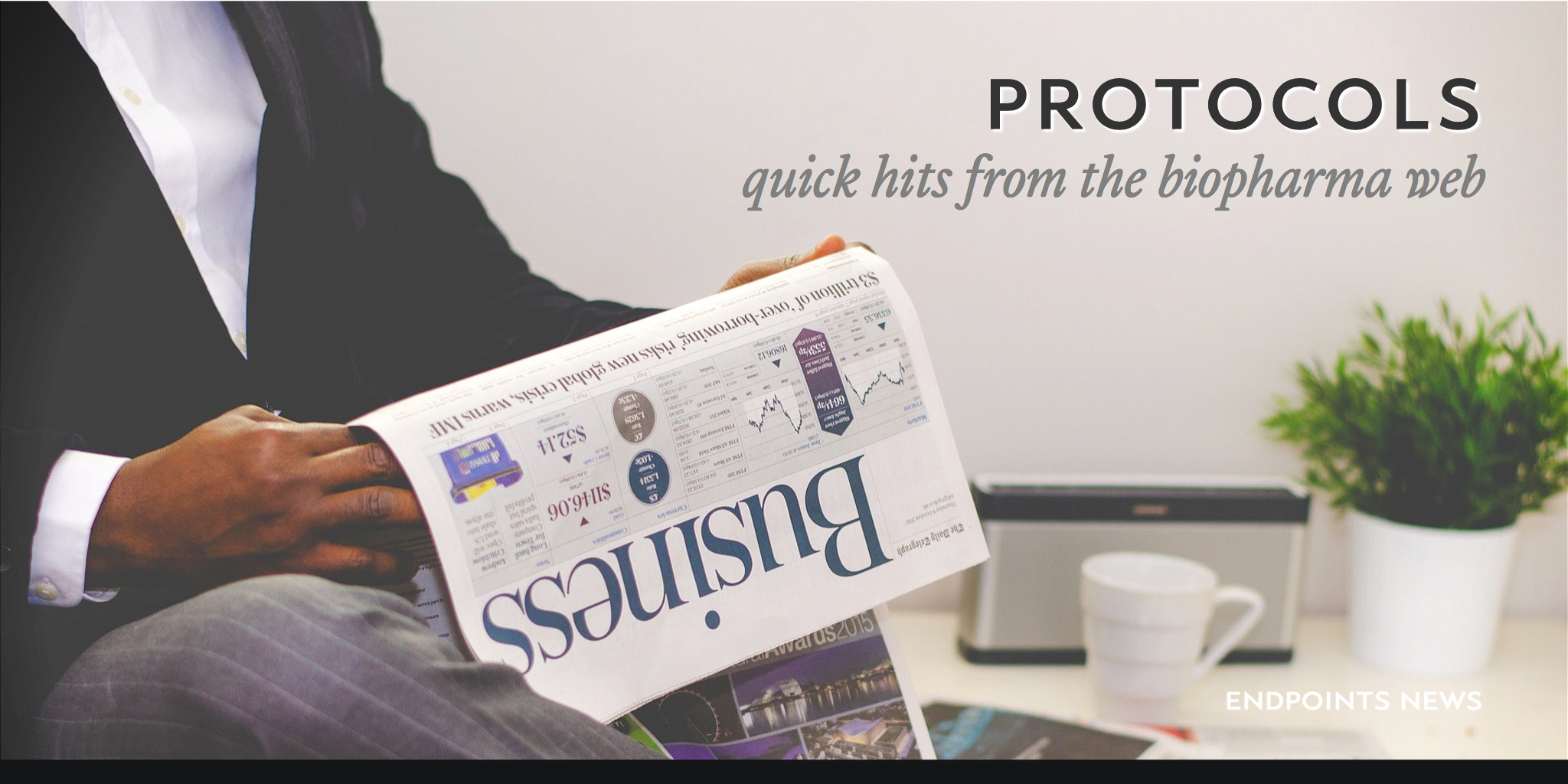 23andMe finds a buy­er for its IL-36 bis­pe­cif­ic in Almi­rall; Neu­ro­crine, Idor­sia re­vise epilep­sy drug deal
→ The first fruits of 23andMe's ef­forts to gen­er­ate new drugs off the in­sights it gained from a mas­sive amount of ge­net­ic da­ta are tak­ing shape, and Almi­rall is sign­ing up to ripen one of them. The Span­ish der­ma­tol­ogy drug­mak­er has li­censed a bis­pe­cif­ic an­ti­body that blocks three cy­tokines in the IL-36 cy­tokine fam­i­ly, which are tied to skin con­di­tions such as pso­ri­a­sis and lu­pus, in ad­di­tion to oth­er in­flam­ma­to­ry ail­ments such as ul­cer­a­tive col­i­tis, in­flam­ma­to­ry bow­el dis­ease, and Crohn's dis­ease.
"As a leader in med­ical der­ma­tol­ogy, we felt Almi­rall was the best com­pa­ny to take this pro­gram for­ward and ul­ti­mate­ly de­vel­op an ef­fec­tive ther­a­py for pa­tients," Ken­neth Hillan, who suc­ceed­ed Genen­tech vet Richard Scheller as head of ther­a­peu­tics at 23andMe, said in a state­ment.
While it start­ed out as a di­rect-to-con­sumer test­ing ser­vice, 23andMe has moved deep­er in­to the ther­a­peu­tic space in re­cent years, most no­tably through a $300 mil­lion part­ner­ship with Glax­o­SmithK­line.
→ We now know the iden­ti­ty of Idor­sia's mys­tery part­ner from last year. The Swiss biotech — spun out from J&J's Acte­lion buy­out — had an­nounced that it pock­et­ed a $5 mil­lion pay­ment from an undis­closed par­ty to score a li­cens­ing op­tion on ACT-709478, a brain pen­e­trat­ing T-type cal­ci­um chan­nel block­er. Now we learn that Neu­ro­crine will pay $45 mil­lion if it ex­er­cis­es the op­tion and up to $365 mil­lion in mile­stones.
"We are ex­cit­ed to lever­age the sci­en­tif­ic ex­per­tise of Idor­sia in T-type cal­ci­um chan­nel in­hi­bi­tion to po­ten­tial­ly ad­vance a Phase 2 ready com­pound to help peo­ple suf­fer­ing from epilep­sy. In ad­di­tion to the treat­ment of epilep­sy, the mod­u­la­tion of the cal­ci­um chan­nel may be use­ful for the treat­ment of oth­er dis­or­ders such as es­sen­tial tremor and pain," Kevin Gor­man, the CEO at Neu­ro­crine, said in a state­ment.
→ Phase­Bio has found a deep-pock­et­ed be­liev­er in its blood thin­ner re­ver­sal agent: SFJ Phar­ma­ceu­ti­cals, which has of­fered up to $120 mil­lion to sup­port the clin­i­cal de­vel­op­ment of PB2452. First li­censed from As­traZeneca, the "break­through" drug is de­signed to can­cel the ef­fects of tica­grelor, an an­ti­co­ag­u­lant, in ur­gent or sur­gi­cal sit­u­a­tions. Backed by Black­stone Life Sci­ences and Abing­worth, SFJ will al­so take over the bulk of the clin­i­cal and reg­u­la­to­ry work out­side of the US. In ex­change, Phase­Bio will pay an­nu­al lump sums once (and if) they win ap­provals.
→ Boehringer In­gel­heim Ven­ture Fund and Dutch in­vestor PPF are lead­ing a $22 mil­lion Se­ries C round for Basel, Switzer­land-based NBE Ther­a­peu­tics to bankroll ear­ly clin­i­cal tri­als of its lead as­set. Rid­ing on re­newed en­thu­si­asm for an­ti­body-drug con­ju­gates, NBE said their plat­form tech is both more pow­er­ful and safer than the ear­li­er gen­er­a­tions of ADC, be­ing im­mune-stim­u­la­to­ry and em­ploy­ing an an­thra­cy­cline pay­load. NBE-002 tar­gets ROR1 in triple-neg­a­tive breast can­cer and lung can­cer, to be fol­lowed by oth­er sol­id can­cer types and lym­phomas.
→ While await­ing an FDA de­ci­sion on its sec­ond shot at an ap­proval, Aca­cia Phar­ma has in-li­censed a short-act­ing, re­versible in­tra­venous seda­tive/anes­thet­ic from Cos­mo Phar­ma. The €10 mil­lion up­front pay­ment will take the form of an eq­ui­ty sale, with an­oth­er €30 mil­lion due up­on US ap­proval of the drug, By­Fa­vo, and more com­mer­cial mile­stones. "Hav­ing a sec­ond prod­uct that shares the same call­ing points and at­trac­tive com­mer­cial mes­sage as Barhem­sys will make the in­vest­ment in our sales and mar­ket­ing teams more ef­fi­cient," CEO Mike Bolin­der said in a state­ment.
→ Eye-fo­cused gene ther­a­py de­vel­op­er Eye­ven­sys has scored $30 mil­lion in Se­ries B fund­ing with the help of lead in­vestor Boehringer In­gel­heim Ven­ture Fund. Pon­tif­ax, Bpifrance, CapDe­cisif, In­serm Trans­fert, the Glob­al Health Sci­ences Fund and Pure­os Bioven­tures al­so joined to boost their R&D ef­forts, fea­tur­ing a lead Phase II-ready pro­gram for chron­ic non-in­fec­tious uveitis.
→ The cell ther­a­py ex­perts at Jasper Ther­a­peu­tics have brought in an ex­tra $14.1 mil­lion for their Se­ries A, adding Roche Ven­ture Fund to their ros­ter of mar­quee in­vestors. The new cash will help ex­pand the lead clin­i­cal pro­gram, a CD117-tar­get­ed an­ti­body con­ceived as an al­ter­na­tive con­di­tion­ing reg­i­men be­fore stem cell trans­plants.
→ Fol­low­ing the close of its $1 bil­lion-plus sec­ond fund, GHO Cap­i­tal Part­ners has ac­quired Bel­gian CD­MO Ar­de­na, which is fo­cused on ear­ly-stage drug de­vel­op­ment, from Men­tha Cap­i­tal.