#AACR: Mer­ck spot­lights piv­otal Keytru­da/chemo da­ta, hop­ing to break down skep­ti­cism to its front­line lung can­cer duo
CHICA­GO — Mer­ck wowed the im­muno-on­col­o­gy mar­ket ear­ly this year with the head­line news that its piv­otal KEYNOTE-189 study demon­strat­ed a clear suc­cess for Keytru­da com­bined with chemo in treat­ing front­line lung can­cer cas­es. And at AACR in Chica­go to­day, its in­ves­ti­ga­tors spelled out the promis­ing re­sults — demon­strat­ing that the com­bo re­duced the risk of death by half with a haz­ard ra­tio of 0.49 — as Mer­ck looks to hold back a wave of ma­jor league com­peti­tors as it carves out a big­ger share of the block­buster lung can­cer mar­ket.
In the first look at hard da­ta for non­squa­mous non-small cell lung can­cer — which will be care­ful­ly com­pared with the da­ta from Bris­tol-My­ers — re­searchers say that their com­bo clear­ly beat out chemo alone on over­all sur­vival, though the fi­nal OS rate for the com­bi­na­tion has not yet been reached.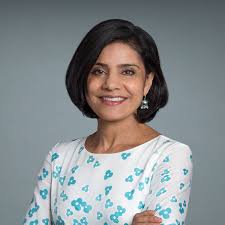 Leena Gand­hi
The great­est ben­e­fit among these pa­tients was among the high PD-L1 ex­pressers, but chief in­ves­ti­ga­tor Leena Gand­hi at the Perl­mut­ter Can­cer Cen­ter at NYU Lan­gone Health al­so says that the sur­vival ben­e­fit could be seen across the board on PD-L1 ex­pres­sion.
Mer­ck's piv­otal da­ta from the -189 study are cru­cial to their cam­paign to be the leader in check­point in­hi­bi­tion. Ap­proved by the FDA for front­line cas­es on Phase II da­ta — but re­ject­ed in Eu­rope — Mer­ck says that physi­cians have been slow to change the way they treat lung can­cer. Now Mer­ck be­lieves this da­ta should re­solve any doubts as Keytru­da be­comes the stan­dard of care in this crit­i­cal­ly im­por­tant set­ting.
At 12 months, Gand­hi tells me, 69.2% of the com­bo arm was still alive, com­pared to 49.4% in the con­trol arm.
Ac­cord­ing to Mer­ck, pa­tients in the drug arm were 51% less like­ly to die than the con­trol group, and those in the high­est PD-L1 score group were 58% less like­ly to die. The rates held up de­spite a high num­ber of pa­tients who crossed over to the com­bo af­ter their dis­ease pro­gressed.
"The great­est ben­e­fit was seen in those with high lev­els of PD-L1 ex­pres­sion, sug­gest­ing that PD-L1 does have some pre­dic­tive val­ue even in this com­bi­na­tion set­ting," Gand­hi said.
Me­di­an PFS was 8.8 months for the pem­brolizum­ab arm, ver­sus 4.9 months for the con­trol group.
Some an­a­lysts have been wait­ing to see if the ben­e­fits for the com­bo leaned pri­mar­i­ly to high PD-L1 ex­pressers, leav­ing ri­vals an open­ing in divvy­ing up the mar­ket on the rest. But Gand­hi says the sur­vival ad­van­tages are clear re­gard­less of PD-L1 sta­tus. That marks a trend that many are see­ing, where new ther­a­peu­tic ap­proach­es are de­liv­er­ing en­hanced re­sults for the high-PD-L1 group while re­tain­ing promis­ing re­sults for the full field.
"There was no group that didn't get a sur­vival ben­e­fit in this study," Gand­hi says, with the re­sults of­fer­ing a prac­tice-chang­ing set of re­sults. She al­so says she wants to ful­ly con­sid­er the fi­nal da­ta from Check­mate-227 (Bris­tol-My­ers) and IM­pow­er-150 (Roche) as she pon­ders the chang­ing scene for prac­ti­tion­ers.