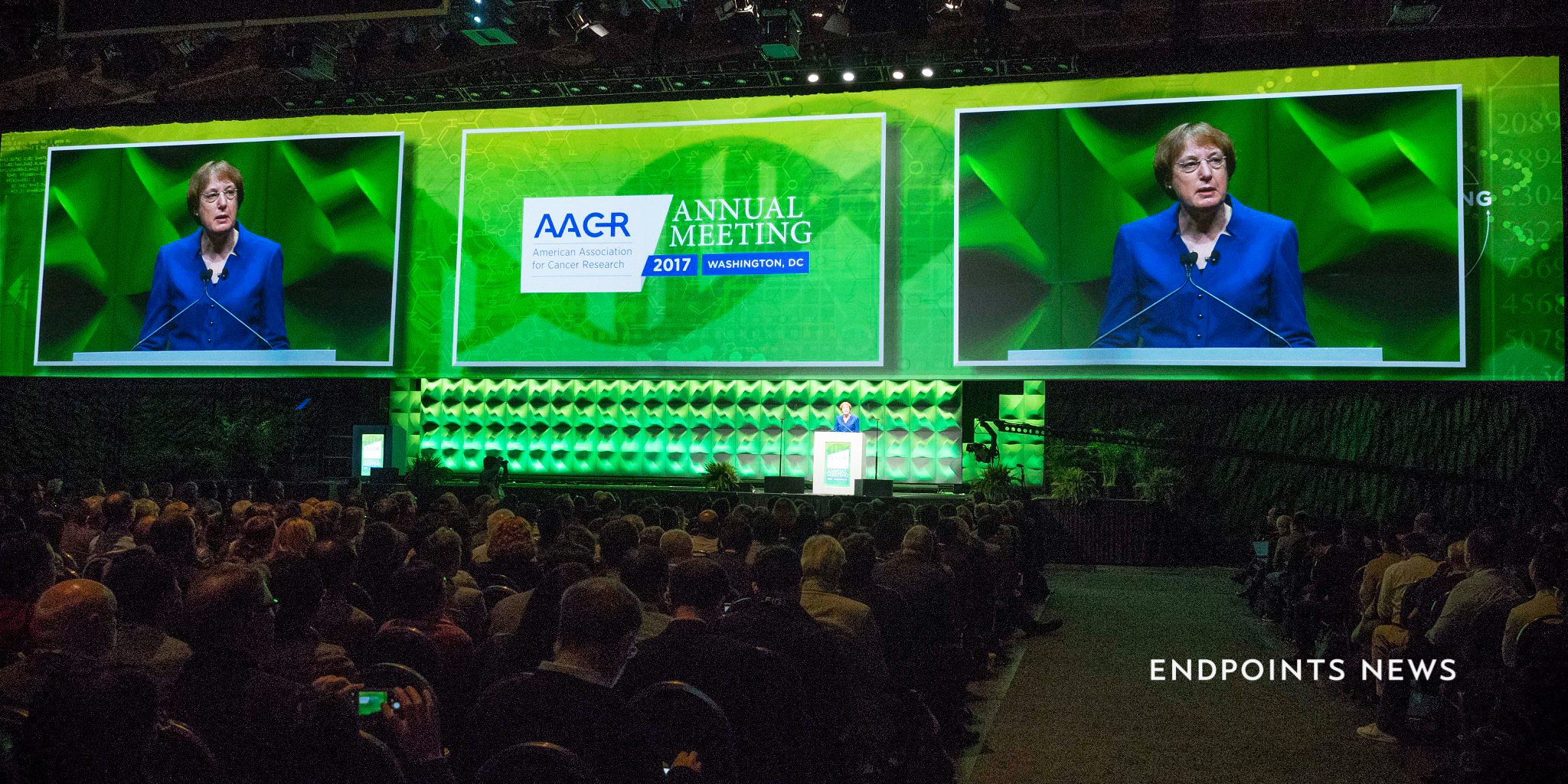 #AACR17: Fresh from Mer­ck em­brace, fast-grow­ing In­cyte piv­ots in­to a PhI­II IDO1/Op­di­vo tie-up with Bris­tol-My­ers
PHO­TO: © AACR/Todd Buchanan 2017
---
Wash­ing­ton, DC — Two days af­ter In­cyte out­lined how it tied the knot with Mer­ck on a slate of six late-stage stud­ies com­bin­ing its check­point Keytru­da with the biotech's IDO1 drug epaca­do­stat, ze­ro­ing in on front­line use, In­cyte has piv­ot­ed in­to a part­ner­ship on three stud­ies with Bris­tol-My­ers Squibb's ri­val check­point Op­di­vo.
Like Mer­ck, Bris­tol-My­ers is look­ing for piv­otal da­ta on a front­line com­bo to tack­le non-small cell lung can­cer. And they're adding a Phase III study that tack­les head and neck can­cer while ex­pand­ing an on­go­ing Phase I/II to in­clude an­ti-PD-1/PD-L1 re­lapsed/re­frac­to­ry co­horts of melanoma pa­tients.
Like its pact with Mer­ck, In­cyte $IN­CY is shar­ing the cost of the piv­otal work with Bris­tol-My­ers, look­ing to pen­e­trate a slate of can­cer mar­kets with lead­ers in the field. And as Mer­ck is tak­ing the lead on do­ing the re­search work on their pact, Bris­tol-My­ers is do­ing the same, In­cyte CEO Hervé Hop­penot tells me.
In­vestors loved the move in­to late-stage test­ing across a broad front, send­ing shares up 5% by late af­ter­noon on Mon­day.
Iron­i­cal­ly, In­cyte emerges from these back-to-back deals con­tin­u­ing to be close­ly al­lied with the two top play­ers in check­point in­hi­bi­tion. Mer­ck re­cent­ly seized the in­side track on non-small cell lung can­cer, leapfrog­ging a flail­ing Bris­tol-My­ers which was ham­mered — and not for the first time — as it re­cent­ly re­vealed that its com­bi­na­tion of Op­di­vo and the CT­LA-4 drug Yer­voy would not be head­ed to an ac­cel­er­at­ed re­view. And In­cyte is al­so al­ready en­gaged in pacts with As­traZeneca and Genen­tech on their check­points as well.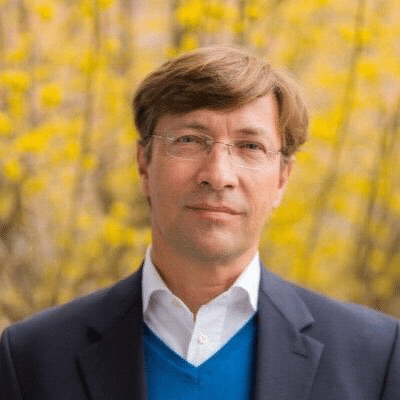 Hervé Hop­penot, In­cyte CEO
How about Baven­cio (avelum­ab), the new­ly ap­proved check­point from Mer­ck KGaA and Pfiz­er? I ask Hop­penot.
"We're open to it," he re­sponds with a ready smile.
In­cyte not on­ly has part­ner­ships with a line­up of key play­ers, it has its own check­point in de­vel­op­ment as well. (Just as Bris­tol-My­ers has its own IDO1 in ear­ly de­vel­op­ment.) The biotech is op­er­at­ing on the no­tion that epaca­do­stat has the po­ten­tial to be tied to a va­ri­ety of check­points for a list of dif­fer­ent can­cer types.
"I don't think any­one knows how things will end up," says Hop­penot, who views these de­vel­op­ment pacts as short term com­mit­ments. If the tri­als pan out as hoped, he says that the lead­ing IDO1 drug could be pre­scribed in com­bi­na­tions, a lu­cra­tive rev­enue source for the com­pa­ny. The deals do not in­clude com­mer­cial part­ner­ships.
In­cyte an­nounced the lat­est deal with Bris­tol-My­ers ear­ly Sun­day, as AACR was get­ting start­ed in Wash­ing­ton DC.
One of the rea­sons why IDO1 and check­points are so at­trac­tive, Hop­penot says, is that a tar­get­ed ther­a­py like an IDO1 — fo­cused on the tu­mor mi­croen­vi­ron­ment — could have a bet­ter shot at suc­cess with a check­point than, say, a PD-1 check­point and CT­LA-4 (like Yer­voy) where you're adding a sys­temic drug that could trig­ger safe­ty is­sues for pa­tients.
The first one of these piv­otal com­bo stud­ies will be the Keytru­da/epaca­do­stat com­bo study that reads out in 2018, just around the cor­ner in R&D terms.
Leerink's Sea­mus Fer­nan­dez en­thu­si­as­ti­cal­ly signed off on the lat­est Bris­tol-My­ers pact Mon­day morn­ing. He not­ed:
In our view, BMY's de­ci­sion to fol­low MRK dra­mat­i­cal­ly re­duces the risk that Op­di­vo will be at risk even if the com­bi­na­tion with IDO is ul­ti­mate­ly deemed clin­i­cal­ly su­pe­ri­or to the com­bi­na­tion of CT­LA4 + PD1/PDL1. Fur­ther­more, as bio­mark­ers evolve and new treat­ment ap­proach­es evolve and emerge, it is like­ly that the PD1/PDL1 agents with the broad­est la­bels are most like­ly to ben­e­fit from this seg­men­ta­tion of the mar­ket. This "all com­ers" ap­proach to com­bi­na­tions high­lights what like­ly will con­tin­ue to be an ex­tra­or­di­nary cost of IO de­vel­op­ment and the race for lead­er­ship.
This is a crit­i­cal time for In­cyte, which is one of the biotechs most fre­quent­ly men­tioned as a like­ly takeover tar­get by over-caf­feinat­ed an­a­lysts ea­ger to pre­dict the next M&A deal. The staff of the Wilm­ing­ton, DE-based com­pa­ny has bro­ken past the 1,000 mark, with 850 in the US and the rest in Eu­rope — where In­cyte picked up the Ari­ad op­er­a­tions last May – well ahead of the Take­da buy­out in the US – for $140 mil­lion up front.
More than half of In­cyte's staff is in R&D, with more than 200 sci­en­tists in the op­er­a­tion. And Hop­penot tells me he's in­tent on build­ing a "flat" or­ga­ni­za­tion that is bro­ken in­to three dis­tinct re­gions: the US, Eu­rope and next in Japan.
"The ques­tion was how to be­come big with­out be­com­ing stu­pid," says the CEO, a vet­er­an of the glob­al phar­ma gi­ant No­var­tis.
In­cyte now has 14 drugs in the clin­ic, a grow­ing top line with Jakafi sales, with rev­enue break­ing past the $1 bil­lion mark last year. These new and re­vamped pacts have helped dri­ve a big fo­cus on the pipeline.
Back in ear­ly 2015, In­cyte paid $60 mil­lion for an up­front and eq­ui­ty and promised up to $350 mil­lion in mile­stones to jump on board Agenus's an­ti­body dis­cov­ery plat­form. That deal cov­ered a slate of check­point reg­u­la­tors that could be cru­cial to In­cyte's fu­ture cov­er­ing GITR, OX40, LAG-3 and TIM-3. And a few weeks ago that 50/50 deal was re­jigged to leave In­cyte with the reins, with Agenus tak­ing cash and roy­al­ties in lieu of the split orig­i­nal­ly planned.
Late last year In­cyte em­braced Dutch biotech Merus and its bis­pe­cif­ic an­ti­body tech, agree­ing to buy in­to a new dis­cov­ery and de­vel­op­ment col­lab­o­ra­tion that start­ed with $200 mil­lion in an up­front and eq­ui­ty pay­ment and has the po­ten­tial to earn bil­lions more if it ma­tures in­to a co-com­mer­cial­iza­tion arrange­ment.
The key to mak­ing this all work, says Hop­penot, is to cre­ate sep­a­rate or­ga­ni­za­tions that can op­er­ate vir­tu­al­ly — though not en­tire­ly — in­de­pen­dent­ly, with­out a large hi­er­ar­chy over­see­ing every as­pect of de­vel­op­ment, slow­ing things down.
"We are a fast grow­ing com­pa­ny," says Hop­penot. "That is not go­ing to change."
And he isn't about to guar­an­tee that every­thing now in the clin­ic will work.
"Some of it is go­ing to flop," says the for­mer No­var­tis can­cer chief, who took the helm at In­cyte three-and-a-half years ago. It's not tak­ing in­tel­li­gent, fo­cused risks that he finds a much big­ger threat. And so far, it's all work­ing in his fa­vor.