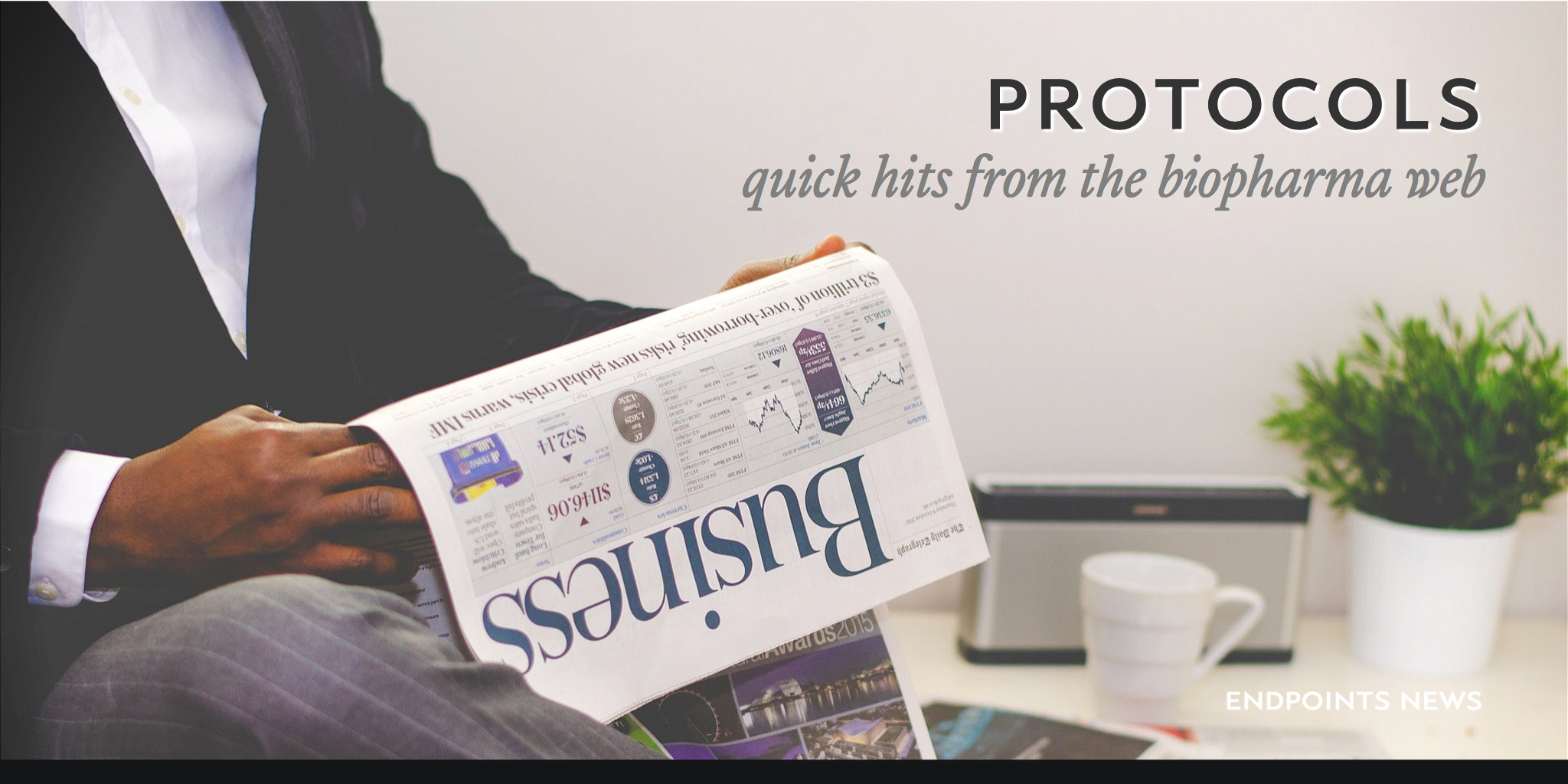 Ac­tive Biotech shares crater af­ter Teva's MS drug laquin­i­mod flops (again); FDA ap­proves Foun­da­tion Med­i­cine's ge­nom­ic tu­mor di­ag­nos­tic test
→ We al­ready knew from a Phase III read­out last spring that Te­va's big mul­ti­ple scle­ro­sis drug hope laquin­i­mod didn't work in treat­ing re­laps­ing re­mit­ting MS. This morn­ing we find out that it's no bet­ter in the pri­ma­ry pro­gres­sive form of the dis­ease. Te­va's part­ner Ac­tive Biotech re­port­ed that the Phase II in PPMS — dubbed ARPEG­GIO — flunked the pri­ma­ry on brain at­ro­phy as well as a sec­ondary on time to con­firmed dis­abil­i­ty pro­gres­sion. Ac­tive's shares $AC­TI cratered on the news, drop­ping more than 40%. Te­va has spent years in pur­suit of a laquiniq­mod ap­proval, de­spite mount­ing ev­i­dence that it couldn't com­pete. Re­cent­ly the strug­gling out­fit launched a re­struc­tur­ing that led to the de­par­ture of R&D chief Michael Hay­den.
→ 5AM Ven­tures and New En­ter­prise As­so­ci­ates led a $7.5 mil­lion seed round for Ak­ou­os, a start­up gene ther­a­py com­pa­ny fo­cused on in­ner ear ther­a­pies. "Our mis­sion is to make healthy hear­ing avail­able to all," said Man­ny Si­mons, founder and CEO of Ak­ou­os. "Our cor­ner­stone part­ner­ship with Mass­a­chu­setts Eye and Ear, the world's largest hear­ing re­search cen­ter, and with Lon­za, a glob­al leader in vi­ral gene and cell ther­a­py man­u­fac­tur­ing, sets a strong foun­da­tion for the im­por­tant work to be done in this emer­gent field."
→ Al­ny­lam CEO John Maraganore is get­ting ready to start mar­ket­ing the biotech's first RNAi drug, and he be­lieves that the com­pa­ny will have so many new drugs fol­low­ing the path to the mar­ket that Al­ny­lam won't need reg­u­lar steep in­creas­es in prices to keep rev­enue grow­ing. As a re­sult, he says he will lim­it an­nu­al price hikes to the in­fla­tion rate, which is cur­rent­ly much, much low­er than what the rest of the in­dus­try does.
→ Foun­da­tion Med­i­cine $FMI has scored a key FDA OK for its com­pre­hen­sive com­pan­ion di­ag­nos­tic test for sol­id tu­mors, along with a pre­lim­i­nary de­ter­mi­na­tion that the di­ag­nos­tic will be cov­ered by the Cen­ters for Medicare and Med­ic­aid Ser­vices. De­signed to help health care pro­fes­sion­als make can­cer treat­ment de­ci­sions, Foun­da­tionOne CDx is a pro­fil­ing test that as­sess­es ge­nom­ic al­ter­ations in 324 genes known to dri­ve can­cer growth. The test al­so re­ports ge­nom­ic bio­mark­ers that can in­form the use of im­munother­a­pies. The com­pa­ny es­ti­mates that 1 in 3 pa­tients across 5 com­mon ad­vanced can­cers would match with an FDA-ap­proved ther­a­py. "To­day's his­toric par­al­lel re­view de­ci­sion from the FDA and CMS rep­re­sents a ma­jor ad­vance­ment in per­son­al­ized can­cer care," said CEO Troy Cox in a state­ment.