Aim­mune's PhI­II peanut al­ler­gy study wows on the pri­ma­ry end­point, set­ting up FDA pitch -- and shares slide
Four months af­ter DBV Tech­nolo­gies stock was crushed by a shaky set of piv­otal da­ta for its peanut al­ler­gy drug, ri­val Aim­mune Ther­a­peu­tics $AIMT says its Phase III has come through with a promis­ing set of re­sults. And the win sets up an FDA ap­pli­ca­tion lat­er this year for the pi­o­neer­ing drug, with a Eu­ro­pean pitch to fol­low soon af­ter.
Of the 554 pa­tients in the study, 67.2% of the group in the AR101 drug arm were able to tol­er­ate at least a 600 mg dose of peanut pro­tein, pro­tect­ing them from a po­ten­tial­ly dead­ly al­ler­gic re­ac­tion against a small ex­po­sure. In the place­bo arm, on­ly 4% of the 4- to 17-year-olds in the study could say the same.
The da­ta were put on a slid­ing scale based on ex­po­sure, with 96.3% OK with a 300 mg dose of peanut pro­tein (about one peanut) and 50.3% of AR101 pa­tients tol­er­at­ing the sin­gle high­est dose of 1000 mg of peanut pro­tein.
Aim­mune shares ini­tial­ly shot up 21% in ear­ly trad­ing, while DBV saw its stock $DB­VT slide an­oth­er 10%. But the ral­ly didn't last long. Aim­mune's shares were down 3% Tues­day af­ter­noon.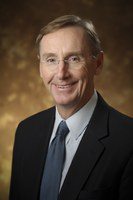 Wes­ley Burks
"It's great to have pa­tients go from man­ag­ing to tol­er­ate at most the amount of peanut pro­tein in a tenth of a peanut with­out re­act­ing to suc­cess­ful­ly eat­ing the equiv­a­lent of be­tween two to four peanuts with noth­ing more than mild, tran­sient symp­toms, if any at all," said prin­ci­pal in­ves­ti­ga­tor Wes­ley Burks, from the Uni­ver­si­ty of North Car­oli­na School of Med­i­cine.
There was a high drop out rate, though, with 20.4% of AR101 pa­tients — ver­sus 6.5% of place­bo pa­tients — dis­con­tin­u­ing the tri­al, of­ten as a re­sult of an ad­verse event.
Com­pare those re­sults to DBV, and you'll see a wide gulf sep­a­rat­ing the two.
The place­bo re­sponse in the DBV study — 13.6% — came in just a tiny bit high­er than the 12% re­sponse rate seen in a mid-stage con­trol arm. But the pos­i­tive re­sponse to their Vi­askin Peanut 250 μg dose — de­signed to get re­ac­tive im­mune sys­tems to tol­er­ate peanut pro­tein — tailed off con­sid­er­ably, drop­ping from 48% in Phase II to on­ly 35.3% in the late-stage tri­al af­ter 12 months of ther­a­py.
DBV nev­er­the­less said it would push for an FDA OK in any case.