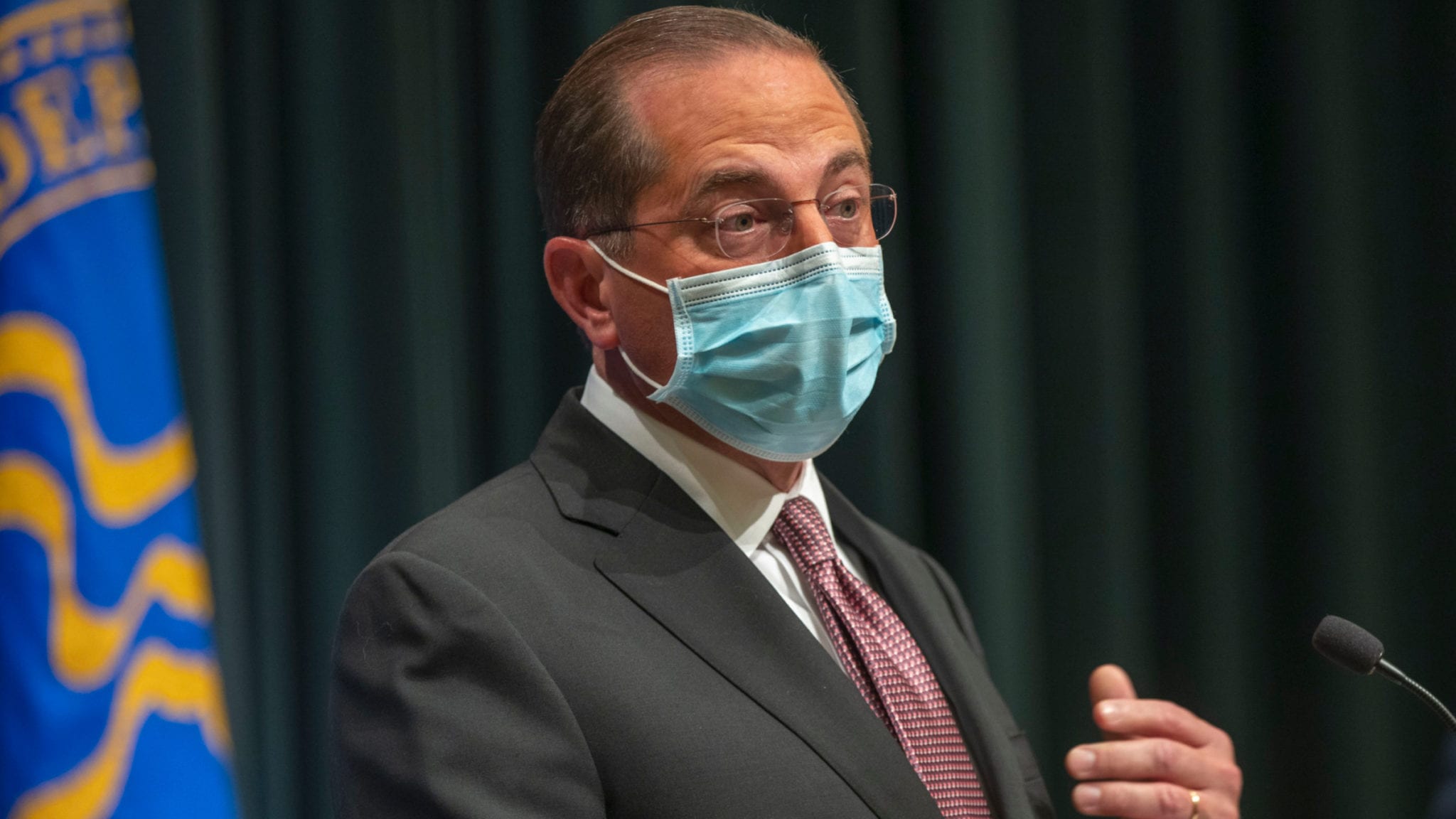 HHS secretary Alex Azar at the CDC, Oct. 21, 2020 (Alyssa Pointer/Atlanta Journal-Constitution via AP)
Alex Azar, re­fus­ing to ac­knowl­edge elec­tion re­sults, says they're not work­ing with Biden team on vac­cine roll­out
With da­ta now out on two ex­per­i­men­tal vac­cines, the course of the rag­ing US out­break and the suc­cess of the fed­er­al gov­ern­ment's $18 bil­lion vac­cine ac­cel­er­a­tion pro­gram hinges in part on whether of­fi­cials can suc­cess­ful­ly roll dos­es out to the gen­er­al pub­lic, should they re­ceive FDA au­tho­riza­tion.
It's a del­i­cate and high­ly tech­ni­cal process, one that of­fi­cials have been game-plan­ning in mil­i­tary table­top style for months. But so far nei­ther those of­fi­cials nor oth­er rep­re­sen­ta­tives from the fed­er­al gov­ern­ment have spo­ken to the ad­min­is­tra­tion that will take over just a month in­to the like­ly roll­out, HHS sec­re­tary Alex Azar said Wednes­day.
Re­fus­ing to ac­knowl­edge the out­come of the No­vem­ber elec­tion, Azar said his agency would not work with pres­i­dent-elect Joe Biden's team un­til the Gen­er­al Ser­vices Ad­min­is­tra­tion is­sues a let­ter kick-start­ing the process. He said, how­ev­er, that the roll­out is be­ing car­ried out by ca­reer of­fi­cials, en­sur­ing con­ti­nu­ity.
"In the event of a tran­si­tion, all of the in­di­vid­u­als you see here be­sides my­self, all of the peo­ple in­volved in plan­ning at CDC and on the Op­er­a­tion Warp Speed team, these are ca­reer of­fi­cials, so they're not im­pact­ed by any change in lead­er­ship," he said at a press con­fer­ence be­side Warp Speed lead­ers Mon­cef Slaoui and Gen­er­al Gus­tave Per­na. "In the event of tran­si­tion, there's re­al­ly just to­tal con­ti­nu­ity."
While out­side ex­perts raise red flags over how well cash-strapped states will be able to han­dle a mass vac­ci­na­tion cam­paign, Azar, Slaoui and Per­na tried to project con­fi­dence that of­fi­cials were pre­pared and the roll­out would go smooth­ly.
Oth­ers in and around the gov­ern­ment, though, have been less san­guine. Pfiz­er CEO Al­bert Bourla said this week that he be­lieved dis­tri­b­u­tion would be more or­der­ly than some an­tic­i­pate, but said the state of the pres­i­den­tial tran­si­tion was not "ide­al." An­tho­ny Fau­ci raised con­cerns on Mon­day that a rough tran­si­tion be­tween Trump and Biden's ad­min­is­tra­tion could dis­rupt the roll­out.
"We want a smooth process for that," Fau­ci said on the To­day Show. "And the way you do that is by es­sen­tial­ly hav­ing the two groups speak to each oth­er and ex­change in­for­ma­tion."
Un­like the White House, ex­ec­u­tives at the lead­ing com­pa­nies de­vel­op­ing Covid-19 vac­cines have pro­vid­ed up­dates to Biden's team on their progress. CNN re­port­ed that HHS staffers have been in­struct­ed that should a mem­ber of Biden's team reach out to them, they should con­tact the deputy sur­geon gen­er­al of com­mu­ni­ca­tion and not re­spond.
Slaoui, Warp Speed's sci­en­tif­ic head, said at the press con­fer­ence that he ex­pect­ed an EUA for both Pfiz­er and Mod­er­na's vac­cine to come in the mid­dle of De­cem­ber, an es­ti­mate in line with com­pa­ny pre­dic­tions and out­side re­port­ing. He said da­ta from an un­named third vac­cine — like­ly a ref­er­ence to the can­di­date from As­traZeneca and Ox­ford — could fol­low in a few weeks.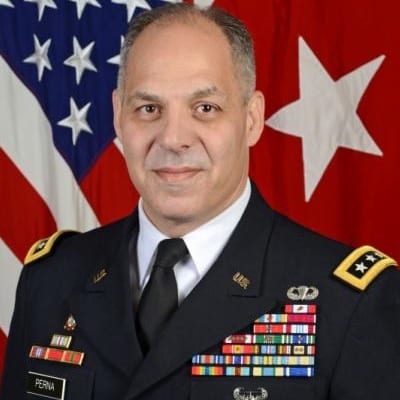 Gus­tave Per­na
Should one or both be au­tho­rized, the fed­er­al gov­ern­ment will im­me­di­ate­ly dis­trib­ute some dos­es to all 64 ju­ris­dic­tions it over­sees, Per­na said.
"Up­on re­ceipt of emer­gency use au­tho­riza­tion, all of Amer­i­ca must re­ceive vac­cine with­in 24 hours," he said. "I think this in­cred­i­bly im­por­tant — fair and eq­ui­table dis­tri­b­u­tion of vac­cine through­out the coun­try. There is no have and have nots."
The gov­ern­ment ex­pects to ship 40 mil­lion dos­es of vac­cine in De­cem­ber, enough to in­oc­u­late 20 mil­lion peo­ple. States have asked for $8 bil­lion in aid to han­dle those ship­ments and get them in­to arms, but Con­gress has not ap­proved new fund­ing and Azar has re­peat­ed­ly re­buffed the re­quests.
Pfiz­er and Mod­er­na's vac­cine have dif­fer­ent re­quire­ments for cold-chain stor­age and pre­cise­ly where each vac­cine goes and who should get it will come down to de­ci­sions from the CDC's Ad­vi­so­ry Com­mit­tee on Im­mu­niza­tion Prac­tices.
Nor­mal­ly that com­mit­tee meets di­rect­ly af­ter an ap­proval is is­sued, but Azar said he is try­ing to have them meet at the same time the FDA ad­vi­so­ry com­mit­tee meets. In Sep­tem­ber, the ACIP raised se­ri­ous con­cerns about the chal­lenges that the roll­out of the Pfiz­er-BioN­Tech vac­cine would pose.
"The com­plex­i­ties of this plan for vac­cine stor­age and han­dling will have ma­jor im­pact in our abil­i­ty to ef­fi­cient­ly de­liv­er the vac­cine," Nan­cy Mes­son­nier, di­rec­tor of the CDC's Na­tion­al Cen­ter for Im­mu­niza­tion and Res­pi­ra­to­ry Dis­eases, said at the time.
The Pfiz­er-BioN­Tech mR­NA can­di­date needs to be stored and shipped at -94 de­grees Fahren­heit and can on­ly be kept at nor­mal fridge tem­per­a­tures for up to 7 days. Pfiz­er and the gov­ern­ment say the "ther­mal ship­pers" they de­vel­oped should mit­i­gate con­cerns. Mod­er­na's vac­cine can be shipped at -4 de­grees and stored in the fridge for up to a month.
Mon­cef Slaoui (AP)
Slaoui ac­knowl­edged that reg­u­la­tors would on­ly have a cou­ple months fol­low-up on the first two vac­cines when they are like­ly au­tho­rized, but he laid out in stark terms what he saw as the cost of wait­ing now that the virus is surg­ing to record lev­els across the coun­try.
Around 70% of the coun­try, he said, would like­ly have to be im­mu­nized to achieve herd im­mu­ni­ty.
"We have north of 150,000 peo­ple in­fect­ed every day and north of 1,000 peo­ple dy­ing every­day," he said at a press con­fer­ence. "And wait­ing 2 more months or 4 more months will count in the tens or hun­dreds of thou­sands of more deaths the harm to the pop­u­la­tion that no vac­cine would ever even ap­proach."
He said, how­ev­er, that they will still col­lect da­ta on the vac­cines af­ter the EUA. That in­cludes short- and long-term safe­ty mon­i­tor­ing, but al­so da­ta on how durable the vac­cines are and how well they pre­vent asymp­to­matic in­fec­tion. Slaoui pre­dict­ed the da­ta will show some but not com­plete pro­tec­tion.
It's un­clear when Mod­er­na or Pfiz­er will un­blind the stud­ies, but Slaoui said the lat­est it would come is 2 to 3 months af­ter the EUA, when he pre­dict­ed the FDA would for­mal­ly ap­prove both vac­cines.
Still, he said, the US would need more vac­cines to cov­er the pop­u­la­tion and he urged more Amer­i­cans to sign up for on-go­ing and forth­com­ing tri­als on the next wave of can­di­dates. It would not on­ly help the world get an­swers faster, he said, but al­so give you 50/50 odds of get­ting a vac­cine to­mor­row in­stead of in sev­er­al months.
"We now know that vac­ci­na­tion is pos­si­ble — not on­ly it's pos­si­ble, it's in­cred­i­bly ef­fec­tive. It's very like­ly that oth­er vac­cines will al­so be as ef­fec­tive," he said. "Come and par­tic­i­pate."
For a look at all End­points News coro­n­avirus sto­ries, check out our spe­cial news chan­nel.