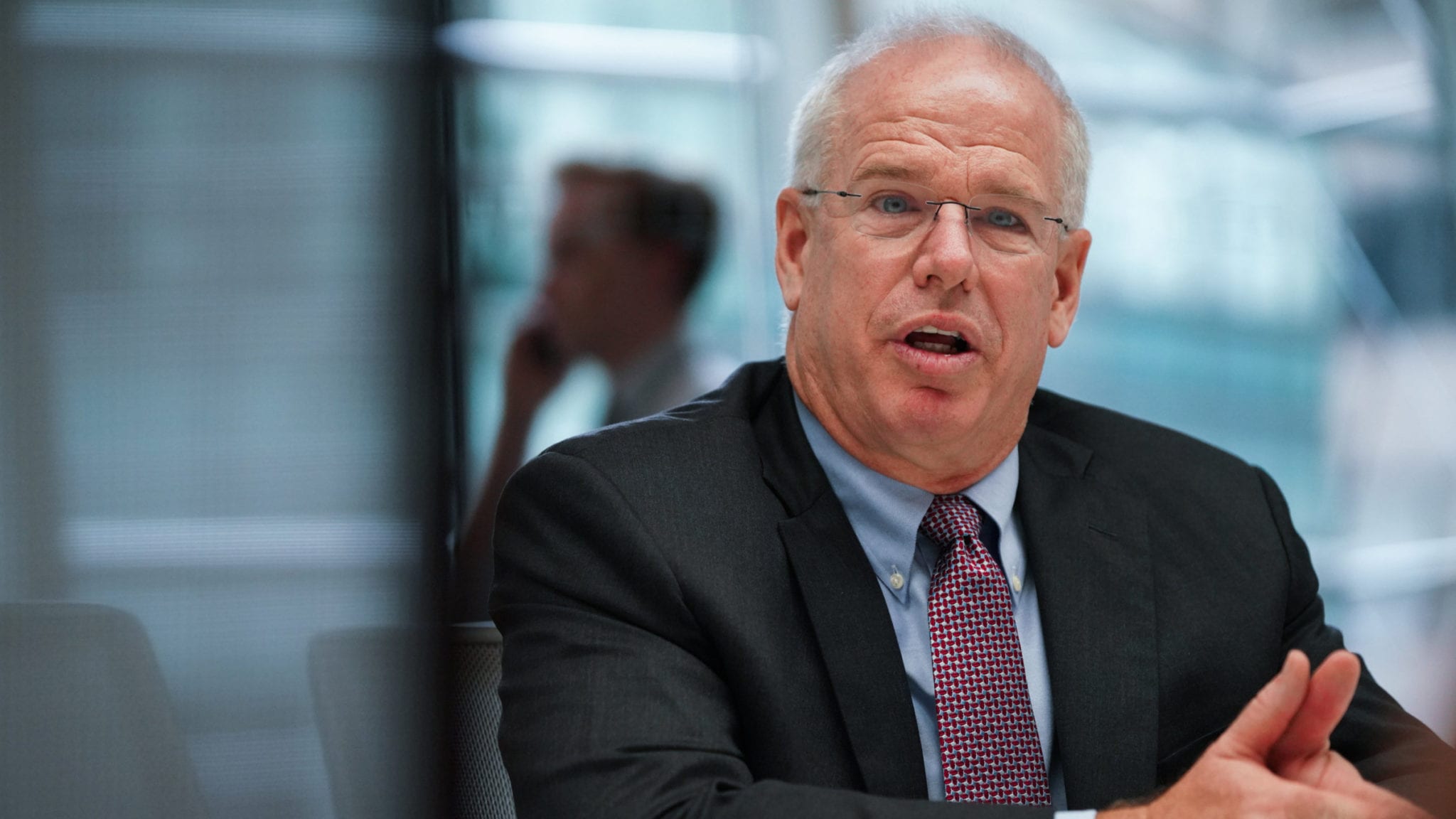 John Thero, Amarin CEO (Christopher Goodney/Bloomberg via Getty Images)
Amarin los­es patent ap­peal and their brief grip on a car­dio­vas­cu­lar, fish oil em­pire
Amarin's briefly-held fish oil em­pire has slipped from its grasp, and now ap­pears gone for good.
A US fed­er­al ap­peals court re­fused on Thurs­day to over­turn a March rul­ing that stripped the Irish drug­mak­er of its patents on the fish oil-based heart drug Vas­cepa, open­ing the door for gener­ic al­ter­na­tives to hit the mar­ket. The rul­ing means that Amarin's chance of turn­ing an ex­pand­ed ap­proval from last De­cem­ber in­to block­buster rev­enues has es­sen­tial­ly van­ished.
In­vestors re­spond­ed ac­cord­ing­ly, with the stock falling 7% from $5.04 to $4.67. The drop-off like­ly would have been steep­er, but high odds of a patent loss had al­ready been baked in­to the stock's price, with Wall Street be­gin­ning to sig­nal its skep­ti­cism in the win­ter and the stock drop­ping 70% when the first patent rul­ing came down on March 30. Vas­cepa is their on­ly prod­uct.
The an­nounce­ment yes­ter­day of the judges that would serve on the ap­peal pan­el pro­vid­ed the fi­nal nail. An­a­lysts con­sid­ered the judges col­lec­tive­ly un­fa­vor­able to­ward Amarin, and the stock sold off 30%.
In a state­ment, Amarin CEO John Thero said it will "vig­or­ous­ly pur­sue avail­able reme­dies," which could in­clude one last form of ap­peal, but an­a­lysts have large­ly moved on. In a note, Stifel's Derek Archi­la said the ques­tions that Amarin now face cen­ter on Eu­rope, where Vas­cepa re­mains un­der patent pro­tec­tion. He es­ti­mat­ed $650 mil­lion in peak sales there, but not­ed that the drug still has to be ap­proved and the com­pa­ny still has to se­cure re­im­burse­ment.
"So we don't think 2021 sales of Vas­cepa in the EU are like­ly to be mean­ing­ful," Archi­la said. "We think the fact AM­RN was not able to part­ner the EU rights for Vas­cepa for a mean­ing­ful sum and chose to go-it-alone could mean part­ners viewed this op­por­tu­ni­ty to be a more mod­est one or chal­leng­ing to ex­e­cute on, thus, we are con­ser­v­a­tive with our peak sales es­ti­mates and sales ramp in the EU."
Still, there are ques­tions about how much mar­ket Vas­cepa could still grab in the US. Archi­la not­ed that Vas­cepa is com­plex to make, po­ten­tial­ly lim­it­ing how much gener­ic com­pe­ti­tion emerges. And Amarin said in a state­ment that giv­en how cur­rent com­peti­tors may like­ly have lim­it­ed sup­ply, they will for now main­tain their sales and pro­mo­tion­al in­fra­struc­ture.
Archi­la cau­tioned, though, that cut­ting in the US soon­er might be "pru­dent" to pre­pare for the costs of launch­ing in the EU. While say­ing they will con­tin­ue to fight in the states, Thero em­pha­sized the op­por­tu­ni­ties else­where. "We are par­tic­u­lar­ly ex­cit­ed about the an­tic­i­pat­ed com­mer­cial­iza­tion op­por­tu­ni­ties for Vas­cepa in Eu­rope as we pre­pare for ex­pect­ed ap­proval and launch in ear­ly 2021," he said, al­so not­ing mar­kets in Chi­na and the Mid­dle East.
The court rul­ing caps a rol­lick­ing two years for Amarin. In Sep­tem­ber 2018, the spe­cial­ty phar­ma out­let first an­nounced pos­i­tive da­ta from a Phase III tri­al show­ing its omega-3 fat­ty acid prod­uct had re­duced the risk of a car­dio­vas­cu­lar event — such as a heart at­tack — in a large group of at-risk pa­tients. That sent the stock soar­ing 288% as an­a­lysts talked about a $2 bil­lion mar­ket op­por­tu­ni­ty.
As more de­tailed da­ta came back, the stock stayed high and buzz start­ed form­ing around a pos­si­ble buy­out from a larg­er com­pa­ny. Amarin de­cid­ed to go it alone, per­haps in part be­cause ques­tions around the com­pa­ny's in­tel­lec­tu­al prop­er­ty hov­ered over its suc­cess. On De­cem­ber 12, the FDA hand­ed a block­buster ex­pand­ed ap­proval. The patent suit, which pit­ted Amarin against gener­ic drug­mak­er Dr. Red­dy's and Hik­ma Phar­ma­ceu­ti­cals, start­ed a month lat­er.
A judge de­cid­ed against Amarin, rul­ing that claims in its patents that Dr. Red­dy's and Hik­ma in­fringed on were "ob­vi­ous." The ap­peal court did not hand down a for­mal opin­ion.