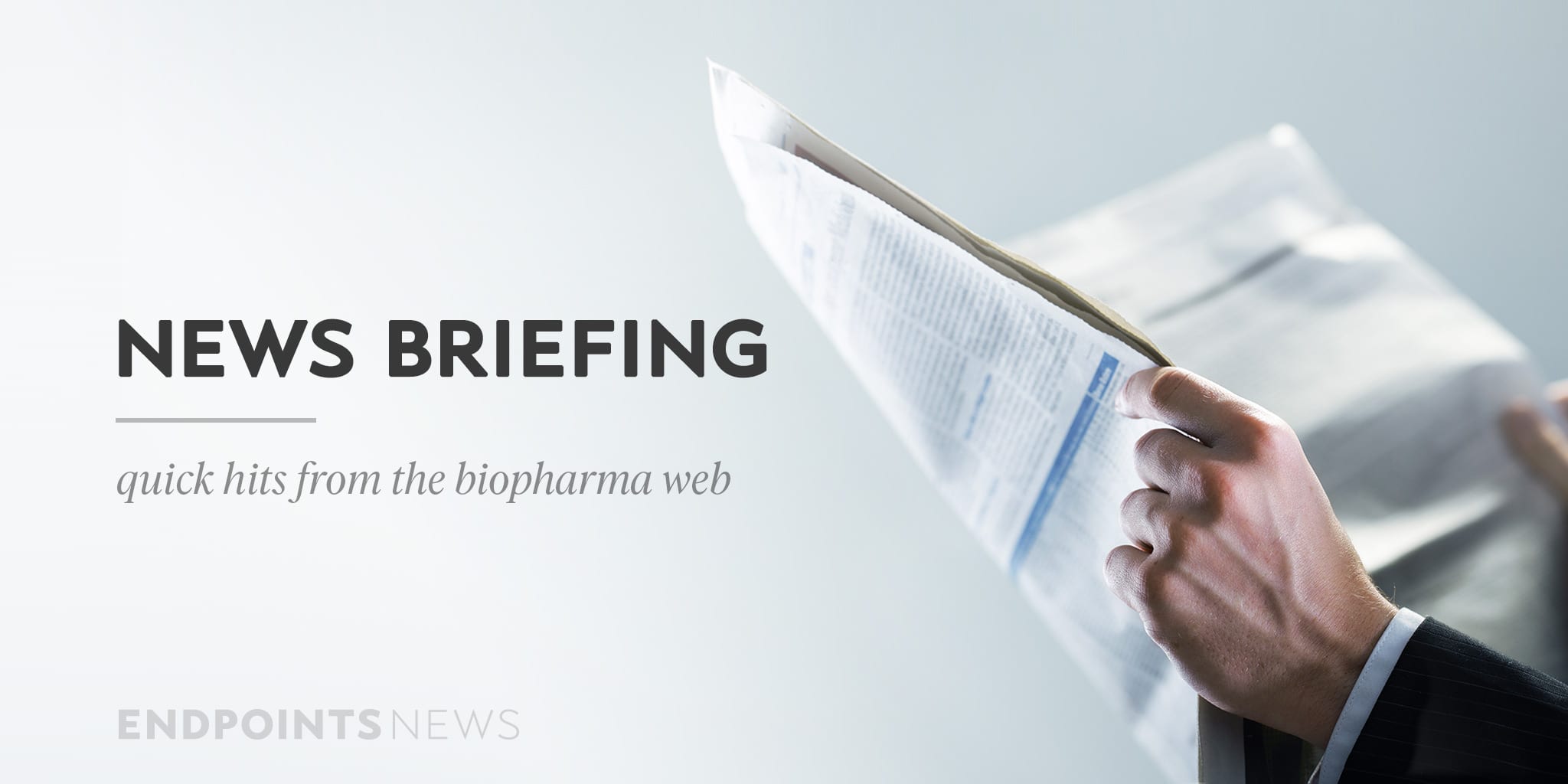 Amy­lyx to move for­ward with ALS pro­gram in Eu­rope, but FDA wants an­oth­er look; Hu­ma­cyte adds $50M in debt fi­nanc­ing
Amy­lyx is one of sev­er­al com­pa­nies look­ing to break through in the tough ALS field, and Wednes­day they an­nounced they're mov­ing for­ward with reg­u­la­to­ry plans.
The Cam­bridge, MA-based biotech said they're sub­mit­ting a mar­ket­ing ap­pli­ca­tion to the EMA for their AMX0035 pro­gram by the end of 2021. Wednes­day's news comes a few weeks af­ter they re­vealed sim­i­lar plans to move for­ward with Cana­di­an health reg­u­la­tors by June 30.
In the US, how­ev­er, the FDA has re­quest­ed the com­pa­ny con­duct an ad­di­tion­al tri­al be­fore it sub­mits an NDA. As such, Amy­lyx is ex­pect­ing to launch a Phase III study for the can­di­date and be­gin en­rolling in the third quar­ter.
Amy­lyx's EMA sub­mis­sion comes on the heels of a 137-per­son tri­al that mea­sured the rate at which pa­tients de­clined us­ing a clin­i­cal­ly val­i­dat­ed test. The av­er­age pa­tient start­ed at a base­line of 36 on the 48-point scale, and those in the ac­tive arm saw an av­er­age de­cline of 1.24 points per month. The place­bo group, mean­while, did so at an av­er­age of 1.66 points per month.
In all, the pa­tients in the tri­al arm scored on av­er­age 2.32 points high­er than place­bo af­ter 24 weeks, good for a p-val­ue of p=0.03.
The news of the FDA de­lay has al­ready prompt­ed crit­i­cism from the promi­nent ad­vo­ca­cy group, ALS As­so­ci­a­tion. In a state­ment, the group said the FDA is be­ing too cau­tious giv­en the ex­treme need for treat­ments, not­ing the agency has the abil­i­ty to con­di­tion­al­ly ap­prove treat­ments based on one clin­i­cal tri­al but is choos­ing not to do so here. That stands in con­trast, they say, to the ap­proach­es be­ing tak­en by Cana­da and the EU. — Max Gel­man
Hu­ma­cyte picks up $50M in debt fi­nanc­ing
Two months af­ter lin­ing up a $175 mil­lion SPAC deal to jump to Nas­daq, Hu­ma­cyte has added $50 mil­lion in debt fi­nanc­ing to fu­el its work on im­plantable bio­engi­neered tis­sue.
The Durham, NC-based biotech took the first $20 mil­lion of that debt, which was pro­vid­ed by Sil­i­con Val­ley Bank, and can draw down the rest as need­ed.
"This fi­nanc­ing fur­ther strength­ens Hu­ma­cyte's fi­nan­cial and op­er­a­tional flex­i­bil­i­ty as we ad­vance the broad de­vel­op­ment of our pipeline, pre­pare for near-term Phase III da­ta read­outs of our po­ten­tial first-in-class Hu­man Acel­lu­lar Ves­sels in ar­te­ri­ove­nous vas­cu­lar ac­cess and vas­cu­lar trau­ma, and pre­pare to be­come a pub­licly trad­ed com­pa­ny," said Hu­ma­cyte CEO Lau­ra Nikla­son.
The Al­pha Health­care Ac­qui­si­tion Corp. set up the SPAC. — John Car­roll
Stride­Bio part­ners with Duke for AAV gene ther­a­pies
Sarep­ta and Take­da-part­nered Stride­Bio has found an­oth­er part­ner in its quest to de­vel­op gene ther­a­pies.
The North Car­oli­na biotech is team­ing up with Duke Uni­ver­si­ty to uti­lize mul­ti­ple tech­nolo­gies to ad­vance their pro­grams, with an ini­tial pro­gram tar­get­ing the pe­di­atric neu­ro­log­i­cal dis­or­der al­ter­nat­ing hemi­ple­gia of child­hood. In­clud­ed in the deal are new­ly en­gi­neered AAV vec­tors from Duke re­searcher and Stride­Bio co-founder Ar­avind Asokan, the com­pa­ny said.
Stride­Bio has al­so se­cured ex­clu­sive rights for a new use of the IgG-de­grad­ing en­zyme IdeZ, in which it can po­ten­tial­ly clear neu­tral­iz­ing an­ti­bod­ies in con­junc­tion with AAV gene ther­a­py ad­min­is­tra­tion. And on top of that, it's al­so li­censed a new AHC gene ther­a­py ap­proach from a sep­a­rate Duke re­searcher.
Un­der the agree­ment, Stride­Bio will fund the work against AHC and oth­er undis­closed tar­gets. There's al­so a frame­work for oth­er new AAV gene ther­a­py pro­grams to be brought in­to the col­lab­o­ra­tion, with one tar­get­ing the "CNS vas­cu­la­ture" hav­ing al­ready been launched. Fi­nan­cial terms of the deal were not dis­closed. — Max Gel­man
Boehringer In­gel­heim col­lab­o­ra­tion for lung can­cer gets 5 more years
A col­lab­o­ra­tion be­tween Boehringer In­gel­heim and the Uni­ver­si­ty of Texas to ex­plore new mol­e­cules for the treat­ment of lung can­cer has been ex­tend­ed and ex­pand­ed, the com­pa­ny an­nounced.
The joint re­search will con­tin­ue for 5 more years. Boehringer teamed up with MD An­der­son Can­cer Cen­ter in 2019 to ex­plore mol­e­cules from KRAS — Kirsten rat sar­co­ma — and TRAILR2 — TNF-re­lat­ed apop­to­sis-in­duc­ing lig­and re­cep­tor 2).
The agree­ment's flex­i­bil­i­ty al­lows the team to ex­pand lung can­cer in­di­ca­tion pro­grams tar­get­ing the two genes. The col­lab­o­ra­tion has al­ready re­sult­ed in a pre­sen­ta­tion at the 2021 AACR An­nu­al Meet­ing and clin­i­cal tri­al ac­tiv­i­ties, the com­pa­ny said.
The part­ner­ship will help bring med­i­cines to both lung and gas­troin­testi­nal can­cer pa­tients, Boehringer's head of can­cer re­search Nor­bert Kraut said. — Josh Sul­li­van
For­mer Ap­ple ex­ec tapped to head in­for­ma­tion for Eli Lil­ly
Eli Lil­ly will have a new chief in­for­ma­tion of­fi­cer for the first time in six years.
Dio­go Rau will join the com­pa­ny on May 17, to take the role head by 27-year com­pa­ny vet­er­an Aar­ti Shah. Shah's re­tire­ment was an­nounced in 2020.
Rau comes from 10 years at Ap­ple, where he most re­cent­ly served as an IT ex­ec­u­tive for re­tail and on­line stores. Be­fore that, he was a part­ner with McK­in­sey & Com­pa­ny.
At Ap­ple, Rau led the de­vel­op­ment of tech­nol­o­gy sup­port­ing on­line and re­tail stores. At Eli Lil­ly, he'll help grow the com­pa­ny's use of da­ta and ma­chine learn­ing, CEO David Ricks said in a state­ment.
"Ma­chine learn­ing can open so many op­por­tu­ni­ties, and tech­nol­o­gy can strength­en our re­la­tion­ship with pa­tients and physi­cians," Rau said in a state­ment. "I great­ly ad­mire Lil­ly's mis­sion and val­ues, and I look for­ward to con­tribut­ing to the com­pa­ny's long­stand­ing record of in­no­va­tion." — Josh Sul­li­van