As CRISPR emerges, re­searchers spot­light pos­i­tive ef­fects in pre­na­tal gene edit­ing treat­ment for mice
In a break­through for the buzzing world of CRISPR re­search, a team of sci­en­tists has demon­strat­ed a use of the gene edit­ing tool to treat a ge­net­ic dis­ease in mice be­fore they are born.
The proof-of-con­cept study brings them one step clos­er — though still miles away — to the ul­ti­mate goal of treat­ing se­vere hu­man dis­eases di­ag­nosed ear­ly in preg­nan­cy, ac­cord­ing to the re­searchers from Chil­dren's Hos­pi­tal of Philadel­phia and the Perel­man School of Med­i­cine at the Uni­ver­si­ty of Penn­syl­va­nia.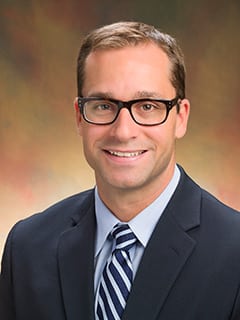 William Per­an­teau
"A sig­nif­i­cant amount of work needs to be done be­fore pre­na­tal gene edit­ing can be trans­lat­ed to the clin­ic," said study co-leader William Per­an­teau, a pe­di­atric and fe­tal sur­geon in CHOP's Cen­ter for Fe­tal Di­ag­no­sis and Treat­ment. "Nonethe­less, we are ex­cit­ed about the po­ten­tial of this ap­proach to treat ge­net­ic dis­eases of the liv­er and oth­er or­gans for which few ther­a­peu­tic op­tions ex­ist."
For their study, pub­lished in Na­ture Med­i­cine, the team com­bined two dif­fer­ent tech­niques: Us­ing the well-known CRISPR-Cas9 com­pound as a guide, they fused an en­zyme to it that chem­i­cal­ly mod­i­fies the ge­net­ic code once the com­pound ar­rived at the spec­i­fied ge­net­ic lo­ca­tion. Dubbed base ed­i­tor 3, this method is de­scribed as po­ten­tial­ly safer than the cut-and-paste mod­el of reg­u­lar CRISPR-Cas9, which re­searchers have warned could cause off-tar­get ef­fects.
But be­fore they test­ed the tool on a group of mice en­gi­neered to de­vel­op the lethal liv­er dis­ease hered­i­tary ty­rosine­mia type 1 (HT1), the in­ves­ti­ga­tors first tried it out with the PC­SK9 gene — a cho­les­terol reg­u­la­tor now tar­get­ed by a new class of car­dio drugs — and showed that the fe­tus­es re­ceiv­ing this treat­ment were born with sig­nif­i­cant­ly low­er cho­les­terol lev­els.
Sim­i­lar­ly, the in­tend­ed ef­fect was ob­served in new­born mice which had a re­lat­ed gene — not the dis­ease-caus­ing one — dis­abled in utero: They "car­ried sta­ble amounts of edit­ed liv­er cells for up to three months af­ter the pre­na­tal treat­ment, with no ev­i­dence of un­want­ed, off-tar­get edit­ing at oth­er DNA sites" with "im­proved liv­er func­tion and pre­served sur­vival."
In fact, they did even bet­ter than mice born with HT1 that are sub­se­quent­ly treat­ment with ni­tisi­none and di­et, the cur­rent stan­dard of care for in­fants with HT1.
The in­ves­ti­ga­tors re­main cau­tious­ly op­ti­mistic about their ear­ly work, al­ready test­ing al­ter­na­tive de­liv­ery sys­tems to the ade­n­ovirus vec­tors used in this ex­per­i­ment, as it's been sug­gest­ed that ade­n­ovirus vec­tors, a main­stay in gene ther­a­py ex­per­i­ments, may cause ad­verse re­spons­es from the host's im­mune sys­tem. Oth­er di­rec­tions of re­search in­clude di­rect­ly edit­ing dis­ease-caus­ing genes and ex­plor­ing the tech's ap­pli­ca­tion in oth­er or­gans.