As ri­vals press in, Stan­ford spin­out Forty Sev­en bur­nish­es its prospects from an im­pres­sive PhIb
Irv Weiss­man's an­ti-CD47 can­cer drug is in the spot­light to­day with ear­ly but re­mark­able da­ta pub­lished in the NE­JM to un­der­score its po­ten­tial as a new can­cer ther­a­py.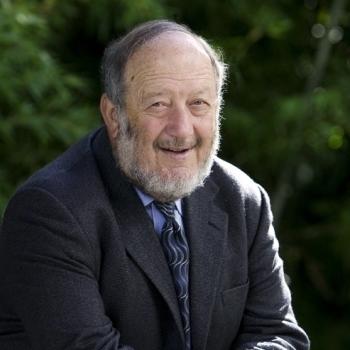 Irv Weiss­man
The leg­endary Stan­ford in­ves­ti­ga­tor found­ed Forty Sev­en $FTSV to see if it could take the lead among biotechs work­ing on con­quer­ing the 'don't-eat-me' sig­nal emit­ted by the pro­tein CD47 on can­cer cells. Com­bined with rit­ux­imab, their com­bo elicit­ed a pos­i­tive re­sponse in half of the can­cer pa­tients they test­ed it on, with 8 of those pa­tients achiev­ing a com­plete re­sponse — with no sign of resid­ual dis­ease.
Three pa­tients did not re­spond and died. All of the pa­tients had failed at least 2 lines of ther­a­py — with a me­di­an of 4 fail­ures — be­fore they were re­cruit­ed for the tri­al. This is an up­date on their first da­ta cut at AS­CO.
Their an­ti­body — Hu5F9-G4, of 5F9 — is de­signed to spur macrophages to slaugh­ter can­cer cells. And in this study re­searchers re­cruit­ed a hand­ful of peo­ple with two kinds of non-Hodgkin's lym­phoma: dif­fuse large B-cell lym­phoma and fol­lic­u­lar lym­phoma.
"It's very ex­cit­ing to have a po­ten­tial­ly new class of im­munother­a­py like this," said Stan­ford pro­fes­sor Ran­jana Ad­vani, who led the Phase Ib tri­al. "For the first time we have an an­ti­body that ac­ti­vates macrophages against can­cer and ap­pears to be safe for use in hu­mans."
Forty Sev­en has an in­ter­est­ing past. The 78-year-old Weiss­man was able to wran­gle sub­stan­tial sup­port for his ear­ly re­search work on CD47 from the Cal­i­for­nia In­sti­tute for Re­gen­er­a­tive Med­i­cine, even launch­ing ear­ly hu­man stud­ies — a rare feat in aca­d­e­m­ic cir­cles. Weiss­man and for­mer CIRM chief Alan Troun­son en­joyed a tight re­la­tion­ship, which ex­tend­ed to Troun­son's ap­point­ment to the board of an­oth­er start­up that Weiss­man had helped found — Stem­Cells — short­ly af­ter his de­par­ture from the agency. And Forty Sev­en is still get­ting mon­ey from CIRM un­der its lat­est $19 mil­lion grant.
The com­pa­ny isn't alone in this field, with sev­er­al ri­vals look­ing to pi­o­neer new drugs. Po­ten­tial com­peti­tors in­clude Arch On­col­o­gy (for­mer­ly Tioma Ther­a­peu­tics), backed by No­vo, GSK and Roche; Sur­face On­col­o­gy as well as Boehringer In­gel­heim, among oth­ers.