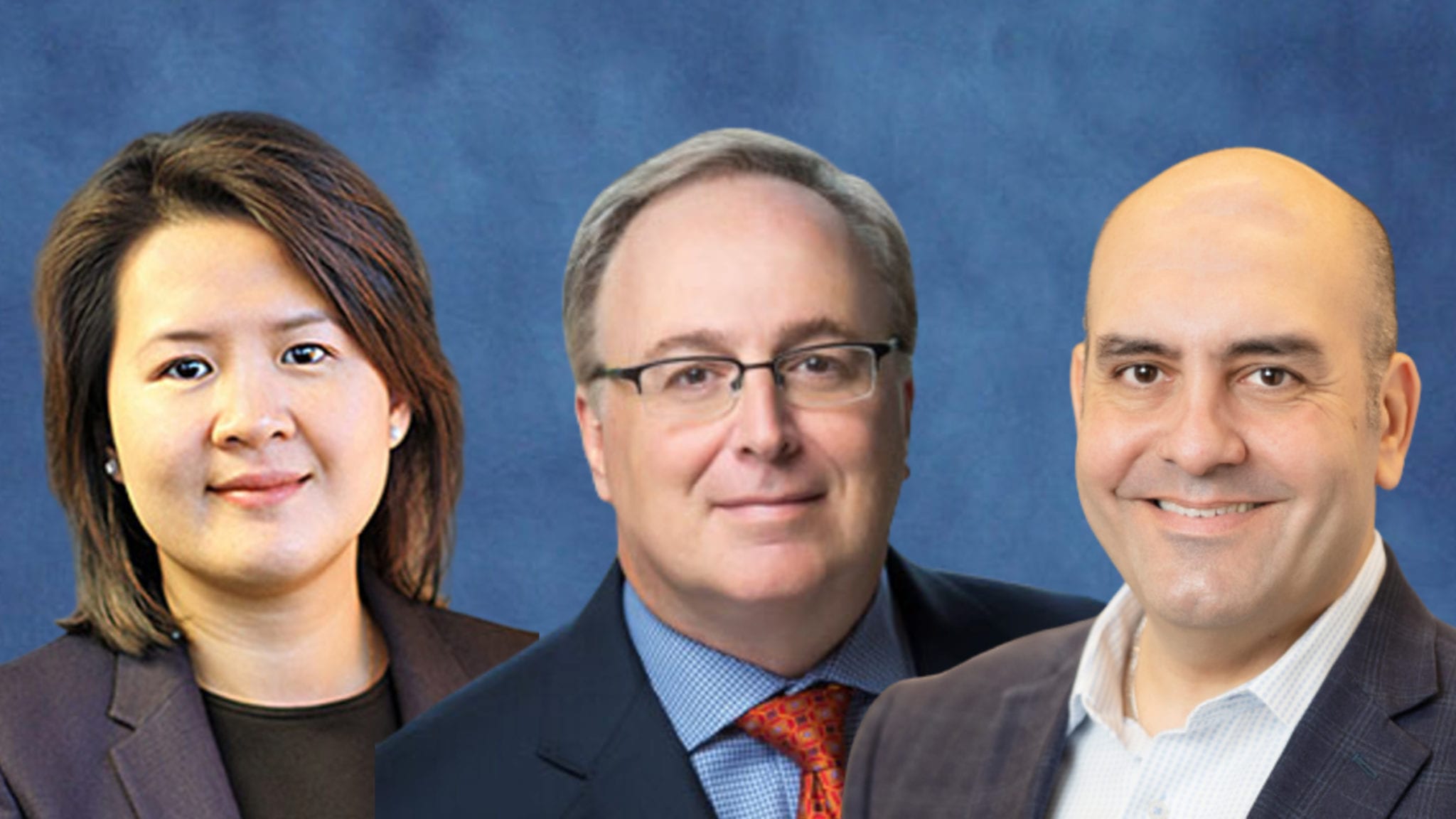 Theresa Heah, Kevin Slawin, Chris Garabedian (AsclepiX)
Bet­ter than Eylea, as durable as gene ther­a­py? Per­cep­tive, Xon­toge­ny boost oph­thalmic star­tup's shot for best of all worlds
What's the biggest break­through in the oph­thal­mol­o­gy space since Lu­cen­tis and Eylea?
No­var­tis' Beovu, launched last No­vem­ber for wet age-re­lat­ed mac­u­lar de­gen­er­a­tion, has been ham­pered by safe­ty is­sues. Ko­di­ak Sci­ences sports $2.74 bil­lion on the promise of an an­ti­body biopoly­mer con­ju­gate that can be dosed every 16 weeks — re­duc­ing the treat­ment bur­den. Then there's the line of gene ther­a­py play­ers from re­genxbio to Ad­verum, fol­low­ing in the foot­steps of Spark Ther­a­peu­tics.
But As­cle­piX be­lieves it has an even bet­ter an­swer.
Johns Hop­kins pro­fes­sors Alek­sander Popel and Jor­dan Green found­ed the start­up af­ter de­sign­ing and run­ning an ar­ti­fi­cial in­tel­li­gence al­go­rithm to mine the hu­man pro­teome for any se­quences that seem an­ti-an­gio­genic. They got a hit in the non-cod­ing se­quences for col­la­gen 4: a 20mer pep­tide they named AXT107, which ex­hib­it­ed an­ti-VEGF prop­er­ties like the com­mon eye drugs.
It stood out for two oth­er rea­sons. It al­so ac­ti­vat­ed the an­giopoi­etin re­cep­tor Tie2, and when in­ject­ed in­to the vit­re­ous, it turns in­to a slow-re­lease gel with a half life of 5 to 7 months.
That could mean once-a-year or even less fre­quent dos­ing. Since then, the small and scat­tered team at As­cle­piX has con­firmed the drug's ef­fect in turn­ing off an­gio­gen­e­sis through in­te­grins in 10 an­i­mal mod­els and found no side ef­fects.
"This was one of the most ro­bust pre­clin­i­cal datasets we saw across ther­a­peu­tic ar­eas and they were well done, and they were ref­er­ence­able, mean­ing that oth­ers use sim­i­lar mod­els to ac­cess the ef­fi­ca­cy and safe­ty of their com­pounds," said Chris Garabe­di­an, whose Per­cep­tive Xon­toge­ny Fund is lead­ing a $35 mil­lion Se­ries A.
AXT107 owes much of its de­sir­able prop­er­ties to the fact that it's a nat­u­ral­ly oc­cur­ring pep­tide that's "evolved over mil­lions of years" as part of the home­osta­sis mech­a­nism, added Kevin Slaw­in, an ear­ly in­vestor and in­ter­im CEO.
"This is not a drug where 10 phar­ma­ceu­ti­cal em­ploy­ees went in­to a lab and had or­ders to drug a cer­tain tar­get, and went ahead and tried and then came up with some­thing that of­ten had side ef­fects like in­flam­ma­tion," he said.
As­cle­piX is work­ing with a con­tract man­u­fac­tur­er in Italy — one of three in the world equipped with the pep­tide pro­duc­tion and fil­tra­tion ca­pac­i­ty through com­mer­cial stage — to fi­nal­ize the batch of drug for the up­com­ing trio of Phase I/IIa stud­ies. The process is straight­for­ward enough that Slaw­in doesn't en­vi­sion any CMC is­sues.
The first-in-hu­man tri­als will be­gin lat­er this year, si­mul­ta­ne­ous­ly test­ing in three pa­tient pop­u­la­tions: di­a­bet­ic mac­u­lar ede­ma (DME), wet age-re­lat­ed mac­u­lar de­gen­er­a­tion (wet AMD) and mac­u­lar ede­ma sec­ondary to reti­nal vein oc­clu­sion (RVO).
"So next year we will have proof of con­cept, or at least a sig­nal on the three in­di­ca­tions," CMO There­sa Heah said. "These are 3 very large in­di­ca­tions from a glob­al mar­ket size per­spec­tive. We are talk­ing 10 bil­lion dol­lar-plus-plus-plus right now. If we are able to demon­strate once-a-year in­jec­tion, we will be en­ter­ing an­oth­er larg­er in­di­ca­tion that's not been touched by any­body else, which is di­a­bet­ic retinopa­thy."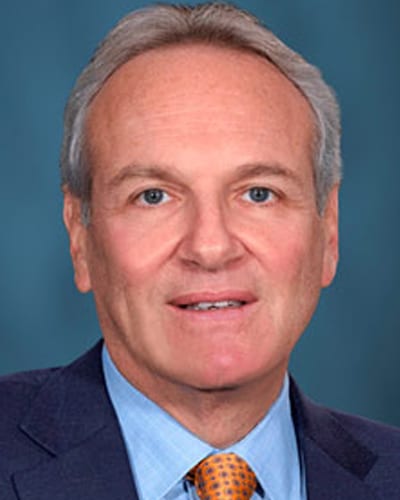 Steve Altschuler
Pos­i­tive da­ta there could open up count­less doors — strate­gic part­ner­ships, a big­ger fi­nanc­ing, IPO, you name it. Es­pe­cial­ly with Per­cep­tive's main funds on the syn­di­cate along­side Slaw­in's Rapha Cap­i­tal Man­age­ment and Cel­gene co-founder Sol Bar­er's Bar­er & Son Cap­i­tal.
"We have a very safe prod­uct," Slaw­in added. "It's still in­trav­it­re­al, we don't need sub­reti­nal in­jec­tions or any­thing like that, yet we have the longevi­ty to match any kind of gene ther­a­py."
Heah, an oph­thal­mol­o­gist by train­ing and bio­phar­ma vet who helped Bay­er launch Eylea out­side the US, brought both her own sub­ject ex­per­tise and a group of sea­soned drug de­vel­op­ers to As­cle­piX. From her perch in New Jer­sey, she man­ages two oth­er staffers in the area, two in Bal­ti­more and an­oth­er two in Cal­i­for­nia. Covid-19 has changed lit­tle.
"I'm used to run­ning teams in Japan, Aus­tralia, Eu­rope, US East Coast, West Coast," she said. "In fact we re­al­ized we got more done with­out the trav­els."
Slaw­in, who spoke to End­points News just be­fore a flight from Hous­ton to Flori­da, might be the ex­cep­tion. De­pend­ing on how the CEO search goes, he might con­tin­ue lead­ing the com­pa­ny or re­treat back to a board now led by Spark co-founder Steve Altschuler, along­side Garabe­di­an and Ben Askew, an R&D part­ner at Xon­toge­ny.