Bio­gen's an­swer to Alk­er­mes' Tec­fidera threat? Buy it, but don't spend too much
Bio­gen $BI­IB has dealt de­ci­sive­ly with a po­ten­tial luke­warm threat from Alk­er­mes $ALKS to its cru­cial Tec­fidera fran­chise in mul­ti­ple scle­ro­sis.
They bought it.
In a deal an­nounced this morn­ing, Bio­gen agreed to pay $28 mil­lion to ante up on a part­ner­ship on ALKS 8700 that gives the Boston biotech glob­al com­mer­cial­iza­tion rights to the late-stage ther­a­py. That first pay­out cov­ers Bio­gen's share of the re­search costs in 2017. And Bio­gen ex­pects to shell out $50 mil­lion on the first mile­stone in the deal be­fore the end of the year. That comes with a deal em­bed­ded with $200 mil­lion in mile­stones and mid-teen roy­al­ties on any sales.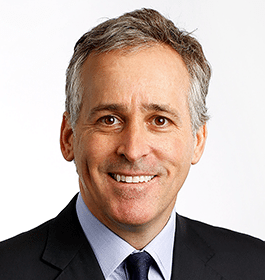 Richard Pops, Alk­er­mes
That's not a lot of cash in the world of late-stage drug part­ner­ing, which may un­der­score some of the mod­est ex­pec­ta­tions Alk­er­mes' new drug has man­aged to in­spire thus far.
Alk­er­mes' me-bet­ter pipeline of­ten shoots for new drugs with an im­proved safe­ty pro­file. In this case, they were look­ing for a drug that was just as ef­fec­tive as Tec­fidera but with few­er GI side ef­fects.
Alk­er­mes post­ed some sup­port­ive da­ta from a sin­gle-arm study a month ago, with a dis­con­tin­u­a­tion rate of on­ly 3.7% over three months, but an­a­lysts haven't al­ways been im­pressed by the drug's earn­ing po­ten­tial.
Leerink's Paul Mat­teis looked it over in Oc­to­ber and con­clud­ed:
(T)he da­ta sug­gest that ALKS8700 could be an ap­prov­able as­set that stands to gar­ner some share in the MS mar­ket if the nec­es­sary mar­ket­ing sup­port and/or pric­ing strat­e­gy is put be­hind it. Even if the im­plied dif­fer­en­ti­a­tion pro­file proved to be more mod­est in a sep­a­rate, on­go­ing, per­haps more com­mer­cial­ly im­por­tant head-to-head study vs Tec­fidera — "EVOLVE-2" — a small amount of share for '8700 in the large MS mar­ket cat­e­go­ry could have mean­ing­ful im­pli­ca­tions for the ALKS P&L.
Alk­er­mes CEO Richard Pops had this to say on Bio­gen's be­half:
Bio­gen has a broad prod­uct port­fo­lio and a high­ly ex­pe­ri­enced com­mer­cial team. In Bio­gen's hands, we be­lieve that pa­tients will have broad­er and more rapid ac­cess to this im­por­tant med­i­cine. Mean­while, we will fo­cus our grow­ing com­mer­cial ca­pa­bil­i­ties on our ex­pand­ing port­fo­lio of med­i­cines in psy­chi­a­try, in­clud­ing ad­dic­tion, schiz­o­phre­nia and de­pres­sion.