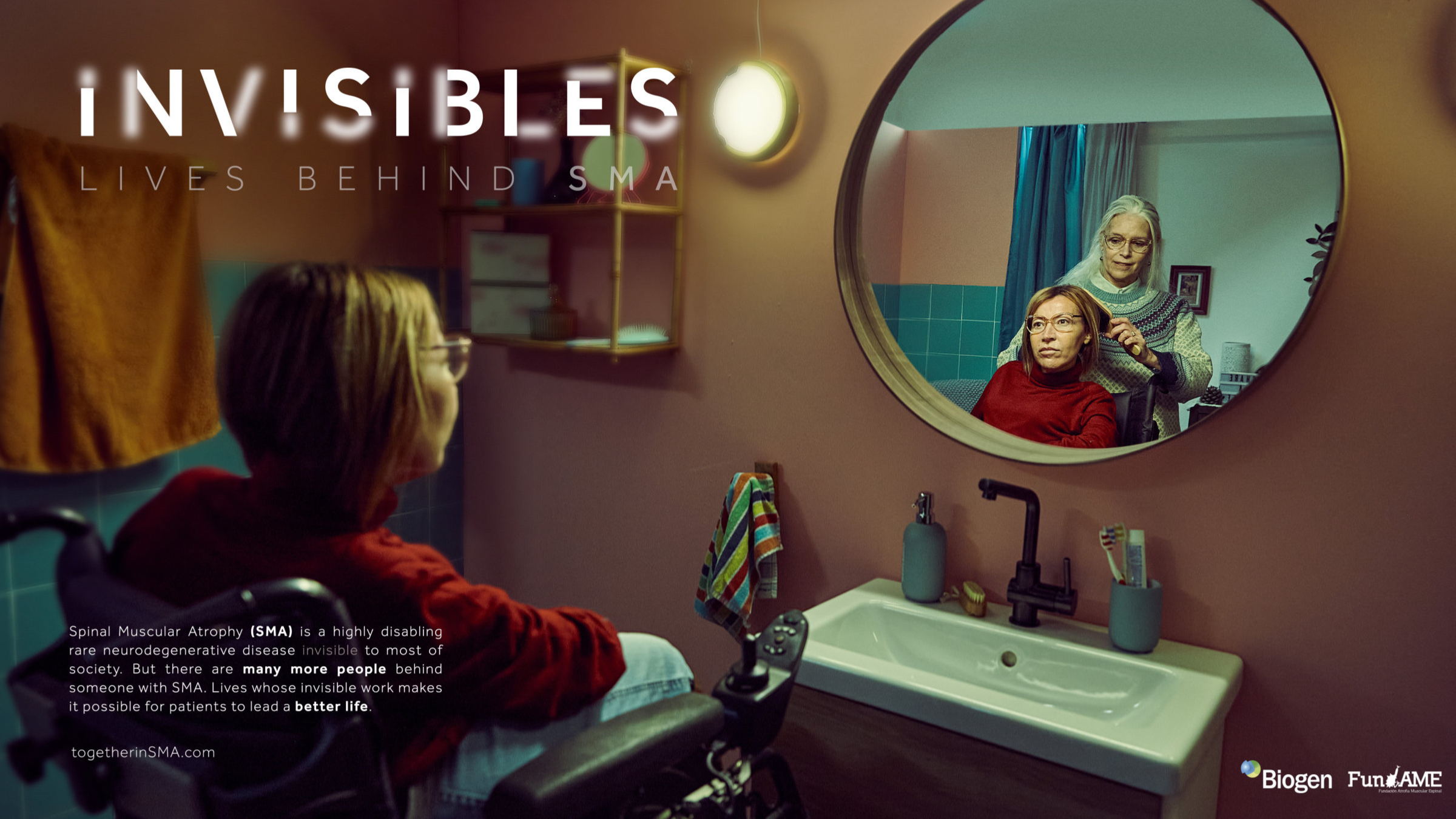 Biogen's 'Invisibles' awareness campaign for SMA includes a real patient (in red) in this print ad, highlighting the caregivers behind the scenes.
Bio­gen's new SMA aware­ness cam­paign in Spain spot­lights the 'in­vis­i­ble' care­givers
A moth­er brush­es her young daugh­ter's hair in the open­ing of Bio­gen's short film about spinal mus­cu­lar at­ro­phy (SMA). The girl is shown grow­ing up, swing­ing in the back­yard, get­ting dressed and sit­ting at the break­fast ta­ble eat­ing while an un­seen hand push­es the swing, pulls a sweater straight, whisks eggs and cleans up dish­es.
At the end of the video, the now young woman sits in a wheel­chair get­ting her hair brushed with the same un­seen hand — un­til the cam­era pans to the mir­ror where her now old­er moth­er is vis­i­ble, smil­ing as she brush­es.
The "In­vis­i­bles" work, cre­at­ed by VM­LY&R Health Spain, was launched ear­li­er this sum­mer to raise aware­ness about SMA in gen­er­al as ef­forts to add new­born screen­ing for SMA across Eu­rope are in­creas­ing. A hand­ful of coun­tries in­clud­ing Ger­many, Nor­way, Bel­gium and the Nether­lands now in­clude SMA screen­ing in new­born test­ing, while oth­ers are run­ning pi­lot pro­grams or just start­ing them.
Pi­lot screen­ing pro­grams are on­go­ing in Spain in Seville and Mala­ga, ac­cord­ing to the Eu­ro­pean SMA NBS Al­liance. SMA is a ge­net­ic neu­ro­mus­cu­lar dis­ease that caus­es mus­cles to be­come weak and waste away — an es­ti­mat­ed 10,000 to 25,000 peo­ple in the US live with SMA.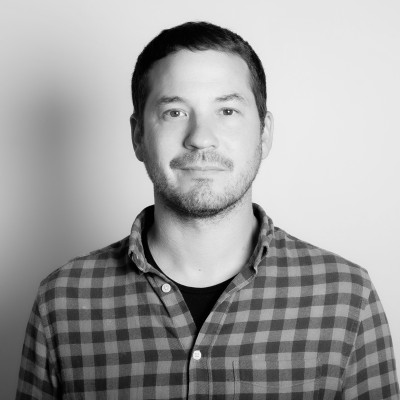 Natxo Díaz
Bio­gen in part­ner­ship with Fun­dAME (Fun­dación Atrofia Mus­cu­lar Es­pinal de Es­paña), a lead­ing SMA ad­vo­ca­cy group, ap­proached VM­LY&R Health Spain to cre­ate a dis­ease aware­ness cam­paign "to raise the pro­file and un­der­stand­ing" of SMA.
"They want­ed to show in a very emo­tive way what is SMA, and ex­plain that this is not a dis­ease that not on­ly af­fects the pa­tient but al­so all the oth­er peo­ple around the pa­tient," said Natxo Díaz, chief cre­ative of­fi­cer at VM­LY&R Health Spain.
The goal was to high­light the pro­found so­cial, psy­cho­log­i­cal and pro­fes­sion­al im­pact of SMA on the fam­i­ly and care­givers.
Díaz said the cre­ative team orig­i­nal­ly plan to on­ly use re­al SMA pa­tients, but that was up­end­ed by the Covid pan­dem­ic and health pre­cau­tions around in-per­son video shoots. The shoots took place last No­vem­ber, and in the end, in­clud­ed just one pa­tient — the young woman in the wheel­chair at the end of the spot.
How­ev­er, Díaz said the sto­ry­line of the cam­paign was changed to fo­cus in­stead on one sin­gle pa­tient shown through­out her life, and the ma­jor com­mit­ment of all the be­hind-the-scenes, but of­ten in­vis­i­ble, care that is need­ed re­sult­ing in an even bet­ter-than-ex­pect­ed cam­paign.
Along with the short film video, print ads are run­ning in pro­fes­sion­al pub­li­ca­tions in Spain, along with so­cial me­dia, pub­lic re­la­tions ef­forts and ad­di­tion­al videos from pa­tients, care­givers, doc­tors who care for SMA pa­tients, phys­io­ther­a­pists and more are avail­able on the aware­ness cam­paign web­site.
"We have a spe­cial af­fec­tion for this cam­paign as it tries to cast light on a re­al and im­por­tant cause," Díaz said in an email. "We be­lieve that it's re­al­ly im­por­tant to un­der­stand that a mul­ti­dis­ci­pli­nary ap­proach to a dis­ease like SMA is ab­solute­ly nec­es­sary to im­prove pa­tients' lives. And the care­givers — and their in­vis­i­ble work — are vi­tal to get it."
While the cam­paign is un­brand­ed, Bio­gen's port­fo­lio in­cludes Spin­raza, which in 2016 be­came the first FDA-ap­proved treat­ment for SMA. Since then No­var­tis' Zol­gens­ma was ap­proved in 2019, fol­lowed by Roche's Evrys­di in 2020. Glob­al sales of Spin­raza were $904 mil­lion for the first half of 2022, down from $1.02 bil­lion in the first half of 2021.