Bio­phar­ma ri­vals at Roche and Bay­er both stand to ben­e­fit from the trend to­ward in­creased test­ing of can­cer pa­tients
Loxo On­col­o­gy has been one of the pi­o­neers in the move to de­vel­op new, tis­sue-ag­nos­tic can­cer drugs. But the biggest chal­lenge it faces won't be in the clin­ic. In­stead an­a­lysts will be try­ing to de­ter­mine the ex­tent to which fair­ly ex­pen­sive di­ag­nos­tic test­ing will be used to spot­light their tiny pa­tient pop­u­la­tion.
Bloomberg took a look at the is­sue in an in-depth re­port to­day, com­par­ing the work that Loxo's part­ner Bay­er will have in pop­u­lar­iz­ing these tests, which can cost thou­sands of dol­lars each, screen­ing broad groups to find the one in 100 that need their drug. Roche, mean­while, which has been a huge ad­vo­cate of match­ing di­ag­nos­tics to drugs, just spent $2.4 bil­lion to ac­quire the last chunk of stock in the can­cer di­ag­nos­tics play­er Foun­da­tion Med­i­cine it didn't al­ready own.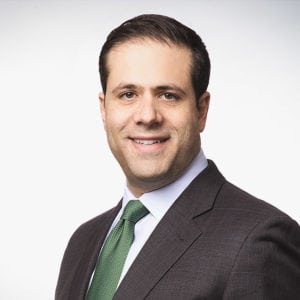 Josh Bilenker
And Roche — which high­light­ed its plans for de­vel­op­ing bet­ter tests that can pro­vide ge­nom­ic pro­fil­ing on can­cer pa­tients — has a ri­val drug in the clin­ic that it hopes can take on Loxo and Bay­er's lead­ing ther­a­py. Roche bagged en­trec­tinib late last year in its $1.7 bil­lion Igny­ta buy­out, look­ing to cut in line with a ther­a­py now in an ac­cel­er­at­ed de­vel­op­ment pro­gram.
The Bloomberg writ­ers high­light one of the ironies in this sit­u­a­tion. Roche's ad­vanced di­ag­nos­tics work may ini­tial­ly play out in fa­vor of their ri­vals, as Loxo and Bay­er are ex­pect­ed to get out of the gate first with larotrec­tinib, iden­ti­fy­ing pa­tients with rare NTRK fu­sion-pos­i­tive tu­mors. Loxo al­so im­pressed the in­dus­try a few weeks ago at AS­CO, as their sec­ond drug aimed at RET fu­sion-pos­i­tive cas­es al­so pro­duced promis­ing ear­ly da­ta, pos­si­bly point­ing them down an­oth­er short stretch at the FDA.
Loxo CEO Josh Bilenker, though, says the more per­son­al­ized drugs hit the mar­ket, re­quir­ing physi­cians at both aca­d­e­m­ic and com­mu­ni­ty cen­ters to pro­file their pa­tients in­di­vid­ual quirks, the mer­ri­er it will be for every­one.
"The more ther­a­pies you have lin­ing up, on the shelf," Josh Bilenker told me at AS­CO, "the more im­pe­tus to screen broad­ly every­body."
His com­mer­cial suc­cess de­pends on it.