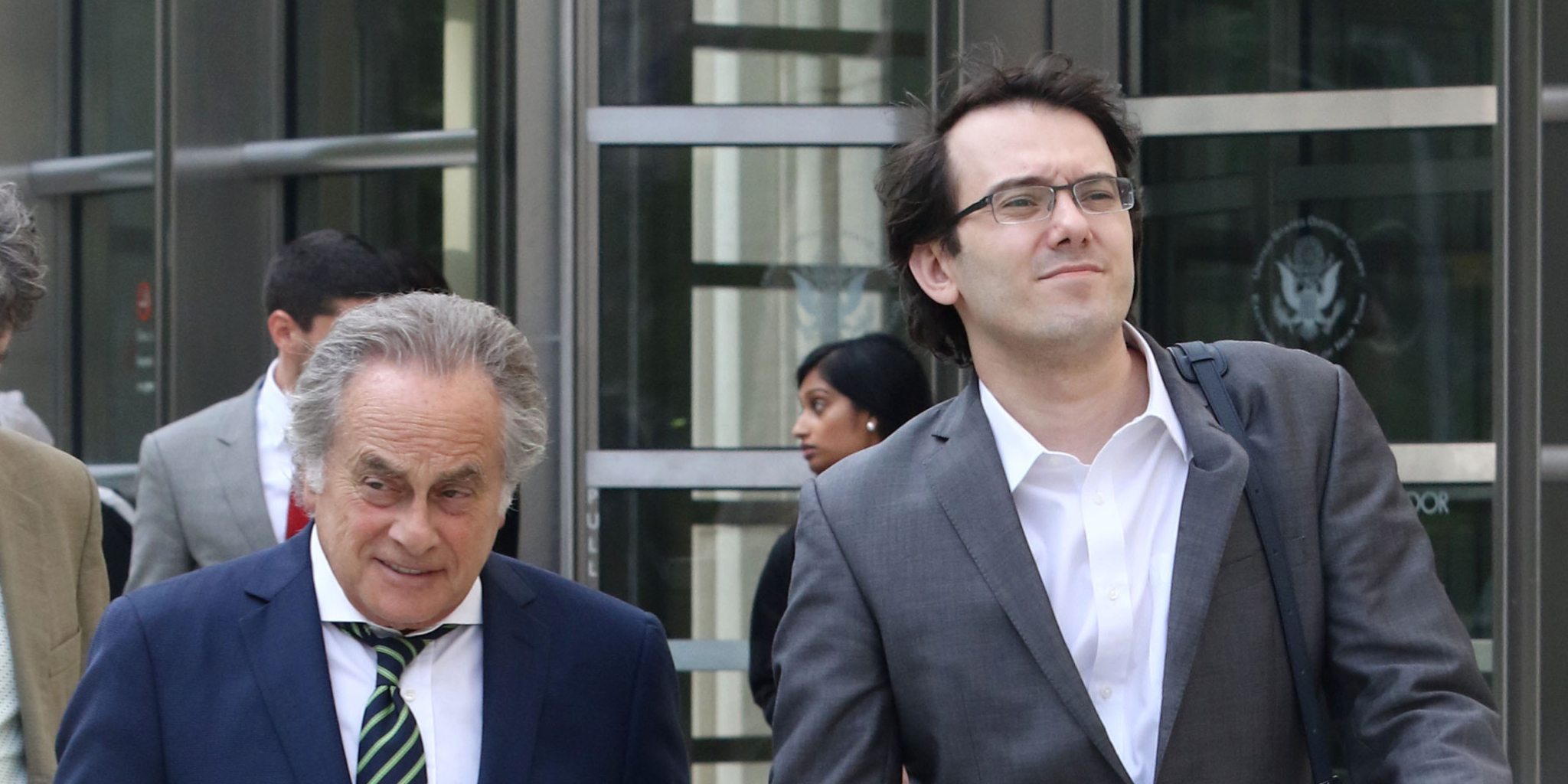 Biotech bad boy Mar­tin Shkre­li is­n't get­ting his $5M in bail mon­ey back any­time soon
Mar­tin Shkre­li and his at­tor­ney Ben Braf­man JS­tone/Shut­ter­stock
---
Mar­tin Shkre­li may be spend­ing his days chill­ing in a fed­er­al prison in Brook­lyn, but he's not get­ting his $5 mil­lion in bail mon­ey back any­time soon.
Shkre­li's at­tor­ney Ben Braf­man pe­ti­tioned the judge in his case to get the bail mon­ey re­turned, say­ing that it would go to a firm charged with pay­ing off a grow­ing tax debt. Af­ter all, he told the court, Shkre­li isn't go­ing any­where. But Judge Kiyo Mat­sumo­to waved it off.
Ac­cord­ing to the judge, she wants to hold on to the cash in case Shkre­li — con­vict­ed on three felony fraud charges — has to pay resti­tu­tion to the vic­tims in his case. It's worth not­ing that the key wit­ness­es in the case all say they even­tu­al­ly got their mon­ey back from Shkre­li's failed hedge fund — and then some. But he paid them back with stock in his biotech start­up Retrophin, which lat­er kicked him out and helped get the fed­er­al case start­ed against him.
The youth­ful Shkre­li was jailed for us­ing so­cial me­dia to place a $5,000 boun­ty on a hair from Hillary Clin­ton's head. He tried to laugh it off as a joke gone bad, but the judge in his case wasn't amused. She sent him to prison to wait for his sen­tenc­ing hear­ing in Jan­u­ary af­ter de­ter­min­ing that his boun­ty could be viewed as a so­lic­i­ta­tion for as­sault.
Shkre­li be­came no­to­ri­ous for jack­ing up the price of Dara­prim more than 5000% at his oth­er start­up, Tur­ing. Just be­fore he went to prison, Shkre­li beat back a takeover at­tempt by his chief sci­en­tif­ic of­fi­cer, Eliseo Sali­nas. Sali­nas dis­ap­peared from the com­pa­ny's web­site af­ter a new board hand picked by Shkre­li took over.
Shkre­li, who was kicked off Twit­ter time and again af­ter ha­rass­ing a fe­male jour­nal­ist, now has a tax bill he can't pay and a date with an an­gry fed­er­al judge — not the best of all pos­si­ble worlds.
Af­ter sneer­ing at his three felony con­vic­tions and telling his fan base that he'd be get­ting off light, with maybe a few months to va­ca­tion at Club Fed, the man many claim was al­ways the smartest guy in the biotech room isn't scor­ing high in the pre­dic­tions busi­ness.