Blue­bird's one-shot gene ther­a­py for be­ta tha­lassemia of­fi­cial­ly se­cures EMA back­ing — ap­proval ex­pect­ed in the sec­ond quar­ter
Days af­ter two char­i­ties abrupt­ly pre­an­nounced that the EMA had en­dorsed the ap­proval of blue­bird bio's keen­ly an­tic­i­pat­ed gene-re­place­ment ther­a­py Lenti­Glo­bin, for be­ta tha­lassemia — a rare, in­her­it­ed blood dis­or­der — the Eu­ro­pean reg­u­la­tor made the rec­om­men­da­tion of­fi­cial on Fri­day.
The one-shot ther­a­py for this pa­tient pop­u­la­tion — who usu­al­ly re­quire life­long treat­ment with blood trans­fu­sions and med­ica­tion — is ex­pect­ed to win EC ap­proval by the sec­ond quar­ter, and US ap­proval next year.
The Cam­bridge, Mass­a­chu­setts-based com­pa­ny's shares $BLUE lift­ed up near­ly 2% in pre­mar­ket trad­ing to $156.02.
The ther­a­py is ex­pect­ed to help pa­tients who need reg­u­lar blood trans­fu­sions and have no match­ing donor for a stem cell trans­plant be­come trans­fu­sion-in­de­pen­dent.
In or­der for Lenti­Glo­bin to work, stem cells are har­vest­ed from the pa­tient's body, and the pa­tient is giv­en chemother­a­py to prime their bone mar­row to re­ceive the ther­a­py. A vi­ral vec­tor is then used to im­plant a healthy copy of the be­ta-glo­bin gene in­to the bone mar­row, stim­u­lat­ing the pro­duc­tion of red blood cells.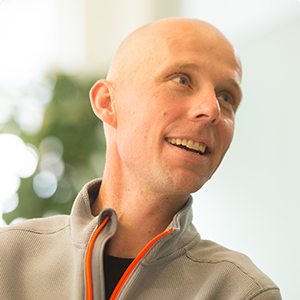 Nick Leschly
The list price of the com­pa­ny's gene ther­a­py, brand­ed as Zyn­te­glo, has not been an­nounced, but is ex­pect­ed to be in the sev­en-fig­ure range, al­beit be­low $2.1 mil­lion — which the com­pa­ny be­lieves is the "in­trin­sic val­ue" of the treat­ment. SVB Leerink an­a­lysts have mod­eled the launch price of Lenti­Glo­bin as $1.2 mil­lion in the US and $0.9 mil­lion in the EU.
Ear­li­er this year, CEO Nick Leschly pro­posed a mort­gage-like in­stall­ments-based plan for the pricey ther­a­py. It in­volves an up­front 20% of the cost of the treat­ment, while the rest is ex­pect­ed to come in 20% in­stall­ments per year via the in­sur­er if the drug does in­deed work as in­tend­ed. Ex­cept un­like a mort­gage, the prod­uct (or in this case the treat­ment) is cho­sen for the in­di­vid­ual, and pay­ments are based on treat­ment out­comes.
---
SVB Leerink an­a­lysts fore­cast glob­al peak sales of $1.2 bil­lion in 2030 for Lenti­Glo­bin, in a note pub­lished on Fri­day. The ther­a­py is al­so be­ing eval­u­at­ed for use in sick­le cell dis­ease, an­oth­er blood dis­or­der.