Bris­tol-My­ers joins the IDO rush with its own in-house com­bo pro­gram for Op­di­vo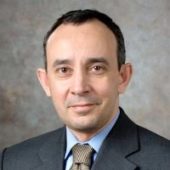 Fouad Namouni, Bris­tol-My­ers Squibb
WASH­ING­TON, DC — While Bris­tol-My­ers Squibb joined the rush to part­ner with In­cyte on its lead­ing IDO1 drug epaca­do­stat, it's al­so been ze­ro­ing in on its own IDO im­munother­a­py. And in­ves­ti­ga­tors turned up at AACR this year with an ear­ly look at the re­sults.
Bot­tom line: Bris­tol-My­ers is go­ing for it.
"It seems our IDO has the po­ten­tial to be one of the most po­tent in the class," Bris­tol-My­ers on­col­o­gy de­vel­op­ment chief Faoud Namouni tells me. But it's still ear­ly days.
Here's their sum­ma­ry from the ab­stract post­ed at AACR:
BMS-986205 is an op­ti­mized, once-dai­ly, se­lec­tive and po­tent oral IDO1 in­hibitor at clin­i­cal­ly rel­e­vant con­cen­tra­tions. It is well tol­er­at­ed up to at least 200 mg in com­bi­na­tion with ni­vo in this nov­el tri­al. Ev­i­dence of sub­stan­tial serum kyn re­duc­tion was ob­served at dos­es as low as 25 mg QD; in­hi­bi­tion at 100 and 200 mg QD ap­pears greater than that re­port­ed for oth­er in-class com­pounds. In ad­di­tion, we have pre­sent­ed the first ev­i­dence of in­tra­tu­moral kyn re­duc­tion by an IDO1 in­hibitor. These da­ta sug­gest the po­ten­tial of BMS-986205 as an IDO1 in­hibitor with su­pe­ri­or PD prop­er­ties and sup­port fur­ther eval­u­a­tion in com­bi­na­tion with ni­vo.
In­cyte has been ag­nos­tic about which check­points it will part­ner with. And that leaves key play­ers like Bris­tol-My­ers Squibb pur­su­ing a fol­low-up op­tion on its own pro­gram. They may not be the first to the mar­ket, but they can be a top con­tender for be­ing among the best that fol­low the pi­o­neer.
You can ex­pect to hear plen­ty more about IDOs in the near fu­ture.