Can we stop can­cer cells from evolv­ing and de­vel­op­ing drug re­sis­tance? British sci­en­tists take a leaf out of the HIV play­book
British sci­en­tists want to counter can­cer by us­ing an ap­proach that worked for HIV and tu­ber­cu­lo­sis: by cre­at­ing treat­ments to pre­clude can­cer's abil­i­ty to be­come re­sis­tant to ex­ist­ing drugs and re­cur.
The drug dis­cov­ery pro­gram, or­ches­trat­ed by the In­sti­tute of Can­cer Re­search (ICR) in Lon­don, will be launched at a fa­cil­i­ty in the British cap­i­tal with an ini­tial £75 mil­lion (rough­ly $85 mil­lion) in­jec­tion.
De­spite the ad­vent of im­munother­a­pies in the can­cer ther­a­peu­tic ar­se­nal, the is­sue of re­sis­tance to can­cer drugs — in­clud­ing chemother­a­pies and mol­e­c­u­lar-tar­get­ed ther­a­pies — is ram­pant. For ex­am­ple, the clas­sic ap­proach of em­ploy­ing ag­gres­sive 'shock and awe' chemother­a­py can fal­ter be­cause too of­ten it helps fu­el an 'sur­vival of the nas­ti­est' evo­lu­tion among can­cer cells, ICR sci­en­tists con­tend.
ICR in­tends to ad­dress the chal­lenge on two fronts. First, is an ap­proach called 'evo­lu­tion­ary herd­ing'. Us­ing ar­ti­fi­cial in­tel­li­gence, re­searchers at ICR can fore­cast how can­cer cells tend to re­act when treat­ed with a par­tic­u­lar drug. There­fore by se­lect­ing an ini­tial drug treat­ment — can­cer cells can be com­pelled to adapt in a fash­ion that makes them sus­cep­ti­ble to a sec­ondary treat­ment, or thrusts them in­to an "evo­lu­tion­ary dead end".
The sec­ond strat­e­gy is to de­vel­op a fam­i­ly of drugs that thwart the abil­i­ty of can­cer cells to evolve and re­sist treat­ment. This fresh class of drugs are be­ing con­struct­ed to tar­get a pro­tein called APOBEC in a bid to di­min­ish the rate of mu­ta­tion in can­cer cells, slow down evo­lu­tion and de­lay re­sis­tance. Al­though the en­zyme is cru­cial for the im­mune sys­tem to adapt to dif­fer­ent in­fec­tious dis­eases, it has been im­pli­cat­ed in can­cer mu­ta­tions re­cent­ly, af­ter be­ing the fo­cus of vi­rol­o­gy re­search for over a decade.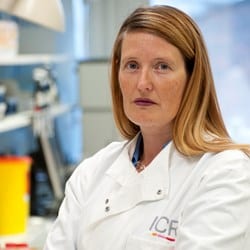 Olivia Rossanese
Once de­vel­oped, these APOBEC in­hibitors could be ad­min­is­tered in tan­dem with ex­ist­ing tar­get­ed on­col­o­gy ther­a­pies to keep the can­cer at bay for longer pe­ri­ods, or in­deed el­e­vate it to the po­si­tion of a chron­ic dis­ease from an of­ten in­cur­able di­ag­no­sis.
"We be­lieve this will be the first treat­ment in the world that rather than deal­ing with the con­se­quences of can­cer's evo­lu­tion and re­sis­tance, aims to di­rect­ly con­front the dis­ease's abil­i­ty to adapt and evolve in the first place," said Olivia Rossanese, who will serve as head of bi­ol­o­gy at the new ICR fa­cil­i­ty, in a state­ment.
An­oth­er ap­proach tout­ed by ICR is com­bin­ing can­cer drugs to com­bat drug re­sis­tance. In the lab, ICR re­searchers have ob­served that bow­el can­cer cells evolved to re­sist two tar­get­ed treat­ments, but suc­cumbed to the third, they said on Wednes­day.