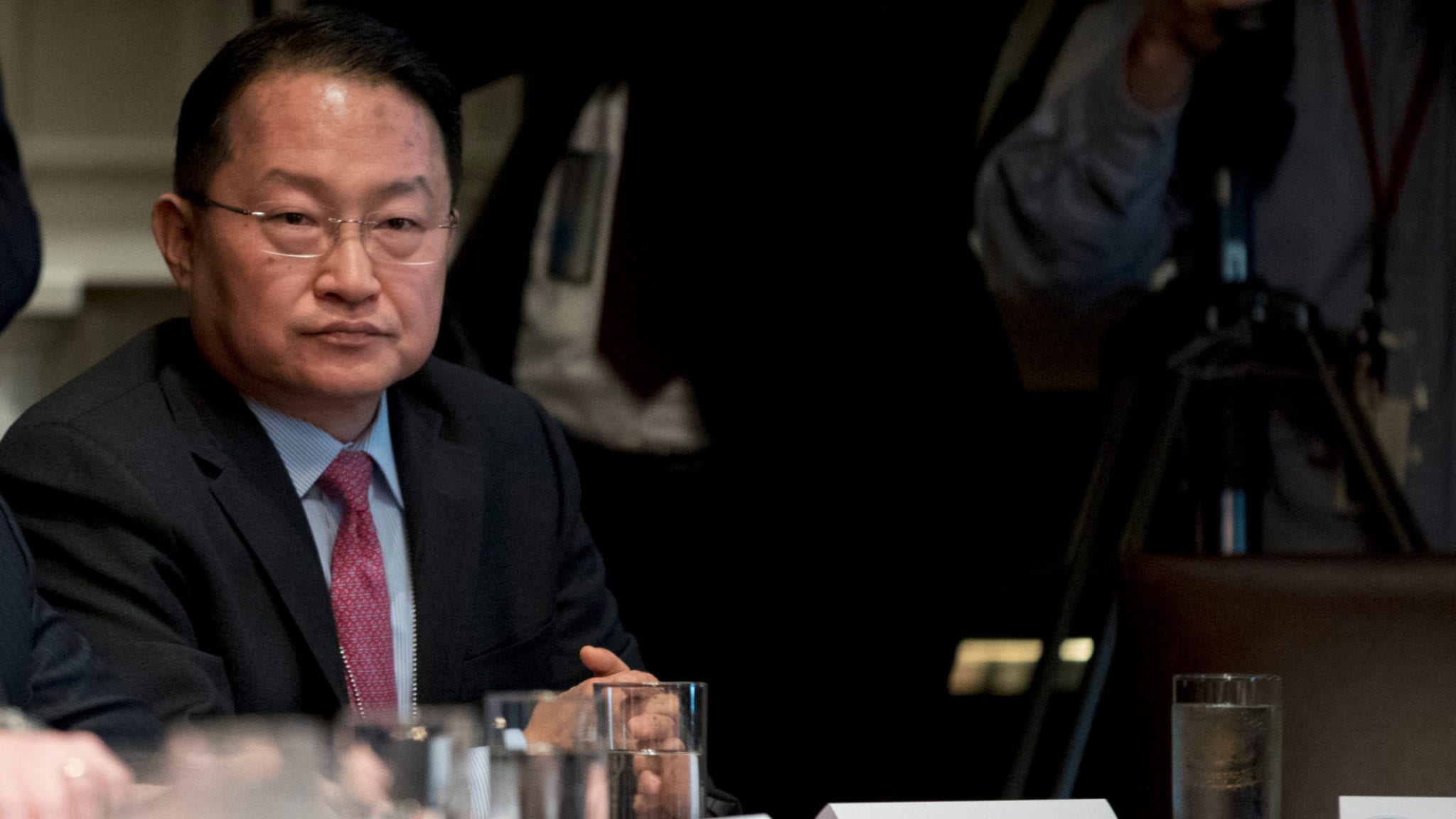 Joseph Kim, Inovio CEO (Andrew Harnik, AP Images)
Caught in a stand­off with its con­tract man­u­fac­tur­er over Covid-19 vac­cine, In­ovio files suit in an at­tempt to break free while ri­vals race ahead
In­ovio was one of the first vac­cine de­vel­op­ers to snag at­ten­tion for a jab that their ex­ecs said promised to end the Covid-19 pan­dem­ic. Us­ing their own unique DNA tech, CEO Joseph Kim said it took just 3 hours to work it out.
But while ri­vals are rac­ing to the fin­ish line with am­bi­tious plans to make vast quan­ti­ties of their vac­cines with bil­lions of dol­lars of deals, In­ovio is still stuck at the start­ing line on man­u­fac­tur­ing.
The biotech — which has yet to de­vel­op a sin­gle ap­proved prod­uct in 4 decades — says it cur­rent­ly has been stymied by a stand­off with its longterm con­tract man­u­fac­tur­er. And In­ovio filed a law­suit to free it­self from the re­la­tion­ship and move on to new part­ners who can make hun­dreds of mil­lions of dos­es — if it pass­es muster.
The prob­lem, In­ovio claims in its law­suit, is that a Ko­re­an-owned com­pa­ny called VGXI, which has long been re­spon­si­ble for mak­ing the batch­es of vac­cines the biotech us­es in tri­als, can't make the vac­cine in com­mer­cial quan­ti­ty and re­fus­es to trans­fer the tech­nol­o­gy re­quired to oth­ers who can — de­spite be­ing con­trac­tu­al­ly bound to do so.
VGXI is build­ing a plant, the biotech adds, but that won't come on­line un­til 2022 — an eter­ni­ty in pan­dem­ic tim­ing, es­pe­cial­ly as a group of vac­cine mak­ers who have man­u­fac­tur­ing ca­pac­i­ty ei­ther in-house or con­tract­ed or both are rac­ing to start pro­vid­ing vac­cines as ear­ly as this fall, with bil­lions of dos­es pos­si­ble next year.
In­ovio is ask­ing a judge for dam­ages as well as an or­der to shift the tech to new ven­dors.
While VGXI, based in The Wood­lands out­side of Hous­ton, TX, hasn't filed a re­sponse yet, In­ovio in­clud­ed sev­er­al let­ters from their COO, Dorothy Pe­ter­son, say­ing that the man­u­fac­tur­ing tech in­volved is pro­pri­etary to her com­pa­ny. One oth­er let­ter from Pe­ter­son to a com­pa­ny called Ol­o­gy, which had sought to make the vac­cine for In­ovio, de­mand­ed that they stop us­ing tech that be­longed to VGXI.
Pe­ter­son al­leged that In­ovio vi­o­lat­ed their sup­ply agree­ment by go­ing to oth­er man­u­fac­tur­ers — which In­ovio de­nied — but of­fered to work out a new mas­ter sup­ply agree­ment to take its place.
Like oth­er com­pa­nies that jumped in­to the Covid-19 race, In­ovio has seen its stock price gy­rate high­er on spec­u­la­tion over which com­pa­ny will be a suc­cess. Op­er­a­tion Warp Speed out of the White House re­port­ed­ly is set on as­sist­ing a small group of vac­cine de­vel­op­ers, like Mod­er­na. But In­ovio wasn't men­tioned.
To­day, the biotech's stock is down about 5%, but it's still rough­ly triple the mark it trad­ed at in late Feb­ru­ary, when the out­break went glob­al.
For a look at all End­points News coro­n­avirus sto­ries, check out our spe­cial news chan­nel.