Count­ing its re­main­ing cash, Vi­cal ax­es 40 staffers and cir­cles wag­ons around two Phase II as­sets
Just days af­ter Vi­cal $VI­CL and its part­ners at Astel­las an­nounced that their late-stage study of the CMV vac­cine ASP0113 had failed bad­ly, the San Diego-based biotech is ax­ing more than half of its staff and cir­cling the wag­ons around its re­main­ing clin­i­cal-stage as­sets.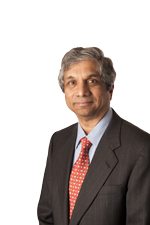 Vi­jay Samant
The biotech re­ports that it is lay­ing off 40 out of 74 staffers in the painful re­struc­tur­ing, which comes a lit­tle more than a week af­ter the tri­al flop. All the re­main­ing ef­forts around ASP0113 are be­ing ter­mi­nat­ed as well. Vi­cal ex­ecs say they should have enough cash in the bank to pay for de­vel­op­ment work through 2019.
The fo­cus now is on com­plet­ing its Phase II HSV-2 clin­i­cal tri­al while kick­start­ing its mid-stage study for the an­ti fun­gal drug VL-2397 in Q1.
The biotech said it had $60 mil­lion to $65 mil­lion in cash and in­vest­ments at the end of 2017.
"We have care­ful­ly eval­u­at­ed our or­ga­ni­za­tion and pri­or­i­ties and are re­struc­tur­ing to ex­tend our cash run­way to en­sure that our promis­ing HSV-2 vac­cine can­di­date and VL-2397 an­ti­fun­gal drug prod­uct can­di­date is ad­e­quate­ly re­sourced to max­i­mize share­hold­er val­ue," said Vi­cal CEO Vi­jay Samant in a state­ment.