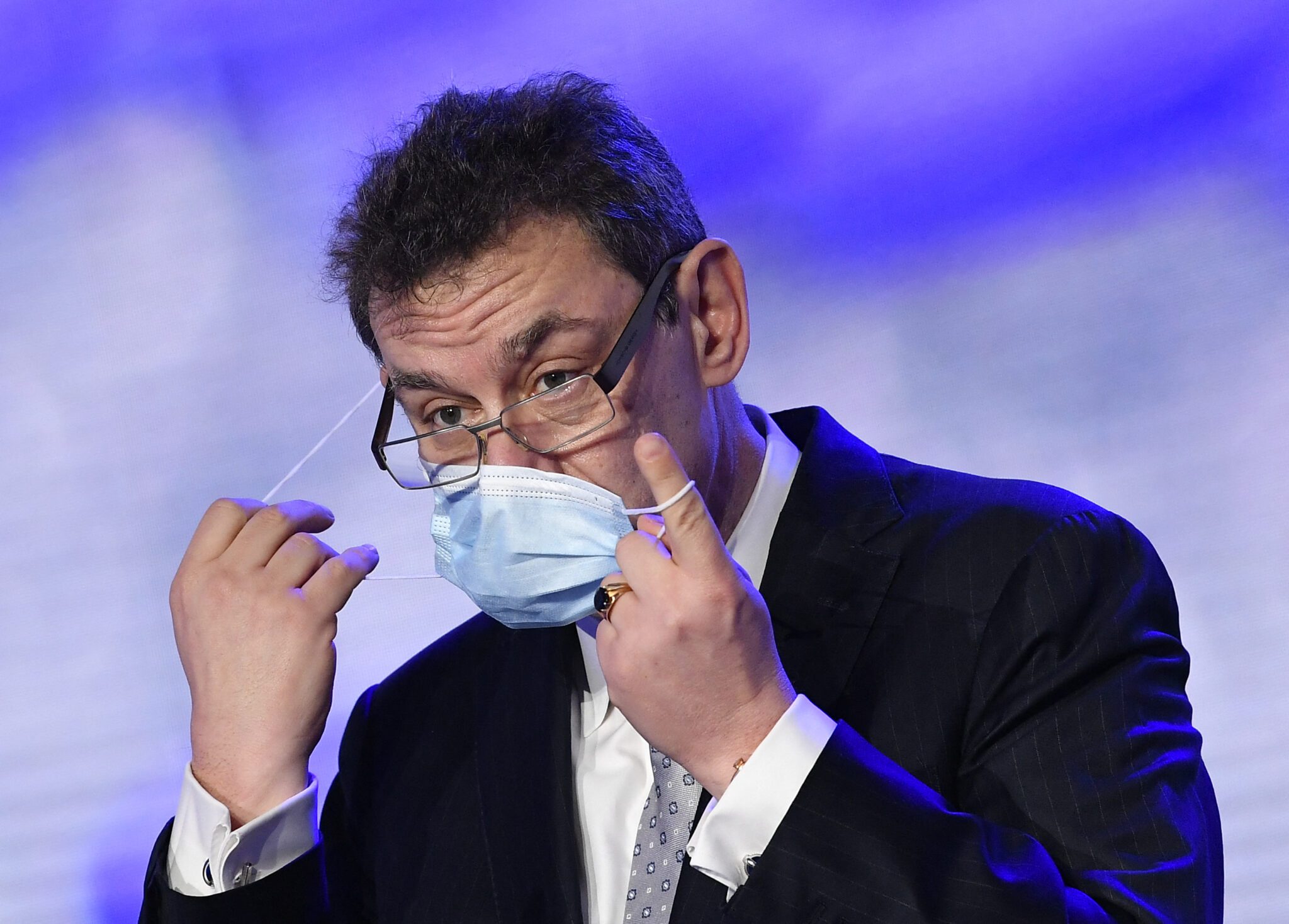 Albert Bourla, Pfizer CEO (John Thys, Pool/AFP via Getty Images)
Covid-19 roundup: Pfiz­er, BioN­Tech seek au­tho­riza­tion of vac­cine for 5- to 11-year-olds; Fin­land halts roll­out of Mod­er­na vac­cine in younger men — re­port
Pfiz­er and BioN­Tech have of­fi­cial­ly asked the FDA to au­tho­rize their Covid-19 vac­cine for emer­gency use in chil­dren be­tween the ages of 5 and 11 years old, the phar­ma an­nounced Thurs­day on Twit­ter.
The FDA's Vac­cines and Re­lat­ed Bi­o­log­i­cal Prod­ucts Ad­vi­so­ry Com­mit­tee will meet on Oct. 26 to dis­cuss the sub­mis­sion. If ap­proved, the Covid-19 vac­cine would be the first avail­able to kids of this age group.
"We know from our vast ex­pe­ri­ence with oth­er pe­di­atric vac­cines that chil­dren are not small adults, and we will con­duct a com­pre­hen­sive eval­u­a­tion of clin­i­cal tri­al da­ta sub­mit­ted in sup­port of the safe­ty and ef­fec­tive­ness of the vac­cine used in a younger pe­di­atric pop­u­la­tion, which may need a dif­fer­ent dosage or for­mu­la­tion from that used in an old­er pe­di­atric pop­u­la­tion or adults," act­ing FDA com­mis­sion­er Janet Wood­cock said in a state­ment.
UP­DATE: We and @BioN­Tech_Group of­fi­cial­ly sub­mit­ted our re­quest to @US_FDA for Emer­gency Use Au­tho­riza­tion (EUA) of our #COVID19 vac­cine in chil­dren 5 to <12. pic.twit­ter.com/72Z2HXlkOx

— Pfiz­er Inc. (@pfiz­er) Oc­to­ber 7, 2021
The news comes just over a week af­ter Pfiz­er and BioN­Tech sub­mit­ted ini­tial da­ta from their pe­di­atric tri­al to the agency, show­ing a 10 μg dose giv­en to chil­dren be­tween 5 and 11 years old achieved a com­pa­ra­ble re­sponse to 30 μg dos­es giv­en to peo­ple be­tween 16 and 25. The 10 μg dose was "care­ful­ly se­lect­ed as the pre­ferred dose for safe­ty, tol­er­a­bil­i­ty and im­muno­genic­i­ty" in the younger age group, the com­pa­nies said.
Topline read­outs on the vac­cine's per­for­mance in chil­dren be­tween 2 and 4 years old, and be­tween 6 months and 1 year old are ex­pect­ed by the fourth quar­ter of this year.
"With new cas­es in chil­dren in the U.S. con­tin­u­ing to be at a high lev­el, this sub­mis­sion is an im­por­tant step in our on­go­ing ef­fort against #COVID19," Pfiz­er tweet­ed on Thurs­day.
Ac­cord­ing to the phar­ma, chil­dren un­der the age of 18 ac­count­ed for around 27% of all Covid cas­es in the US last week. Of­fi­cials told the Wash­ing­ton Post that an au­tho­riza­tion for 5- to 11-year-olds could come be­tween Hal­loween and Thanks­giv­ing.
Fin­land halts roll­out of Mod­er­na vac­cine in younger men over heart in­flam­ma­tion — re­port
Fin­land is slam­ming the brakes on the use of Mod­er­na's Covid-19 vac­cine in younger men over re­ports of a rare car­dio­vas­cu­lar side ef­fect called my­ocardi­tis, Reuters re­port­ed on Thurs­day.
My­ocardi­tis refers to in­flam­ma­tion of the mid­dle lay­er of the heart wall, which can lead to chest pain, an ab­nor­mal heart­beat, and short­ness of breath. Mi­ka Salmi­nen, di­rec­tor of the Finnish health in­sti­tute, said an un­pub­lished study in Swe­den, Fin­land, Nor­way and Den­mark showed men un­der the age of 30 who re­ceived Mod­er­na's shot were at a slight­ly high­er risk of de­vel­op­ing the con­di­tion.
As a re­sult, Sami­nen said Pfiz­er's vac­cine would now be giv­en to men born af­ter 1991, ac­cord­ing to Reuters.
It was first re­port­ed that Swe­den and Den­mark had al­so paused dis­tri­b­u­tion of the vac­cine in younger men, but Den­mark said on Fri­day that it was still of­fer­ing Mod­er­na's vac­cine to men un­der 18, and that any sug­ges­tion oth­er­wise had been a mis­com­mu­ni­ca­tion.
"The Dan­ish Health Agency con­tin­ues to as­sess that both COVID-19 vac­cines, both the one from Pfiz­er/BioN­Tech and the one from Mod­er­na, are high­ly ef­fec­tive vac­cines that have an im­por­tant place in the gen­er­al vac­ci­na­tion pro­gramme in Den­mark," the Dan­ish Health Agency said, per Reuters.
A Mod­er­na spokesper­son told the news agency that the my­ocardi­tis cas­es were typ­i­cal­ly mild, and in­di­vid­u­als tend to re­cov­er in a "short time fol­low­ing stan­dard treat­ment and rest."
My­ocardi­tis, the spokesper­son point­ed out, is al­so a risk af­ter Covid-19 in­fec­tion.
The CDC has not­ed that cas­es of my­ocardi­tis have been re­port­ed af­ter vac­ci­na­tion with both the Pfiz­er-BioN­Tech and Mod­er­na vac­cines, es­pe­cial­ly in male ado­les­cents and young adults. But the agency has stressed that the ben­e­fits of the vac­cine far out­weigh the risks.
"The known risks of COVID-19 ill­ness and its re­lat­ed, pos­si­bly se­vere com­pli­ca­tions, such as long-term health prob­lems, hos­pi­tal­iza­tion, and even death, far out­weigh the po­ten­tial risks of hav­ing a rare ad­verse re­ac­tion to vac­ci­na­tion, in­clud­ing the pos­si­ble risk of my­ocardi­tis or peri­cardi­tis," the CDC said in a state­ment.
For a look at all End­points News coro­n­avirus sto­ries, check out our spe­cial news chan­nel.