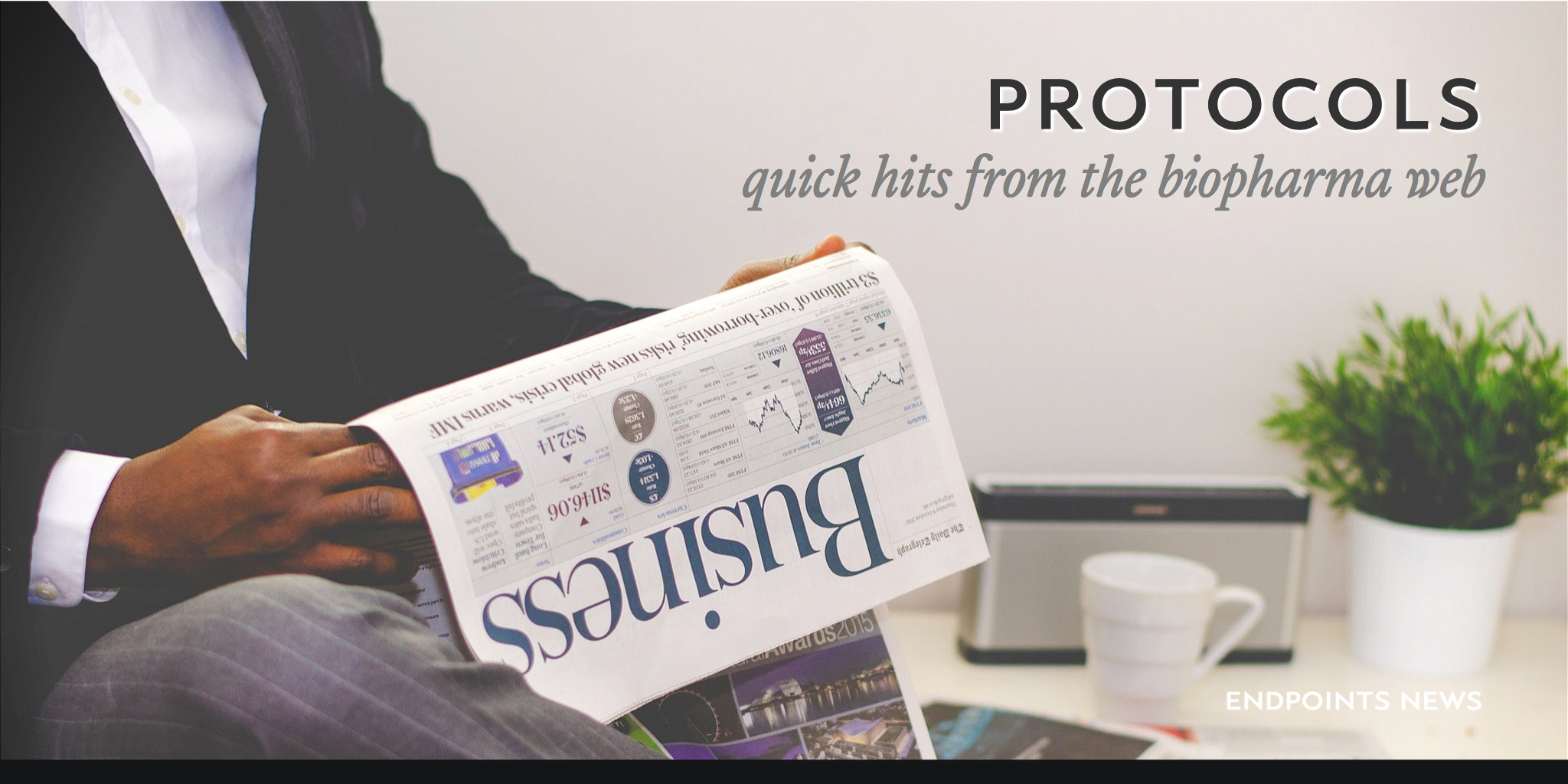 De­men­tia Dis­cov­ery Fund clos­es $350M, re­cruits Cel­gene ex­ec as CEO; Ex-Lazard banker Ian Woo joins C-Bridge and Ever­est
→ With a fresh $60 mil­lion in­vest­ment from US AARP, the De­men­tia Dis­cov­ery Fund has of­fi­cial­ly closed its $350 mil­lion fundrais­ing round. The to­tal sur­passed the group's ini­tial tar­get of $200 mil­lion. The DDF says it's the first and largest fund ded­i­cat­ed to de­men­tia, in­clud­ing Alzheimer's dis­ease. The fund is man­aged by SV Health and was formed with col­lab­o­ra­tion from Bio­gen, Eli Lil­ly, GSK, J&J, Ot­su­ka (As­tex), Pfiz­er and Take­da, the UK De­part­ment of Health and So­cial Care and the char­i­ty Alzheimer's Re­search UK. Since the group's launch in 2015, its made 16 in­vest­ments.
With its fresh in­fu­sion of cash, the DDF al­so an­nounced a new CEO in An­gus Grant, the for­mer cor­po­rate vice pres­i­dent of busi­ness de­vel­op­ment at Cel­gene.
"An­gus has a huge amount of ex­pe­ri­ence in iden­ti­fy­ing, de­vel­op­ing, fund­ing, reg­u­lat­ing and deal mak­ing with nov­el ther­a­pies in­ter­na­tion­al­ly and we look for­ward to the sig­nif­i­cant guid­ance and ex­per­tise that he will bring," said Kate Bing­ham, man­ag­ing part­ner at SV Health In­vestors, in a state­ment.
→ C-Bridge Cap­i­tal has re­cruit­ed Ian Woo, a man­ag­ing di­rec­tor of glob­al health­care group Lazard, to serve as the com­pa­ny's man­ag­ing di­rec­tor. Woo will al­so serve as pres­i­dent and CEO of Ever­est Med­i­cines, one of C-Bridge's port­fo­lio com­pa­nies. "Ian has a proven track record of man­ag­ing cross-bor­der trans­ac­tions," said Fu Wei, CEO of C-Bridge Cap­i­tal, in a state­ment. "As part of our team, he will help lead the ac­cel­er­a­tion of Ever­est's li­cens­ing and de­vel­op­ment ef­forts for bio­phar­ma­ceu­ti­cal as­sets from the U.S. and Eu­rope for com­mer­cial­iza­tion in Chi­na and neigh­bor­ing Asian mar­kets."
→ Jar­diance, the SGLT2 drug ap­proved for Type 2 di­a­betes has now come through on two stud­ies in­volv­ing Type 1 pa­tients. Eli Lil­ly $LLY and Boehringer say they'll now ex­plore their reg­u­la­to­ry op­tions, stop­ping short of say­ing they'll file for an OK.
→ Ver­tex $VRTX has long had a hard time con­vinc­ing sin­gle pay­ers in Eu­rope to pay up for their cys­tic fi­bro­sis drug Orkam­bi. Now New York state of­fi­cials are get­ting in­to the act, say­ing the cost of this drug just doesn't mea­sure up to the lim­it­ed ef­fi­ca­cy.