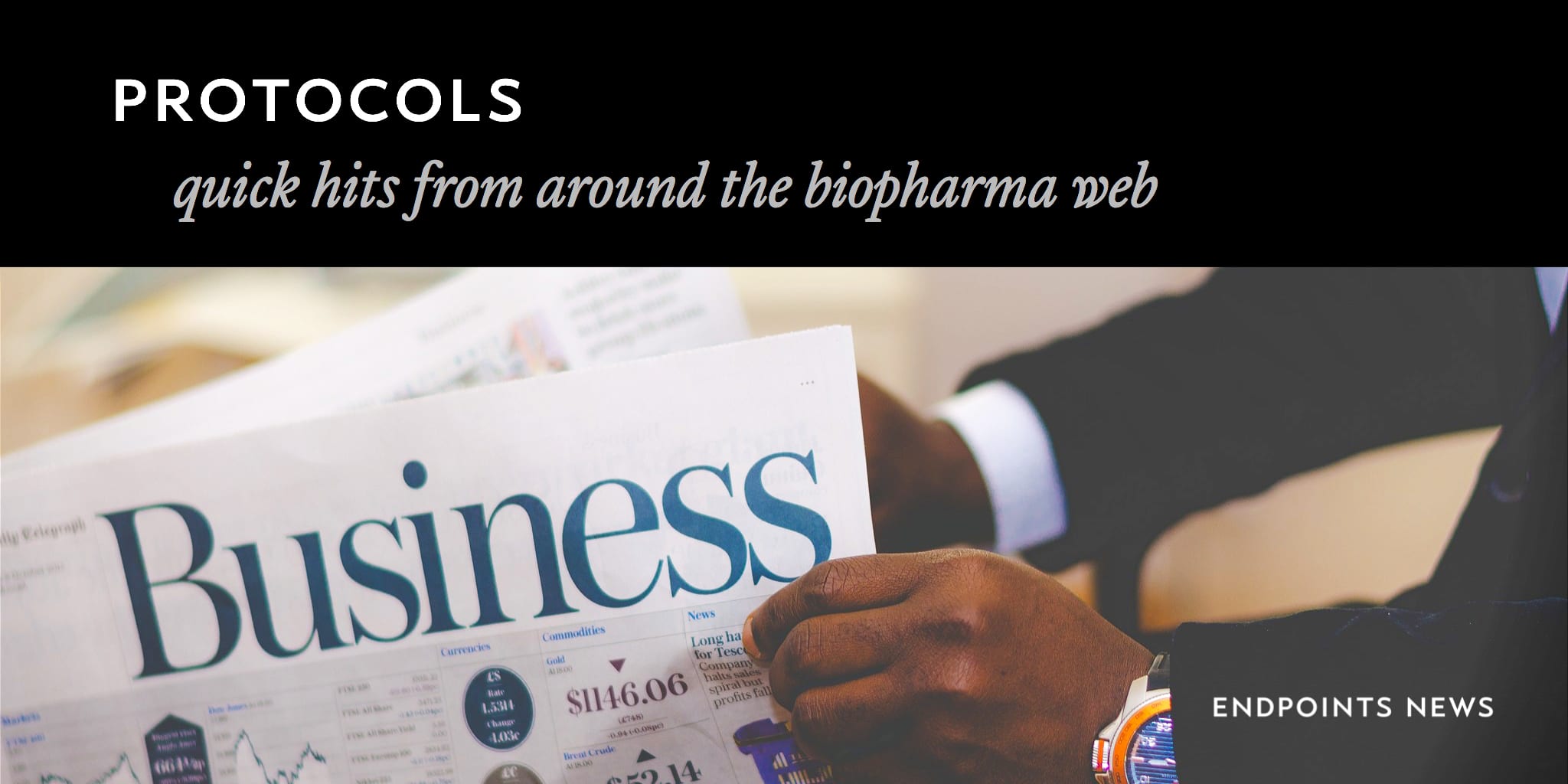 De­ci­phera banks a $52M C round for can­cer R&D; Io­n­is adds $50M mile­stone from Bio­gen
→ Waltham, MA-based De­ci­phera Ther­a­peu­tics an­nounced that it has banked a $52 mil­lion C round to keep fu­el­ing its grow­ing pipeline ef­forts, in­clud­ing its lead drug, still in the ear­ly stages of de­vel­op­ment, a pan-KIT and PDGFR in­hibitor dubbed DCC-2618. Viking Glob­al In­vestors, Red­mile Group and Sphera Glob­al Health­care Fund led the round, joined by De­ci­phera's ex­ist­ing in­vestors in­clud­ing New Leaf Ven­ture Part­ners. Said De­ci­phera CEO Michael Tay­lor: "The pro­ceeds of this fi­nanc­ing will be used to ad­vance de­vel­op­ment of DCC-2618 and DCC-3014 in­to lat­er-stage clin­i­cal tri­als with the goal of de­liv­er­ing new ther­a­pies that ad­dress key re­sis­tance mech­a­nisms to im­prove can­cer treat­ment out­comes."
→ Io­n­is earned a $50 mil­lion mile­stone pay­ment from Bio­gen to­day as Spin­raza be­came the first ap­proved treat­ment for spinal mus­cu­lar at­ro­phy in the Eu­ro­pean Union. So far the com­pa­ny has earned $375 mil­lion from Bio­gen re­lat­ed to Spin­raza and is still slat­ed to re­ceive tiered roy­al­ties on glob­al sales of the drug. The com­pa­ny has pre­vi­ous­ly faced a back­lash over the drug's price tag in the Unit­ed States.
→ Pen­ny biotech stock Thresh­old Phar­ma­ceu­ti­cals $THLD has sold off its AKR1C3-tar­get­ing drug TH-3424 to Tai­wan's OBI Phar­ma for a sin­gle, undis­closed pay­ment. Thresh­old shares were crushed two years ago by a pair of key tri­al fail­ures. Its on­ly oth­er drug in the pipeline is evo­fos­famide, which is in a slate of stud­ies af­ter fail­ing in Phase III at Mer­ck KGaA.
→ Cam­bridge, MA-based Voy­ager an­nounced to­day that it has se­lect­ed VY-HTT01 as a clin­i­cal can­di­date for the treat­ment of Hunt­ing­ton's dis­ease. They hope that a sin­gle de­liv­ery of the drug to a pa­tient's brain will se­lec­tive­ly knock down the pro­duc­tion of HTT mR­NA. The com­pa­ny is work­ing with Sanofi Genezyme and CH­DI to de­vel­op the drug.

→ The Eu­ro­pean Com­mis­sion grant­ed Bio­Marin mar­ket­ing au­tho­riza­tion for Brineu­ra (cer­liponase al­fa), the first treat­ment ap­proved in the Eu­ro­pean Union for the treat­ment of neu­ronal ceroid lipo­fus­ci­nosis type 2 (CLN2). The FDA grant­ed ap­proval for the drug, one of the most ex­pen­sive on the mar­ket, at the end of April.
→ The Swiss bio­phar­ma com­pa­ny Inthera fin­ished a Se­ries A with $10.5 mil­lion. Mer­ck Ven­tures led the round with equal con­tri­bu­tion from Agla­ia Bio­Med­ical Ven­tures and No­vo Seeds as well as par­tic­i­pa­tion of a pri­vate in­vestor. "We are now in a po­si­tion to com­plete the pre-clin­i­cal de­vel­op­ment of our lead pro­gram against HPV-as­so­ci­at­ed can­cers and ex­pand our op­er­a­tions and pipeline", said Ul­rich Kessler, CEO and co-founder of Inthera.