Dyno sketch­es tens of thou­sands of vi­able next-gen AAV cap­sids with the help of ma­chine learn­ing — pa­per
Since its launch in May 2020, Dyno Ther­a­peu­tics has tout­ed its plat­form's po­ten­tial to dis­cov­er vi­able vari­a­tions of cur­rent-gen AAVs with no­tice­able lim­i­ta­tions in terms of pa­tient safe­ty and ef­fi­ca­cy. Now, ac­cord­ing to a new study, Dyno has used its neur­al net­work to out­line tens of thou­sands of vari­ants that could add weight to its mis­sion to build a bet­ter cap­sid.
In a study meant to de­ter­mine how many vi­able vari­ants of the AAV2 cap­sid it could de­sign with the aid of ma­chine learn­ing, Dyno sketched out more than 100,000 virus­es that could be used to car­ry gene ther­a­pies, ac­cord­ing to a new pa­per pub­lished in Na­ture Biotech­nol­o­gy.
Us­ing a neur­al net­work to de­sign se­lec­tive­ly mu­tat­ed sites on a 28-amino acid chain, re­searchers at Dyno iden­ti­fied 110,689 vi­able vari­ants of the AAV2 cap­sid — a suc­cess rate of more than half of all vari­a­tions the biotech's ma­chine learn­ing plat­form came up with as part of the ex­per­i­ment.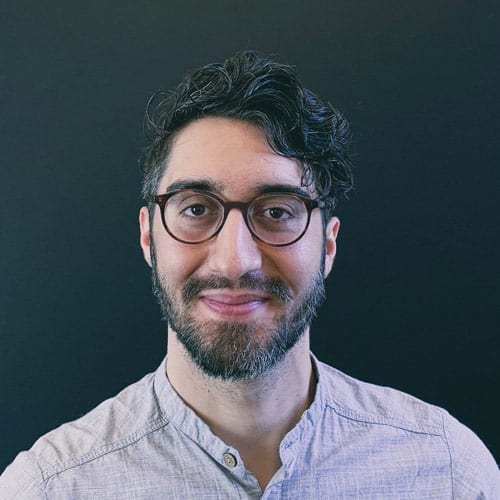 Sam Sinai
How did Dyno's tech ac­com­plish that feat with lim­it­ed in­struc­tion­al da­ta? Ac­cord­ing to co-founder Sam Sinai, Dyno's team worked smarter and not hard­er with the da­ta sets avail­able, se­lec­tive­ly in­putting — and some­times omit­ting — da­ta to cre­ate a bet­ter pre­dic­tion on less in­for­ma­tion.
"We looked at how dif­fer­ent ways at look­ing at the same da­ta — or even ig­nor­ing da­ta that we had — can help cer­tain ma­chine learn­ing mod­els in their abil­i­ty to mod­el the space that we are try­ing to go in­to," Sinai told End­points News. "This is a huge ad­van­tage, re­mov­ing the bur­den of ex­pen­sive ex­per­i­ments from the lab­o­ra­to­ry to the com­put­er."
The re­sult was a rich va­ri­ety of AAV vari­ants that could of­fer the need­ed di­ver­si­ty to tack­le Dyno's sig­na­ture chal­lenge — work­ing around pa­tients' nat­ur­al im­mu­ni­ty to spe­cif­ic AAV serotypes due to pri­or ex­po­sure. Paired with oth­er re­search in­to how to de­sign a cap­sid to bet­ter tar­get spe­cif­ic tis­sues, Sinai ar­gued his team is piec­ing to­geth­er a po­ten­tial road map for the fu­ture of AAV-based gene ther­a­pies.
The ex­per­i­ment has a side ben­e­fit, Sinai said, as one of the biggest ex­per­i­ments ever un­der­tak­en to dra­mat­i­cal­ly re­work the shape of a pro­tein. The high rates of suc­cess in find­ing vi­able vari­a­tions is just the cher­ry on top.
"The study it­self is one of the largest de­signs of any pro­teins to date with ma­chine learn­ing in terms of band­width and in terms of how much change we have in­duced in this pro­tein," he said. "In that sense it's very ex­cit­ing. When we start­ed this study in 2017, we didn't know we could change the pro­tein as much as we did. One of the ex­cit­ing re­sults of this study is that we could."
With the high suc­cess in map­ping AAV2, Sinai said Dyno is al­so fo­cus­ing on ad­di­tion­al serotypes, in­clud­ing AAV9 — the tech be­hind No­var­tis' Zol­gens­ma. The team's com­pu­ta­tion­al pow­er should work the same way across all wild serotypes, Sinai said, which could churn out mil­lions of unique vi­able vari­ants down the road.
So far, some big-name play­ers in phar­ma are tak­ing a bet on Dyno's grow­ing po­ten­tial, with the Roche/Genen­tech group just re­cent­ly pledg­ing up to $1.8 bil­lion to the team's hunt for a bet­ter cap­sid. As part of the deal signed in Oc­to­ber, Dyno went to work with the Spark team at Roche build­ing bet­ter mod­els of pro­to­type AAV vec­tors and look­ing to over­come some of the bar­ri­ers that have kept the ther­a­py's po­ten­tial cor­ralled to a lim­it­ed set of or­gans.
The Roche deal came on the heels of sim­i­lar deals with Sarep­ta and No­var­tis, both of which looked to har­ness the com­pu­ta­tion­al pow­er be­hind Dyno's de­signs.