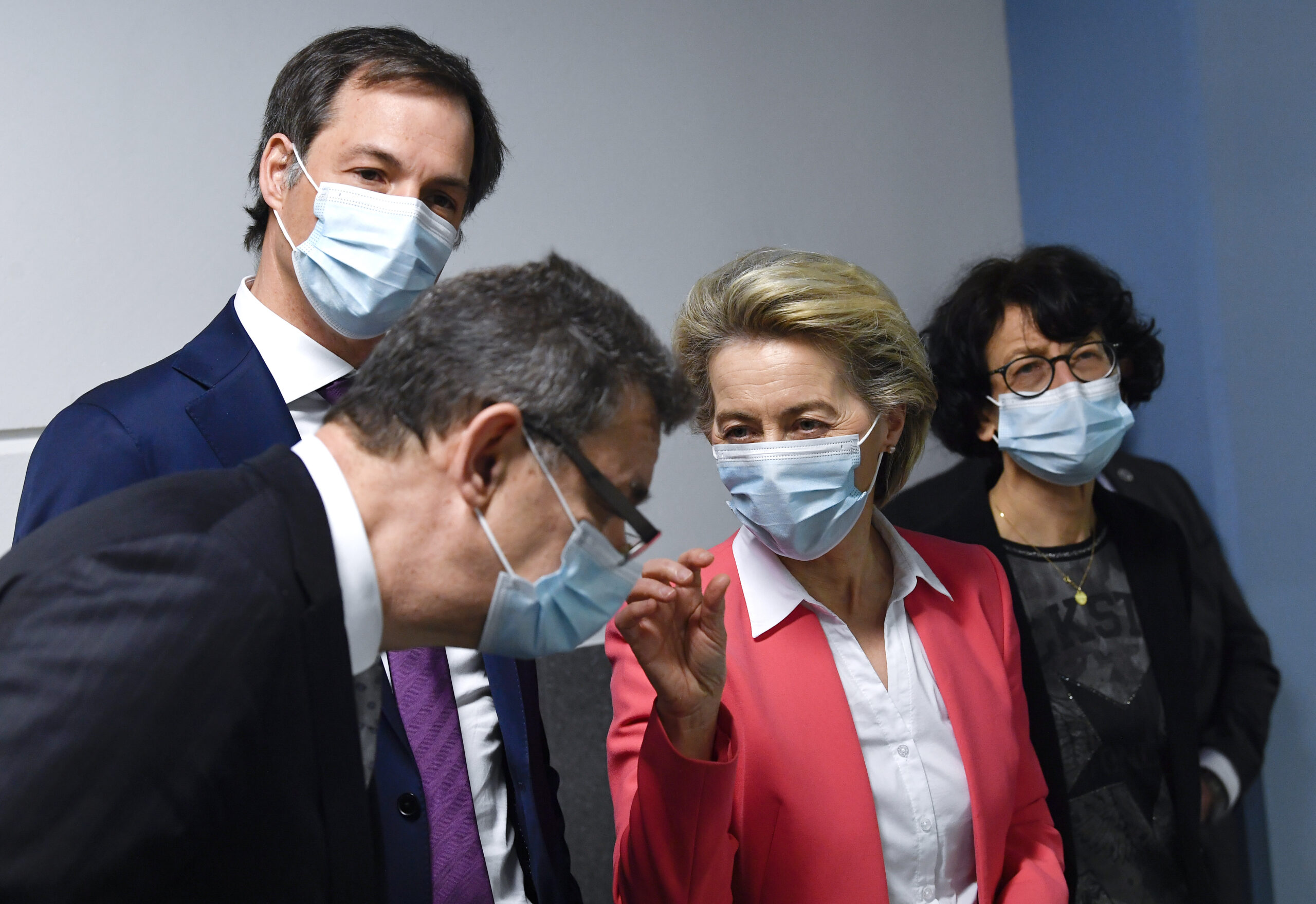 Ursula von der Leyen (second right) speaks with Pfizer CEO Albert Bourla (left), Belgium Prime Minister Alexander De Croo (second left) and BioNTech's Özlem Türeci during an official visit to the Pfizer pharmaceutical company in Puurs, Belgium (John Thys/Pool via AP Images)
Eu­ro­pean Com­mis­sion says it does­n't have texts be­tween pres­i­dent Ur­su­la von der Leyen and Pfiz­er CEO Al­bert Bourla
Un­der fire from the Eu­ro­pean om­buds­man, the Com­mis­sion said on Wednes­day that it hasn't found any text mes­sages be­tween pres­i­dent Ur­su­la von der Leyen and Pfiz­er chief Al­bert Bourla re­gard­ing the pur­chase of Covid-19 vac­cines.
The mes­sages be­came of in­ter­est last April, when the New York Times re­port­ed that a se­ries of texts and calls be­tween von der Leyen and Bourla led to Pfiz­er's largest vac­cine deal — 900 mil­lion dos­es of the cur­rent vac­cine and a vac­cine adapt­ed to vari­ants, with the op­tion to pur­chase an ad­di­tion­al 900 mil­lion dos­es through 2023.
Emi­ly O'Reil­ly
Up­on a pub­lic ac­cess re­quest made by a jour­nal­ist, the EC re­spond­ed that it had no record of them. How­ev­er, it was lat­er re­vealed by om­buds­man Emi­ly O'Reil­ly, the EU's in­ter­nal watch­dog, that the EC nev­er ex­plic­it­ly asked the cab­i­net to look for the texts.
In­stead, the EC re­quest­ed oth­er doc­u­ments that fall un­der its in­ter­nal cri­te­ria for record­ing, which doesn't in­clude text mes­sages.
O'Reil­ly ac­cused the Com­mis­sion of "mal­ad­min­is­tra­tion," and urged the ad­min­is­tra­tion to con­duct a more thor­ough search.
"When it comes to the right of pub­lic ac­cess to EU doc­u­ments, it is the con­tent of the doc­u­ment that mat­ters and not the de­vice or form," she said in a state­ment back in Jan­u­ary. "If text mes­sages con­cern EU poli­cies and de­ci­sions, they should be treat­ed as EU doc­u­ments."
On Wednes­day, the EC claimed to side with O'Reil­ly: "The Com­mis­sion and the Om­buds­man agree that what mat­ters is the con­tent of a doc­u­ment," a spokesper­son said in an email to End­points News.
How­ev­er, the Com­mis­sion main­tained that the texts were not reg­is­tered as doc­u­ments "due to their short-lived and ephemer­al na­ture."
"Text and in­stant mes­sages in gen­er­al do not con­tain im­por­tant in­for­ma­tion re­lat­ing to poli­cies, ac­tiv­i­ties and de­ci­sions of the Com­mis­sion, nor are they in the pos­ses­sion of the in­sti­tu­tion," the EC shared in a let­ter.
The ad­min­is­tra­tion added that it in­tends to is­sue fur­ther guid­ance on the use of "mod­ern com­mu­ni­ca­tion tools" such as text and in­stant mes­sages to clear up any con­fu­sion.
"The Om­buds­man could equal­ly be in­vit­ed to par­tic­i­pate in those dis­cus­sions, if she wish­es to do so," the state­ment said.
Pfiz­er de­clined to com­ment on the con­tent of the text mes­sages.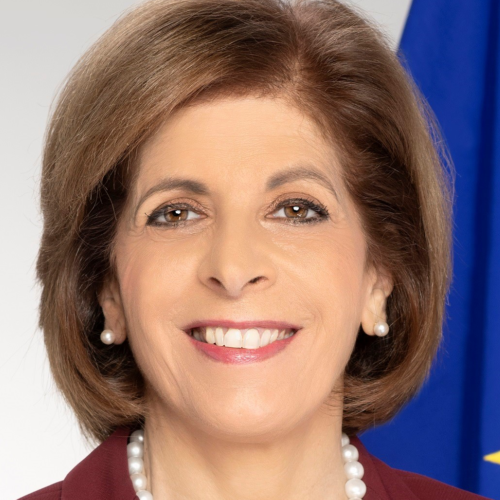 Stel­la Kyr­i­akides
The EC struck its third vac­cine deal with Pfiz­er and BioN­Tech last May, af­ter its oth­er ma­jor sup­pli­er As­traZeneca ran in­to pro­duc­tion is­sues and an­nounced it would sig­nif­i­cant­ly re­duce de­liv­er­ies.
The con­tract, which called for up to 1.8 bil­lion dos­es through 2023, al­so re­served the EU right to re­sell or do­nate dos­es to coun­tries in need.
"We need to be one step ahead of the virus. This means hav­ing ac­cess to adapt­ed vac­cines to pro­tect us against the threat of vari­ants, boost­er vac­cines to pro­long im­mu­ni­ty, as well as pro­tect­ing our younger pop­u­la­tion," com­mis­sion­er for health and food safe­ty Stel­la Kyr­i­akides said at the time.