Eye­ing an IPO, ADC Ther­a­peu­tics fu­els piv­otal can­cer tri­als with a $200M mega-round backed by As­traZeneca
Just days af­ter Gilead and its new sub­sidiary Kite won a ground­break­ing FDA ap­proval for their CAR-T ther­a­py Yescar­ta for B-cell lym­phomas, Lau­sanne, Switzer­land-based ADC Ther­a­peu­tics is rolling out a jaw-drop­ping $200 mil­lion mega-round to gam­ble — in part — on a next-gen an­ti­body-drug con­ju­gate that the back­ers feel can com­pete just fine with the per­son­al­ized cell ther­a­py.
The lat­est round brings ADC's to­tal ven­ture take to $455 mil­lion, po­si­tion­ing them for a pair of Phase II stud­ies that po­ten­tial­ly could put them in line for an ac­cel­er­at­ed ap­proval — par­tic­u­lar­ly if they come close to match­ing the orig­i­nal proof-of-con­cept da­ta that was post­ed last June.
Chris Mar­tin was one of the orig­i­nal board mem­bers at ADC back in 2011 when the biotech was launched. Al­most ex­act­ly three years ago he helped arrange the sale of the UK's Spirogen — where he was CEO — to As­traZeneca in a $440 mil­lion deal, which the phar­ma gi­ant paired with a $20 mil­lion in­vest­ment in ADC. As­traZeneca matched that in­vest­ment with an un­spec­i­fied li­cens­ing deal with ADC which is in the clin­ic. Au­ven Ther­a­peu­tics — found­ed by Stephen Evans-Freke and Pe­ter Corr in Lau­sanne — fund­ed both com­pa­nies and Mar­tin be­came the CEO at ADC two years ago.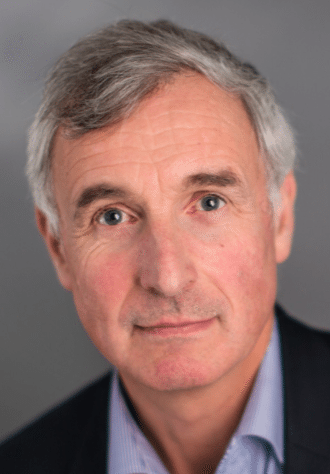 Chris Mar­tin
Au­ven Ther­a­peu­tics al­so joined the ex­pand­ed syn­di­cate on this round, along­side Red­mile, the Wild fam­i­ly of­fice and As­traZeneca, among oth­er un­named in­vestors.
But ADC and Spirogen didn't just share a com­mon fi­nan­cial pedi­gree, they al­so share a tech­nol­o­gy: pyrroloben­zo­di­azepine-based war­heads which the re­searchers be­lieve are or­ders of mag­ni­tude bet­ter than the first gen­er­a­tion of an­ti­body-drug con­ju­gates that were steered to the mar­ket by Seat­tle Ge­net­ics and oth­ers. These drugs use an an­ti­body to steer their way to can­cer cells and then drop a tox­ic pay­load where they are in­tend­ed to do the most good.
Last sum­mer, ADC backed up its new-wave boast by rolling out an ear­ly snap­shot of Phase I hu­man da­ta from its two lead ther­a­pies — AD­CT-301 and AD­CT-402.
Their 402 pro­gram tar­gets CD19, a fa­vorite in the CAR-T crowd. And re­searchers un­der CMO Jay Fein­gold, a for­mer VP of can­cer re­search at Wyeth, reg­is­tered a 57% over­all re­sponse rate, with an im­pres­sive 43% com­plete re­sponse tal­ly in drug-re­sis­tant cas­es of dif­fuse large B-cell lym­phomas. Their drug 301 came in with a 38% over­all re­sponse rate in a small group of re­frac­to­ry Hodgkin's lym­phoma pa­tients.
Mar­tin, in his own un­der­stat­ed way, tells me: "We were en­cour­aged by that."
ADC has been grow­ing as the cash con­tin­ues to roll in. Now 66 staffers, Mar­tin ex­pects to have a pay­roll of 70 by year's end. On­ly 14 of those jobs are ac­tu­al­ly in Lau­sanne, the rest are scat­tered around the biotech world. The pre­clin­i­cal work is done in Lon­don, clin­i­cal de­vel­op­ment in New Jer­sey and man­u­fac­tur­ing is in San Fran­cis­co, where they've been work­ing with Stem­cen­trx, now a sub­sidiary of Ab­b­Vie.
Both of these mid-stage stud­ies are ex­pect­ed to get start­ed in the first half of next year, with 402 out front with a Q1 launch. Mar­tin ex­pects pa­tient re­cruit­ment to take about 6 months, with da­ta by the end of 2018 or ear­ly 2019, when they can re­view about fil­ing with the reg­u­la­to­ry agen­cies. Mar­tin isn't promis­ing ex­act­ly when that will be, but fil­ing on Phase II in can­cer is now stan­dard op­er­at­ing pro­ce­dure in the on­col­o­gy world.
"At the mo­ment," he says, "our over­all guid­ing prin­ci­ple is to get ef­fec­tive drugs in­to pa­tients that need it as quick­ly as pos­si­ble."
While Yescar­ta has been post­ing im­pres­sive out­comes ahead of 402, Mar­tin doesn't feel like they've been beat­en to the punch on DL­B­CL. Quite the con­trary. With a drug that can be de­liv­ered straight to pa­tients, pre­sum­ably at a low­er cost and sim­i­lar ef­fi­ca­cy, with a much safer side ef­fect pro­file, he feels the lit­tle biotech can com­pete with Gilead and its glob­al mar­ket­ing or­ga­ni­za­tion.
By next year, ADC will al­so have six ther­a­pies in the clin­ic — with two more lin­ing up INDs — open­ing up some more part­ner­ing prospects.
In the mean­time, Mar­tin is al­so qui­et­ly con­fi­dent that the com­pa­ny will be in a good po­si­tion to IPO, when the time is right. At this point, with a pri­vate syn­di­cate ready to come up with the biggest Eu­ro­pean biotech round in some three years, he says an IPO would have just proven to be a ma­jor dis­trac­tion. Un­til the right time, he says, ADC re­mains "IPO ready," with au­dit­ed fi­nan­cials and a prospec­tus it's keep­ing up to date as they pro­ceed.