Faster, cheap­er, bet­ter? Post-buy­out deal Cel­gene jumps in­to AI al­liance with a $25 mil­lion bet on speed­ing dis­cov­ery work
Cel­gene clear­ly isn't wait­ing in lim­bo to see when, or if, the big Bris­tol-My­ers Squibb deal will go through. It's still ex­e­cut­ing deals, and the R&D side of the busi­ness has just en­list­ed one of the more promi­nent AI play­ers to go to work on a trio of new drug projects in on­col­o­gy and im­munol­o­gy. They're pay­ing $25 mil­lion up front to get the tech par­ty start­ed.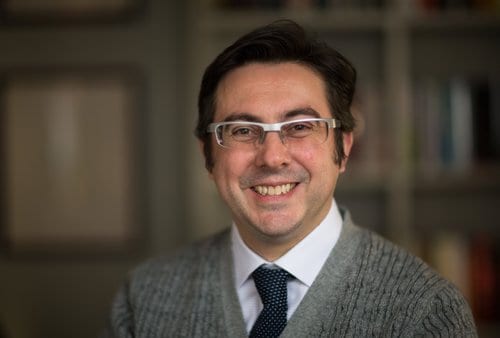 An­drew Hop­kins
Cel­gene, a top 15 R&D group world­wide by re­search bud­get, tied up with Ex­sci­en­tia in Ox­ford, UK for the work. We aren't get­ting any specifics about the tar­gets, but the com­pa­ny is ex­plor­ing AI to see how it lives up to the emerg­ing field's big boast: That they can de­liv­er new drugs for hu­man test­ing faster and more ac­cu­rate­ly than the stan­dard in­dus­try ap­proach the big play­ers have been us­ing. In Cel­gene's case, that would com­mon­ly mean go­ing out and do­ing a dis­cov­ery deal with a biotech, but the ma­jors al­so have their own in-house op­er­a­tions.
"This is the largest AI deal so far," Ex­sci­en­tia CEO An­drew Hop­kins tells me, with "very sub­stan­tial" mile­stones built in.
The AI play­er's boast is that they can take you through con­cept to hit dis­cov­ery and lead iden­ti­fi­ca­tion in 12 months or less — which they say they've done 4 times now. The first 3 were bis­pecifics, not easy to do, the CEO adds.
It's an in­ter­est­ing busi­ness mod­el which has at­tract­ed con­sid­er­able at­ten­tion over the last 2 years. It's al­so de­liv­ered pacts for Ex­sci­en­tia with a bevy of promi­nent in­dus­try play­ers: Roche, GSK, Sanofi and Evotec.
Like oth­ers in the field, Hop­kins likes to point to the num­bers in an in­flu­en­tial study that Steven Paul — now a biotech en­tre­pre­neur — did in the spring of 2010 dur­ing a lengthy stint at Eli Lil­ly which un­der­scored the kind of time and mon­ey that a phar­ma gi­ant spent on dis­cov­ery (How to im­prove R&D pro­duc­tiv­i­ty: the phar­ma­ceu­ti­cal in­dus­try's grand chal­lenge). The cap­i­tal­ized cost of lead op­ti­miza­tion alone, he and his team — which in­clud­ed Bernard Munos — cal­cu­lat­ed, was $414 mil­lion. The out of pock­et for lead op­ti­miza­tion was $146 mil­lion.
These num­bers have been known to cause some hoot­ing in the biotech world, where it's not un­com­mon to get $30 mil­lion — or con­sid­er­ably less — in VC mon­ey to get through to an IND. Lead op­ti­miza­tion in the biotech world hap­pens less ex­pen­sive­ly. But the ma­jors are play­ing a dif­fer­ent game, which is one rea­son why most of the phar­ma gi­ants have been work­ing on AI as a way to im­prove ef­fi­cien­cies — though many would tell you the ju­ry is out and will re­main out un­til these IND projects turn in­to ap­proved drugs.
One num­ber that Hop­kins was cu­ri­ous­ly un­will­ing to part with was the size of his staff. He de­clined to say how many em­ploy­ees work at the AI com­pa­ny, and a spokesper­son fol­lowed up with "less than 50." Af­ter this sto­ry post­ed on­line, an­oth­er con­tact came back with "around 50." So make of that what you will.