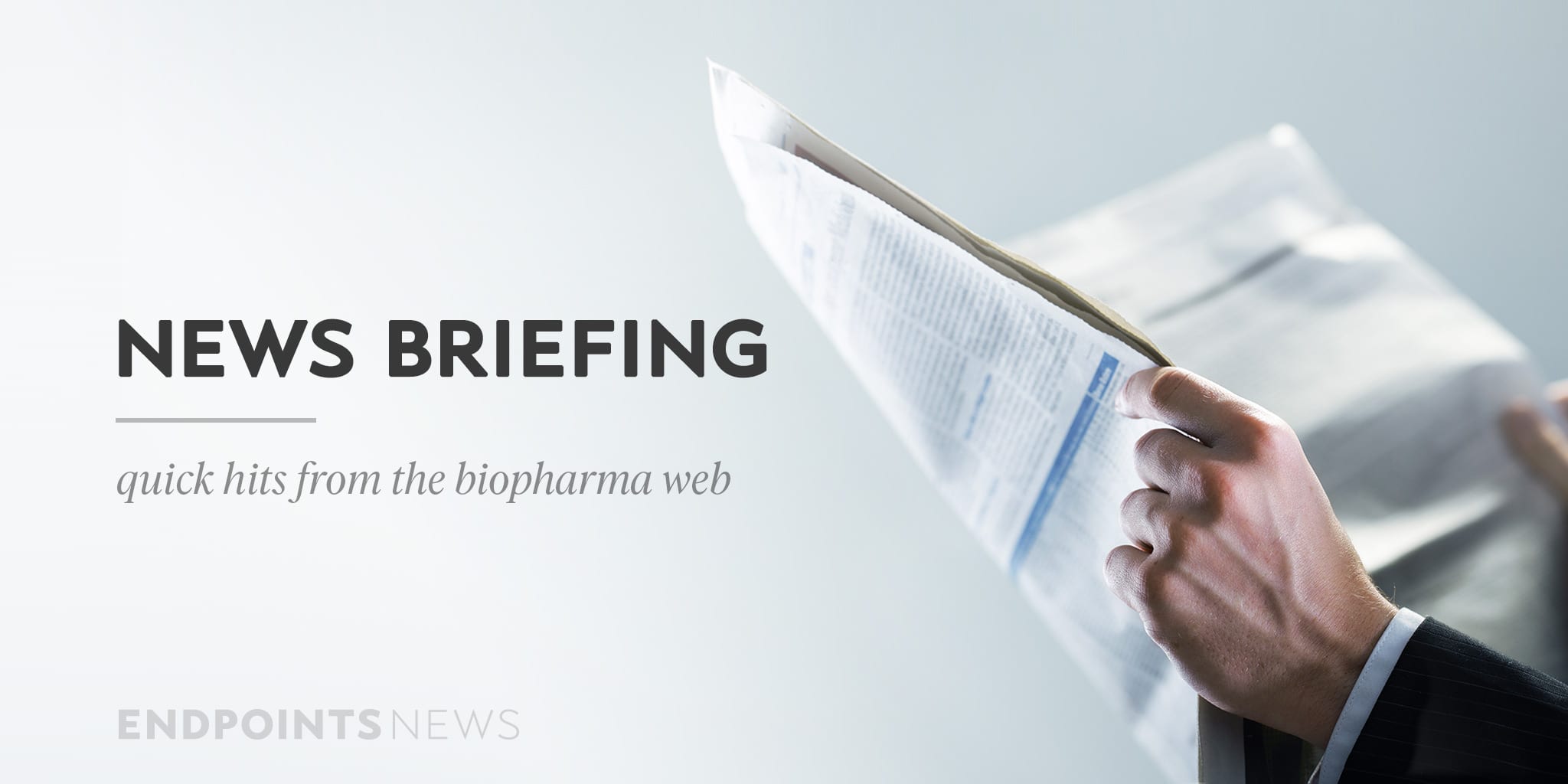 FDA ac­cepts pri­or­i­ty re­view of CSL-uniQure he­mo­phil­ia B gene ther­a­py; Fo­s­un Phar­ma nets an­oth­er deal
The first po­ten­tial gene ther­a­py for he­mo­phil­ia B has got­ten one step clos­er to reach­ing pa­tients as the FDA has ac­cept­ed CSL Behring's BLA for its uniQure-part­nered one-time treat­ment. The ther­a­py, dubbed etranaco­gene deza­parvovec, was ac­cept­ed un­der "ac­cel­er­at­ed as­sess­ment" by the Eu­ro­pean Med­i­cines Agency in March.
A pri­or­i­ty re­view will be con­duct­ed for the gene ther­a­py in­tend­ed for pa­tients with the hered­i­tary bleed­ing dis­or­der, CSL said Tues­day morn­ing. The Penn­syl­va­nia biotech did not in­di­cate the reg­u­la­tor's de­ci­sion date, but a pri­or­i­ty re­view gen­er­al­ly means the treat­ment's fate will be hand­ed down with­in six months rather than 10.
Reg­u­la­tors will base their de­ci­sion on a Phase III study that found the treat­ment to be non-in­fe­ri­or to base­line Fac­tor IX pro­phy­lac­tic ther­a­py on an­nu­al­ized bleed­ing rate (ABR) af­ter 18 months. The com­pa­nies said the treat­ment was al­so sta­tis­ti­cal­ly su­pe­ri­or at re­duc­ing ABR at the 18-month mark in the HOPE-B study.
It's wel­come news for pa­tients and the com­pa­nies af­ter a five-month hold last year be­cause of a safe­ty is­sue that found a pa­tient in the study had de­vel­oped liv­er can­cer. UniQure con­clud­ed its ther­a­py was "high­ly un­like­ly" to have led to the can­cer.
SVB Se­cu­ri­ties an­a­lysts said they ex­pect an EMA de­ci­sion in the third quar­ter and an FDA one the fol­low­ing quar­ter. The an­a­lysts pegged the gene ther­a­py as hav­ing a "com­pelling ap­proval po­ten­tial that could reignite in­ter­est in the gene ther­a­py space broad­ly," not­ing an­oth­er key de­ci­sion will be of Bio­Marin's he­mo­phil­ia A gene ther­a­py, which is un­der re­view in Eu­rope and slat­ed for a June re­sub­mis­sion in the US.
Mean­while, Cowen an­a­lysts not­ed that in their sur­vey of es­ti­mat­ed he­mo­phil­ia B gene ther­a­py up­take, physi­cians said 13% of pa­tients would use such a treat­ment three years post-launch, where­as pay­ors pre­dict­ed 31% would do so.
An­a­lysts have pegged glob­al peak sales at $1.2 bil­lion, with uniQure stand­ing to earn $485 mil­lion in peak roy­al­ties af­ter sell­ing the ex­clu­sive glob­al rights to CSL in a $2 bil­lion pact. — Kyle LaHu­cik
Fo­s­un Phar­ma nets deal with Ver­Im­mune for li­cens­ing and op­tions agree­ment
Fo­s­un Phar­ma is look­ing to keep churn­ing out deals as they are net­ting a new deal in the can­cer space.
Fo­s­un Phar­ma USA, the US-based sub­sidiary of Shang­hai-based Fo­s­un Phar­ma­ceu­ti­cal, has inked a deal with Wash­ing­ton DC-based biotech Ver­Im­mune Inc, for an ex­clu­sive li­cense and op­tion agree­ment ef­fec­tive May 18, 2022.
Ver­Im­mune is de­vel­op­ing a nov­el ther­a­peu­tic Virus-In­spired Par­ti­cle (ViP) modal­i­ty that redi­rects the body's pre-ex­ist­ing im­mu­ni­ty against vi­ral pathogens to at­tack can­cer.
Un­der the terms of the agree­ment, Ver­Im­mune has grant­ed Fo­s­un Phar­ma an ex­clu­sive li­cense to Ver­Im­mune's lead an­ti-tu­mor im­mune redi­rec­tion, or AIR, can­di­date, called VERI-101, with an op­tion to li­cense cer­tain po­ten­tial fu­ture AIR-ViP prod­ucts aris­ing from the de­vel­op­ment of Ver­Im­mune's VERI-101 pipeline. This will in­clude li­cens­ing for the main­land Chi­nese, Hong Kong, Macau and Tai­wan. Fo­s­un Phar­ma will be re­spon­si­ble for all clin­i­cal de­vel­op­ment and com­mer­cial­iza­tion in these ter­ri­to­ries.
Ver­Im­mune is el­i­gi­ble to re­ceive up to $125M in to­tal up­front and mile­stone pay­ments plus tiered roy­al­ties up to the low dou­ble dig­its on net sales of VERI-101 in spec­i­fied ter­ri­to­ries. Sub­ject to Fo­s­un Phar­ma's ex­er­cise of its op­tion to se­lect fu­ture AIR-ViP prod­uct can­di­dates, Ver­Im­mune is el­i­gi­ble to re­ceive ad­di­tion­al mile­stone pay­ments and roy­al­ties on net sales for each ad­di­tion­al prod­uct can­di­date.
"Can­cer is a glob­al un­met med­ical need and thus we are very ex­cit­ed to be work­ing with the Fo­s­un Phar­ma com­pa­nies to bring our nov­el lead AIR-ViP im­munother­a­peu­tic prod­ucts to Chi­na. Fo­s­un Phar­ma has both the ex­per­tise and ac­cess to reach these fast-grow­ing mar­kets and we hope to ben­e­fit more Chi­nese pa­tients and the re­gion through our co­op­er­a­tion" said Joshua Wang, Ver­Im­mune founder and CEO.
This is not the on­ly deal Fo­s­un has inked this year as they seized a deal with In­sil­i­co, who re­ceived $13 mil­lion up­front from Fo­s­un for an R&D col­lab­o­ra­tion project, which in­cludes co-de­vel­op­ment of In­sil­i­co's QPCTL pro­gram. — Tyler Patchen