FDA OKs Mer­ck's heavy­weight Keytru­da for can­cer niche — trig­ger­ing ti­tle fight with the street brawlers at Re­gen­eron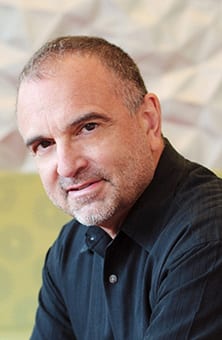 George Yan­copou­los
When Re­gen­eron won its first OK for their PD-1 Lib­tayo as a treat­ment for re­cur­rent or metasta­t­ic cu­ta­neous squa­mous cell car­ci­no­ma, the sec­ond most com­mon form of skin can­cer, com­pa­ny pres­i­dent George Yan­copou­los crowed about their abil­i­ty to grab a ma­jor niche mar­ket left wide open by the 2 big pow­er­hous­es in the field, Mer­ck and Bris­tol My­ers.
To­day, though, Re­gen­eron and their part­ners at Sanofi no longer en­joy a mo­nop­oly in that par­tic­u­lar field. Mer­ck grabbed an OK for their top-sell­ing PD-1 Keytru­da in the same group of pa­tients. But don't ex­pect Re­gen­eron — still strug­gling to boost sales — to let go of their best-in-class claims.
Keytru­da gar­nered the FDA ap­proval based on an "ob­jec­tive re­sponse rate (ORR) of 34% (95% CI, 25-44), in­clud­ing a com­plete re­sponse rate of 4% and a par­tial re­sponse rate of 31%. Among re­spond­ing pa­tients, 69% had on­go­ing re­spons­es of six months or longer. Af­ter a me­di­an fol­low-up time of 9.5 months, the me­di­an du­ra­tion of re­sponse (DOR) had not been reached (range, 2.7 to 13.1+ months)."
When Re­gen­eron scored their way in­to the mar­ket, they count­ed an ORR of "47% (95% CI: 38, 57), with 4% com­plete and 44% par­tial re­sponse rates … The me­di­an re­sponse du­ra­tion was not reached (range: 1.0 to 15.2+ months), and 61% of re­spons­es were durable for 6 months or longer."
Cross-tri­al com­par­isons are al­ways dicey, but Re­gen­eron is a pu­gna­cious play­er, like­ly to spot­light any ad­van­tage. When I talked to Yan­copou­los about it at JP­Mor­gan in ear­ly 2019, he asked why Mer­ck and oth­ers were run­ning "thou­sands" of check­point tri­als, but no one went af­ter CSCC ahead of Re­gen­eron.
His an­swer: Be­cause they aren't near­ly as smart.
"It's so mind­less they missed this huge op­por­tu­ni­ty," he added em­phat­i­cal­ly, with­out try­ing to hide his con­tempt.
He al­so de­scribed pre­scrib­ing a ri­val PD-L1 for any­thing as "med­ical mal­prac­tice" as he went on to trash Baven­cio from Pfiz­er and Mer­ck KGaA.
The op­por­tu­ni­ty Yan­copou­los re­ferred to is still fair­ly small pota­toes com­pared to Keytru­da's $12 bil­lion reign as the world's lead­ing PD-1 check­point. Lib­tayo earned on­ly $193 mil­lion last year, un­der­scor­ing just how hard it is for the world's 6th PD-(L)1 to carve out a fran­chise.
Re­gen­eron, though, isn't afraid to go toe-to-toe with Mer­ck. They un­der­scored that with pos­i­tive da­ta in April for first-line pa­tients with non-small cell lung can­cer that test­ed pos­i­tive for PD-(L)1.
Re­gen­eron — which has an out­stand­ing rep in R&D — nev­er backs down from a fight un­less it's been forced to, as with PC­SK9. In the check­point drug com­mu­ni­ty, no one ex­pects them to wa­ver now.