FDA's Scott Got­tlieb is field­ing a new team of re­cruiters to start scout­ing top tal­ent
Biotech ex­ecs have been bull­ish sup­port­ers of the FDA in re­cent years, of­fer­ing their ap­pre­ci­a­tion of faster re­view times with new pro­grams like the break­through ther­a­py des­ig­na­tion. But if there's one re­cur­rent gripe you hear fre­quent­ly, it's that the reg­u­la­tors bio­phar­ma com­pa­nies and pa­tient ad­vo­cates deal with don't have the right kind of sci­en­tif­ic ex­pe­ri­ence for the drugs un­der re­view — es­pe­cial­ly as you stray out­side of on­col­o­gy.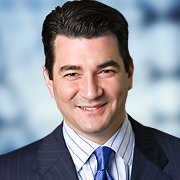 Scott Got­tlieb, FDA Com­mis­sion­er
Now, new broom and broad man­date in hand, FDA Com­mis­sion­er Scott Got­tlieb is rolling out a pi­lot pro­gram to start a tal­ent hunt, look­ing to bet­ter match new hires with the many jobs they have open. And the agency plans to start by re­cruit­ing new staffers for the PDU­FA-re­lat­ed po­si­tions in the drugs and bi­o­log­ics pro­grams.
"To take on this new ef­fort, we're es­tab­lish­ing a ded­i­cat­ed group of full-time staff with the re­spon­si­bil­i­ty to en­sure that we re­li­ably and pre­dictably iden­ti­fy, re­cruit, and ef­fi­cient­ly hire the sci­en­tif­ic per­son­nel the Agency needs," notes Got­tlieb in a new blog post out this morn­ing. "Pro­fes­sion­al staff from our cen­ters with ex­pe­ri­ence re­cruit­ing spe­cial­ized sci­en­tif­ic and med­ical staffing will be key mem­bers of this new pi­lot ef­fort. Staff from the Of­fice of Op­er­a­tions will as­sist with the iden­ti­fi­ca­tion of po­ten­tial can­di­dates from key sci­en­tif­ic dis­ci­plines."
Melanie Keller
Got­tlieb has asked CDER's Melanie Keller to take charge. She'll be run­ning the pi­lot from a new­ly-cre­at­ed po­si­tion in­side the Of­fice of Med­ical Prod­ucts and To­bac­co.
The FDA has been plagued by hun­dreds of po­si­tions long left open at the agency, mak­ing re­cruit­ment a key is­sue for Got­tlieb as he nav­i­gat­ed his re­cent con­fir­ma­tion hear­ing at the Sen­ate. With­out a le­gion of reg­u­la­tors to help clear the back­log of gener­ic ap­pli­ca­tions, Got­tlieb's plan to ac­cel­er­ate a wave of cheap new drugs to the mar­ket will be ham­pered by a lack of hands on deck. And he's al­so re­ly­ing on bet­ter ex­per­tise at the agency to help with the adop­tion of new tech­nolo­gies that will be cen­tral to faster, more ef­fi­cient drug de­vel­op­ment.
That's where the rub­ber hits the road for the glob­al biotech in­dus­try. No one wants to have to ex­plain the sci­ence they're us­ing when look­ing to set up a de­vel­op­ment plan or an­gle for an ap­proval. A com­mit­ment to sharp­en the FDA's ex­per­tise and keep the fo­cus on ac­cel­er­at­ed OKs won't meet with any ob­jec­tions in the in­dus­try — or any­where else for that mat­ter.
De­liv­er­ing on this promise will be key to Got­tlieb's con­tin­u­ing pop­u­lar­i­ty in biotech.