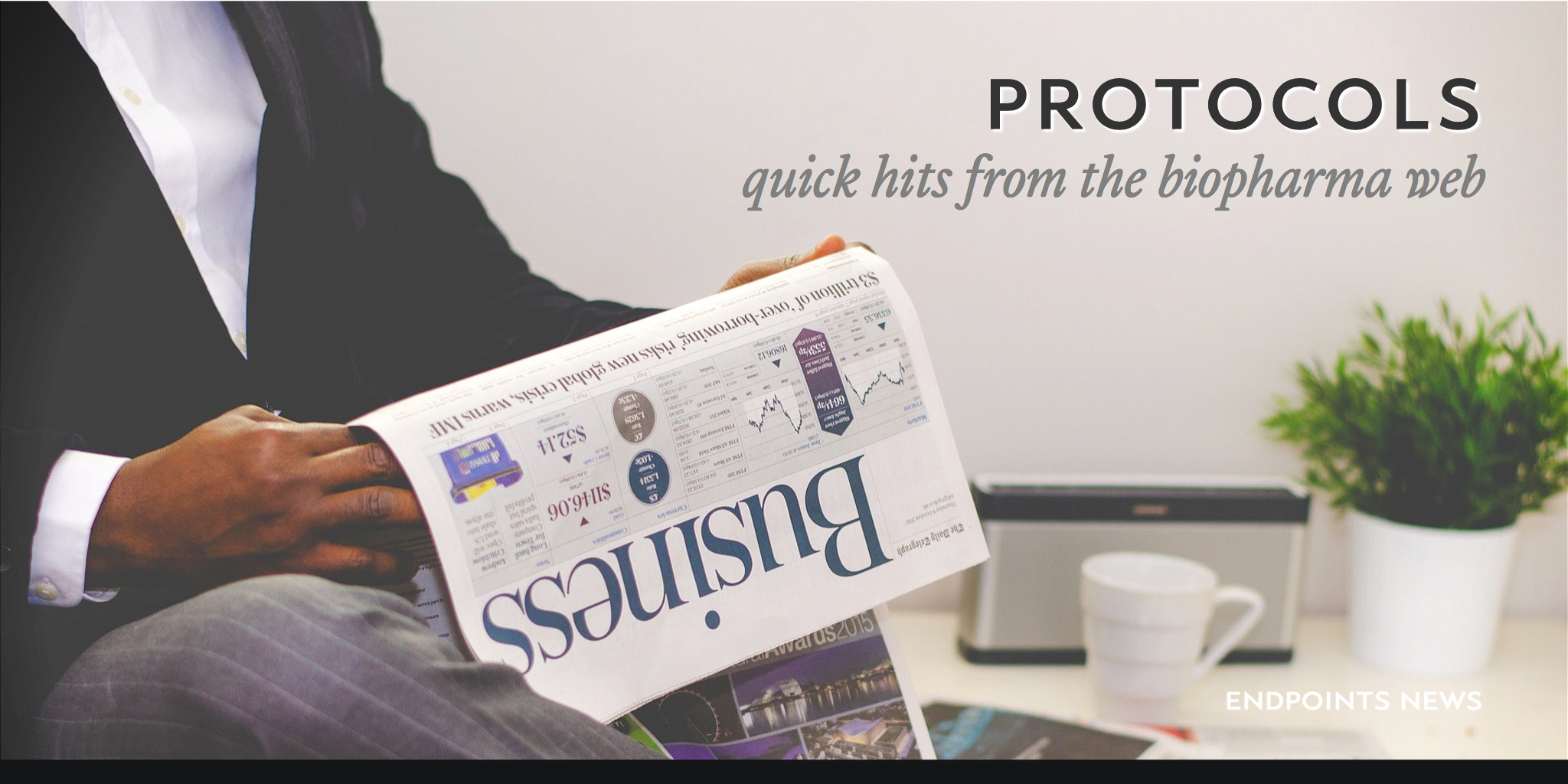 Fritz Ger­ber, who led Roche for 2 decades, dies; ADC Ther­a­peu­tics tries again for an IPO, sets terms
→ Fritz Ger­ber, the 92-year-old ex-Roche CEO who steered the com­pa­ny to a ma­jor­i­ty stake in Genen­tech, has died. Ger­ber was CEO from 1978 to 1998, and chair­man for a few years af­ter that. The com­pa­ny cred­its him with tak­ing a lead­ing role in ac­quir­ing a ma­jor­i­ty stake in Genen­tech, a foun­da­tion­al move that led to the full buy­out 11 years ago. Deals to ac­quire PCR tech­nol­o­gy and the takeover of Boehringer Mannheim al­so set up a big play in di­ag­nos­tics, where Roche is a world leader to­day.
→ Can ADC Ther­a­peu­tics pull off an IPO in the mid­dle of a pan­dem­ic, af­ter try­ing and fail­ing ear­li­er? We'll find out soon. The Eu­ro­pean biotech has set its range for an IPO at $16 to $18 a share, with plans to sell 7.3 mil­lion shares to in­vestors and up to $1.1 mil­lion shares to un­der­writ­ers. Al­to­geth­er they could reap as much as $151 mil­lion-plus, de­pend­ing on how it all shakes out. There has been a string of suc­cess­ful biotech IPOs since the pan­dem­ic hit hard in the US and Eu­rope, like­ly in­spir­ing a slate of com­pa­nies to brush off old fi­nanc­ing plans. ADC with­drew its IPO last fall, cit­ing "ad­verse mar­ket con­di­tions."
→ The Re­gen­eron Ge­net­ics Cen­ter has struck a deal to col­lab­o­rate with the Uni­ver­si­ty of Col­orado's Col­orado Cen­ter for Per­son­al­ized Med­i­cine. In the deal, Re­gen­eron will se­quence 450,000 DNA sam­ples and cor­re­spond­ing health records from de-iden­ti­fied pa­tients. Their work will help in­form trans­la­tion­al re­search projects as well as back bet­ter pre­scrib­ing rou­tines.
→ Is­raeli biotech Pro­tal­ix now has de­tailed late-stage da­ta to back up its pitch to mar­ket its en­zyme-re­place­ment ther­a­py for Fab­ry dis­ease. The BRIDGE study, a sin­gle-arm switch-over study eval­u­at­ing the safe­ty and ef­fi­ca­cy of the com­pa­ny's pe­gu­ni­gal­si­dase al­fa (or PRX-102) in up to 22 Fab­ry pa­tients pre­vi­ous­ly treat­ed with Take­da's agal­si­dase al­fa (Re­pla­gal), showed sub­stan­tial im­prove­ment in re­nal func­tion with the Pro­tal­ix drug. In pa­tients who switched from the Take­da ther­a­py to PRX-102 — the mean im­prove­ment was from ‑5.90 mL/min/1.73m2/year while on agal­si­dase al­fa to -1.19 mL/min/1.73m2/year on PRX-102 in all pa­tients.
Da­ta from with two oth­er Phase III stud­ies are still ex­pect­ed, but Pro­tal­ix and part­ner Chiesi are plan­ning to sub­mit an ap­pli­ca­tion to mar­ket PRX-102 un­der the ac­cel­er­at­ed ap­proval path­way, de­spite Covid-19 and oth­er in­ter­rup­tions.
→ New­port Beach, CA-based cell ther­a­py play­er jCyte has li­censed the ex-US rights for its lead pro­gram to Japan's San­ten for $50 mil­lion up­front. Dubbed Jcell, the prod­uct con­sists of al­lo­gene­ic hu­man reti­nal prog­en­i­tor cells to treat re­tini­tis pig­men­tosa, where gene mu­ta­tions lead to pro­gres­sive de­gen­er­a­tion of the reti­na. The US biotech can tap in­to a $12 mil­lion con­vert­ible debt and $190 mil­lion in mile­stones.