From part­ner to knight in shin­ing ar­mor: Cas­tle Creek to buy Fi­bro­cell
In April, Cas­tle Creek swooped in to part­ner with the em­bat­tled gene and cell ther­a­py Fi­bro­cell to shep­herd its lead gene ther­a­py for a type of "but­ter­fly" dis­ease in­to late-stage de­vel­op­ment. Now, the New Jer­sey-based der­ma­tol­ogy com­pa­ny is ac­quir­ing its part­ner in a deal worth $63.3 mil­lion.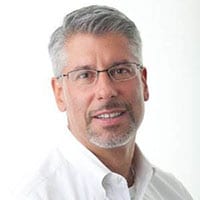 Cas­tle Creek CEO Greg Wu­jek
Penn­syl­va­nia-based Fi­bro­cell last year ini­ti­at­ed a re­view of strate­gic al­ter­na­tives, in­clud­ing a sale.
Its lead drug FCX-007 is en­gi­neered to treat the un­der­ly­ing cause of re­ces­sive dy­s­troph­ic epi­der­mol­y­sis bul­losa, which is caused by the de­fi­cien­cy of the pro­tein COL7. Cells are ex­tract­ed from the pa­tient, ge­net­i­cal­ly mod­i­fied, and then used to treat wounds by lo­cal in­jec­tion, avoid­ing sys­temic dis­tri­b­u­tion.
A late-stage study for FCX-007 was kicked off in Ju­ly, and if all goes well, a mar­ket­ing ap­pli­ca­tion for the treat­ment is ex­pect­ed to be sub­mit­ted in 2021, Fi­bro­cell said on Thurs­day. The com­pa­ny, which al­so counts In­trex­on $XON as a part­ner, has an ex­per­i­men­tal gene ther­a­py FCX-013 in ear­ly-stage de­vel­op­ment for mod­er­ate to se­vere lo­cal­ized scle­ro­der­ma.
Epi­der­mol­y­sis Bul­losa (EB) is a group of ge­net­ic skin con­di­tions that cause the skin to blis­ter and tear due to min­i­mal con­tact — in­fants born with the dis­ease are called 'but­ter­fly chil­dren' as their skin is con­sid­ered as frag­ile as a wing of a but­ter­fly.
Cas­tle Creek Phar­ma­ceu­ti­cals — one of for­mer Marathon chief Jeff Aronin's port­fo­lio com­pa­nies un­der his flag­ship in­vest­ment en­gine Paragon Bio­sciences — has its own EB drug in de­vel­op­ment: CCP-020 is a late-stage top­i­cal oint­ment un­der de­vel­op­ment for use in epi­der­mol­y­sis bul­losa sim­plex. The drug is a re­pur­posed an oral or­phan treat­ment called di­ac­ere­in, which is ap­proved to treat joint swelling or pain in the EU, but its use is re­strict­ed due to the risks of di­ar­rhea and liv­er prob­lems.
"Fol­low­ing our li­cens­ing agree­ment to de­vel­op and com­mer­cial­ize FCX-007, our ex­pe­ri­ence work­ing to­geth­er on rare der­ma­to­log­i­cal con­di­tions caused us to quick­ly re­al­ize that Cas­tle Creek and Fi­bro­cell could achieve even greater syn­er­gies by com­bin­ing the com­pa­nies in­to one," said Greg Wu­jek, CEO of Cas­tle Creek Phar­ma­ceu­ti­cals, in a state­ment.
Cas­tle Creek has agreed to pay $3 per Fi­bro­cell share $FC­SC, which is a near­ly 64% pre­mi­um to the com­pa­ny's Thurs­day clos­ing. The deal, in which Cas­tle Creek will ab­sorb Fi­bro­cell's debt, is ex­pect­ed to close by the fourth quar­ter.