GAO To Launch In­ves­ti­ga­tion Of FDA's Or­phan Drug Pro­gram
Act­ing on a re­quest from three in­flu­en­tial U.S. sen­a­tors, the gov­ern­ment's ac­count­abil­i­ty arm con­firmed that it will in­ves­ti­gate po­ten­tial abus­es of the Or­phan Drug Act.
The Gov­ern­ment Ac­count­abil­i­ty Of­fice still must de­ter­mine the full scope of what it will look in­to and the method­ol­o­gy to be used. De­ter­min­ing the scope will take some months, said Chuck Young, GAO's man­ag­ing di­rec­tor for pub­lic af­fairs.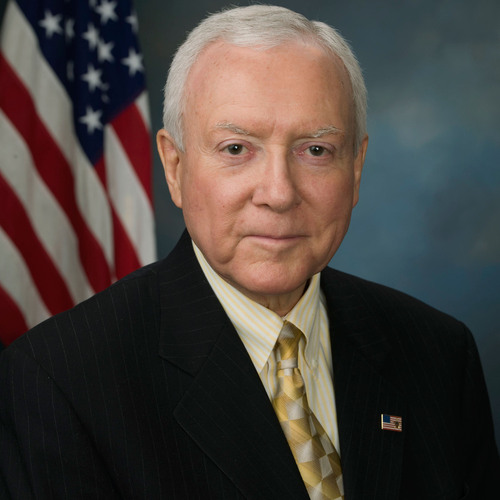 Sen­a­tor Or­rin Hatch
Ear­li­er this month, Sens. Or­rin Hatch (R-Utah), Chuck Grass­ley (R-Iowa) and Tom Cot­ton (R-Ark.) sent a let­ter to the GAO and raised the pos­si­bil­i­ty that reg­u­la­to­ry or leg­isla­tive changes might be need­ed "to pre­serve the in­tent of this vi­tal law" that gives drug­mak­ers lu­cra­tive in­cen­tives to de­vel­op drugs for rare dis­eases.
Grass­ley's of­fice said Tues­day they ex­pect­ed the GAO to be­gin its work in about nine months. The de­lay is typ­i­cal as the agency has a queue of re­quests it is pur­su­ing.
The sen­a­tors have asked the GAO to "in­ves­ti­gate whether the ODA is still in­cen­tiviz­ing prod­uct de­vel­op­ment for dis­eases with few­er than 200,000 af­fect­ed in­di­vid­u­als, as in­tend­ed."
Con­gress over­whelm­ing­ly passed the 1983 Or­phan Drug Act to mo­ti­vate phar­ma­ceu­ti­cal com­pa­nies to de­vel­op drugs for peo­ple whose rare dis­eases had been ig­nored. Drugs ap­proved as or­phans are grant­ed tax in­cen­tives and sev­en years of ex­clu­sive rights to mar­ket drugs that are need­ed by few­er than 200,000 pa­tients in the U.S.
In re­cent months, re­ports of five- and six-fig­ure an­nu­al price tags for or­phan drugs have am­pli­fied long-sim­mer­ing con­cerns about abuse of the law. The sen­a­tors' call for a GAO in­ves­ti­ga­tion re­flects that sen­ti­ment.
"While few will ar­gue against the im­por­tance of the de­vel­op­ment of these drugs, sev­er­al re­cent press re­ports sug­gest that some phar­ma­ceu­ti­cal man­u­fac­tur­ers might be tak­ing ad­van­tage of the mul­ti­ple des­ig­na­tion al­lowance in the or­phan drug ap­proval process," the let­ter states.
In Jan­u­ary, Kaiser Health News pub­lished an in­ves­ti­ga­tion that found the or­phan drug pro­gram is be­ing ma­nip­u­lat­ed by drug­mak­ers to max­i­mize prof­its and to pro­tect niche mar­kets for med­i­cines be­ing tak­en by mil­lions.
That in­ves­ti­ga­tion, which al­so was pub­lished and aired by NPR, found that many drugs that now have or­phan sta­tus aren't en­tire­ly new. More than 70 were drugs first ap­proved by the Food and Drug Ad­min­is­tra­tion for mass-mar­ket use. Those in­clude cho­les­terol block­buster Crestor, Abil­i­fy for psy­chi­atric dis­or­ders and the rheuma­toid arthri­tis drug Hu­mi­ra, the world's best-sell­ing drug.
Oth­ers are drugs that have re­ceived mul­ti­ple ex­clu­siv­i­ty pe­ri­ods for two or more rare con­di­tions.
The sen­a­tors asked the GAO for a list of drugs ap­proved or de­nied or­phan sta­tus by the FDA. It al­so asked if re­sources at the FDA, which over­sees the law, have "kept up with the num­ber of re­quests" from drug­mak­ers and whether there is con­sis­ten­cy in the de­part­ment's re­views.
And they said it would be im­por­tant to in­clude pa­tient ex­pe­ri­ences in the GAO re­view. The GAO does not pro­vide up­dates on on­go­ing work but rather re­ports its find­ings once they com­plete an as­sign­ment.
The rare-dis­ease drugs have be­come in­creas­ing­ly pop­u­lar with phar­ma­ceu­ti­cal and biotech com­pa­nies and are ex­pect­ed to com­prise 21.4 per­cent of world­wide pre­scrip­tion sales by 2022, not in­clud­ing gener­ics, ac­cord­ing to con­sult­ing firm Eval­u­atePhar­ma's 2017 or­phan drug re­port.
That's in part be­cause of the ex­or­bi­tant prices that can be charged. Of the top 100 drugs in the U.S., the av­er­age cost per pa­tient per year for an or­phan drug was $140,443 in 2016, com­pared with $27,756 for a non-or­phan, Eval­u­atePhar­ma said.
---
Orig­i­nal­ly pub­lished by Kaiser Health News. Kaiser Health News, a non­prof­it health news­room whose sto­ries ap­pear in news out­lets na­tion­wide, is an ed­i­to­ri­al­ly in­de­pen­dent part of the Kaiser Fam­i­ly Foun­da­tion.