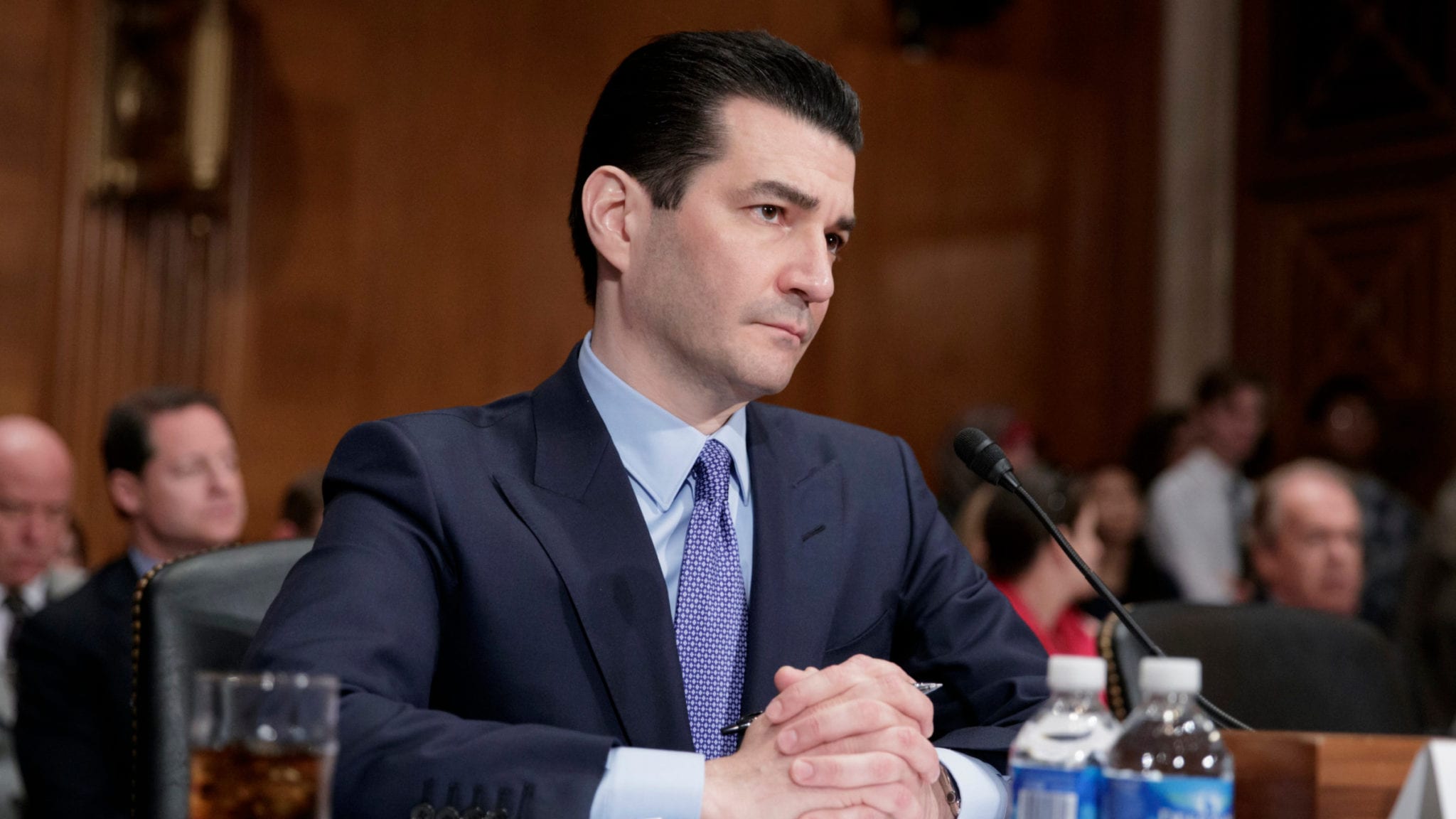 Former FDA commissioner Scott Gottlieb (AP Images)
Got­tlieb op-ed: Man­u­fac­tur­ers need to ramp up pro­duc­tion of an­ti­bod­ies as 'Covid in­sur­ance pol­i­cy'
Af­ter Pfiz­er and BioN­Tech scored the FDA's emer­gency use au­tho­riza­tion for their mR­NA-based Covid-19 shot late last week, hopes are high that one or more vac­cines could turn the tide on the pan­dem­ic. But vac­cines will take time to get in­to arms, and a for­mer FDA head is call­ing on drug­mak­ers to dou­ble down on mak­ing an­ti­body ther­a­pies as a "Covid in­sur­ance pol­i­cy" in the mean­time.
In a Wall Street Jour­nal col­umn penned less than 48 hours af­ter Pfiz­er-BioN­Tech's EUA, for­mer FDA com­mish Scott Got­tlieb opined that man­u­fac­tur­ers have not in­vest­ed enough re­sources in­to stock­pil­ing an­ti­body ther­a­pies — es­pe­cial­ly from Re­gen­eron and Eli Lil­ly, which have al­ready re­ceived EUAs of their own — as a cru­cial back­stop in the US pan­dem­ic re­sponse.
The so­lu­tion? Con­tact bio­phar­ma man­u­fac­tur­ing plants to switch gears and pro­duce large quan­ti­ties of the Re­gen­eron and Lil­ly drugs. This, Got­tlieb said, was al­ways the best op­tion in his mind to re­duce the im­pact of the virus while a vac­cine was slow­ly rolled out to the mass­es.
"Sup­ply is se­vere­ly con­strained, and the two avail­able drugs must be ra­tioned, some­what ar­bi­trar­i­ly, be­cause the gov­ern­ment didn't do every­thing pos­si­ble last spring to ramp up man­u­fac­tur­ing," Got­tlieb wrote. "There is still an op­por­tu­ni­ty to in­vest in mak­ing more an­ti­bod­ies … there will be many pa­tients who need these med­i­cines."
Got­tlieb laid out what would be a com­pli­cat­ed process for how the Re­gen­eron and Eli Lil­ly an­ti­body drugs could be pro­duced at a much greater scale than the 6 to 7 mil­lion dos­es avail­able next year. It would re­quire wide­spread li­cens­ing and tech trans­fer for both ther­a­pies but could help the US be bet­ter pre­pared for a harsh win­ter in 2021.
First, large man­u­fac­tur­ing plants can dip in to their re­serves of oth­er drugs al­ready on hand, which nor­mal­ly amounts to at least two years worth of sup­ply. This will avoid cre­at­ing a short­age of oth­er im­por­tant med­i­cines while the fa­cil­i­ties switch gears to pro­duc­ing Covid-19 an­ti­bod­ies.
While it would take around six months for a man­u­fac­tur­er to ful­ly switch mech­a­nisms to pro­duce the Re­gen­eron or Eli Lil­ly drug, do­ing so could pro­duce as many as 2.5 mil­lion dos­es in eight months, Got­tlieb said. The gov­ern­ment would then agree to buy the an­ti­body and stock­pile it at a worth­while price for the man­u­fac­tur­er, and Re­gen­eron or Eli Lil­ly would be paid to li­cense the drug.
The US gov­ern­ment would do well to in­vest in such a plan, Got­tlieb wrote, be­cause it could freeze some of the ac­tive phar­ma­ceu­ti­cal in­gre­di­ent and store it away as a hedge against an­oth­er tough win­ter. Mak­ing the ac­tive in­gre­di­ent is the hard part, Got­tlieb said, but that API could stay frozen for three years. Thaw­ing it and turn­ing it in­to fin­ished drug would take less than a month.
While a ver­sion of this plan has al­ready tak­en place to get to the cur­rent an­ti­body drug ca­pac­i­ty of 6 to 7 mil­lion dos­es — Am­gen teamed up with Eli Lil­ly, and Roche worked with Re­gen­eron — Got­tlieb said that much greater stock­piles will be need­ed over the com­ing months.
For a look at all End­points News coro­n­avirus sto­ries, check out our spe­cial news chan­nel.