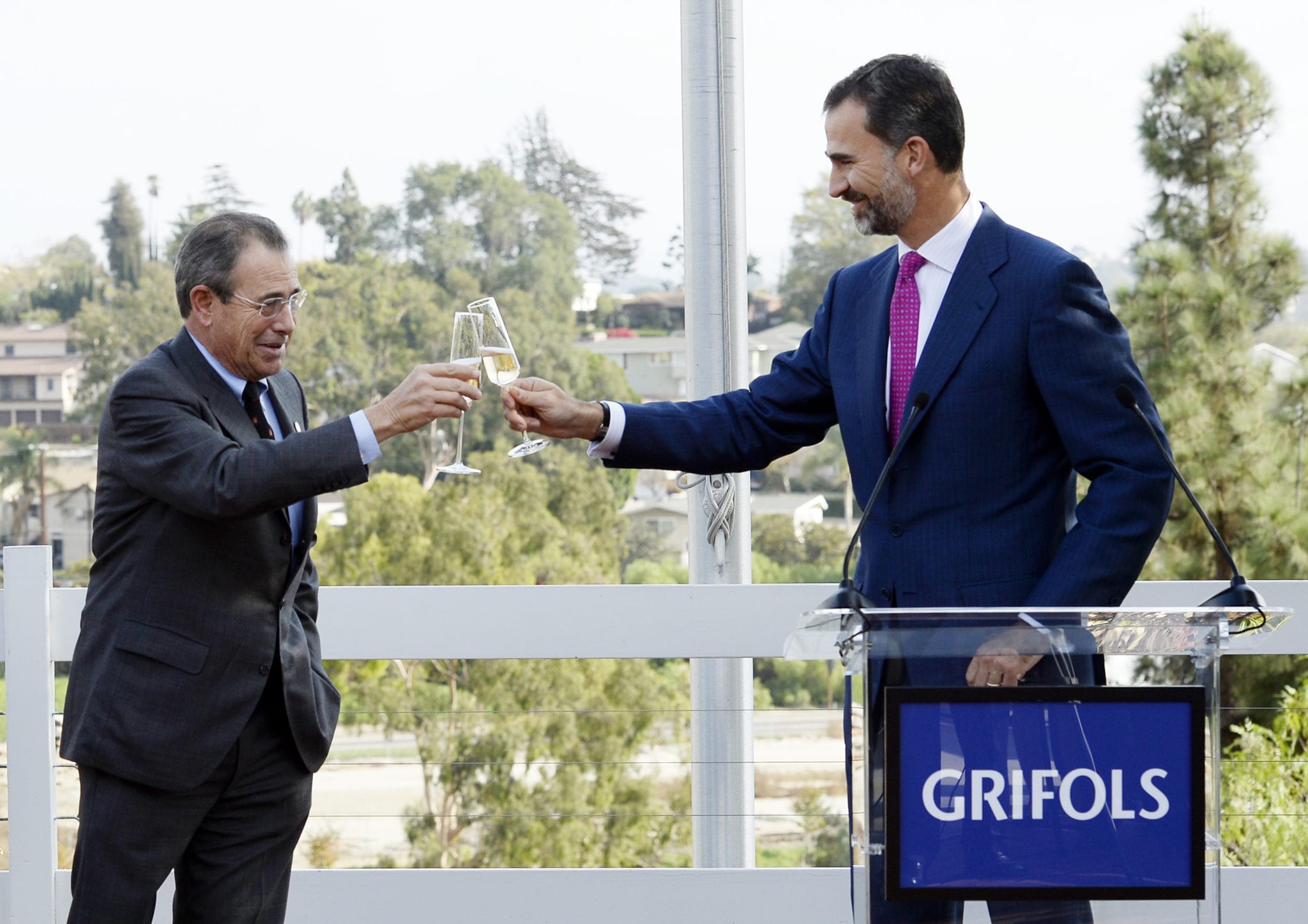 Then-Prince Felipe of Spain (R) toasts with Victor Grifols Roura (Photo by Kevork Djansezian/Getty Images)
Gri­fols makes a $146M bet on a Stan­ford play in a con­tro­ver­sial an­ti-ag­ing field
For the last cou­ple of years, when it came to the vague­ly vam­pir­ic field of young blood plas­ma trans­fu­sions, there was Alka­h­est and there was every­one else.
Since the field was briefly mocked on Sil­i­con Val­ley in 2017, one start­up charged $8,000 to $12,000 to pump the el­der­ly with the plas­ma of young donors and one doc­tor pitched his clin­i­cal tri­al in a glitzy West Palm Beach gala where he re­mind­ed re­tirees they were like­ly to die soon, prompt­ing FDA's chief Scott Got­tlieb to warn such treat­ments were "un­proven" and that "some pa­tients are be­ing preyed up­on by un­scrupu­lous ac­tors." But Alka­h­est, found­ed by a Genen­tech al­umn and a Stan­ford neu­ro­sci­en­tist, has promised to take a more mea­sured, sci­en­tif­ic ap­proach to the still-fringe sci­ence, run­ning phased clin­i­cal tri­als for their plas­ma-de­rived prod­ucts and couch­ing their press re­leas­es ac­cord­ing­ly.
Now, the plas­ma gi­ant Gri­fols is go­ing all-in on their work. On La­bor Day, the Span­ish com­pa­ny an­nounced they would buy out the re­main­ing shares of the start­up they didn't al­ready own, spend­ing $146 mil­lion for just over 50% of Alka­h­est's stock.
Gri­fols is a rough­ly $15 bil­lion com­pa­ny, so the buy­out is not ex­act­ly a huge out­lay for them. Nor is the near­ly $300 mil­lion mar­ket val­ue this deal places on Alka­h­est near­ly enough to rank them among the in­dus­try's most valu­able play­ers. Still, the ac­qui­si­tion rep­re­sents a ma­jor val­i­da­tion for a com­pa­ny and a young-blood field that has grown up large­ly on the fringes of the bio­med­ical main­stream. And it amounts to a step for­ward for the an­ti-ag­ing field more broad­ly, which has strug­gled to make gains de­spite sig­nif­i­cant big-name in­vest­ment over the last few years.
The new deal is about four times what Gri­fols paid for the first 45% of Alka­h­est's stock in 2015. The start­up has re­lied on Gri­fols to col­lect plas­ma for its prod­ucts.
"We saw the promise of Alka­h­est's un­der­stand­ing of ag­ing when we made our first in­vest­ment and en­tered in­to a col­lab­o­ra­tion agree­ment with them five years ago," Gri­fols CEO Víc­tor Grí­fols said in a state­ment. "Now we see a wealth of plas­ma-de­rived and non-plas­ma ther­a­peu­tic can­di­dates iden­ti­fied by Alka­h­est that can sig­nif­i­cant­ly sup­port the un­met needs of many dis­eases as­so­ci­at­ed with ag­ing."
Un­like, say, Am­brosia (the afore­men­tioned $8,000 in­fu­sion com­pa­ny), Alka­h­est doesn't give plas­ma di­rect­ly from young donors to the el­der­ly. In­stead, it has worked since 2014 on map­ping the pro­teins in plas­ma and dis­till­ing a cock­tail of rough­ly 400 dif­fer­ent types of pro­teins it be­lieves can make a dif­fer­ence in treat­ing Alzheimer's and oth­er CNS dis­or­ders. That's a ton of pro­teins com­pared to most bi­o­log­ics, which are made of 1, but it amounts to just 3% of what's in plas­ma. The Long Is­land Ice Tea of a lead drug is known as GRF-6019. The sci­ence is based on work from Stan­ford neu­ro­sci­en­tist Tony Wyss-Coray, which was spun out by for­mer Genen­tech sci­en­tist Karoly Nikolich.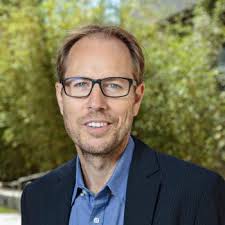 Tony Wyss-Coray
So far, ev­i­dence for ef­fec­tive­ness re­mains scant. Last year, the com­pa­ny said that, in a 47-per­son Phase II study, pa­tients with mild to mod­er­ate Alzheimer's main­tained their lev­el of cog­ni­tion for 6 months. But they still have yet to re­lease da­ta from that study and while this is cer­tain­ly a new ap­proach to the eva­sive dis­ease, many oth­er ther­a­pies have failed af­ter show­ing promise in ear­ly tri­als. Their Phase I study, pub­lished in JA­MA, showed lit­tle change in cog­ni­tive per­for­mance tests among 18 Alzheimer's pa­tients, al­though it was on­ly pow­ered for safe­ty.
Alka­h­est is al­so test­ing GRF-6019 in se­vere Alzheimer's pa­tients, an oft-over­looked pop­u­la­tion, and said re­cent­ly that it proved safe in a 26-per­son pi­lot study. They have stud­ies on­go­ing in Parkin­son's, age-re­lat­ed mac­u­lar de­gen­er­a­tion, and pa­tients with end-stage re­nal dis­ease and cog­ni­tive im­pair­ment.
Out­side of plas­ma, the com­pa­ny is al­so de­vel­op­ing an oral drug aimed at an­oth­er an­ti-ag­ing tar­get: Eo­tax­in. It's an im­munomod­u­la­to­ry pro­tein, they say, that in­creas­es with age. Alka­h­est is in Phase II stud­ies to see if block­ing it can curb Parkin­son's and AMD.