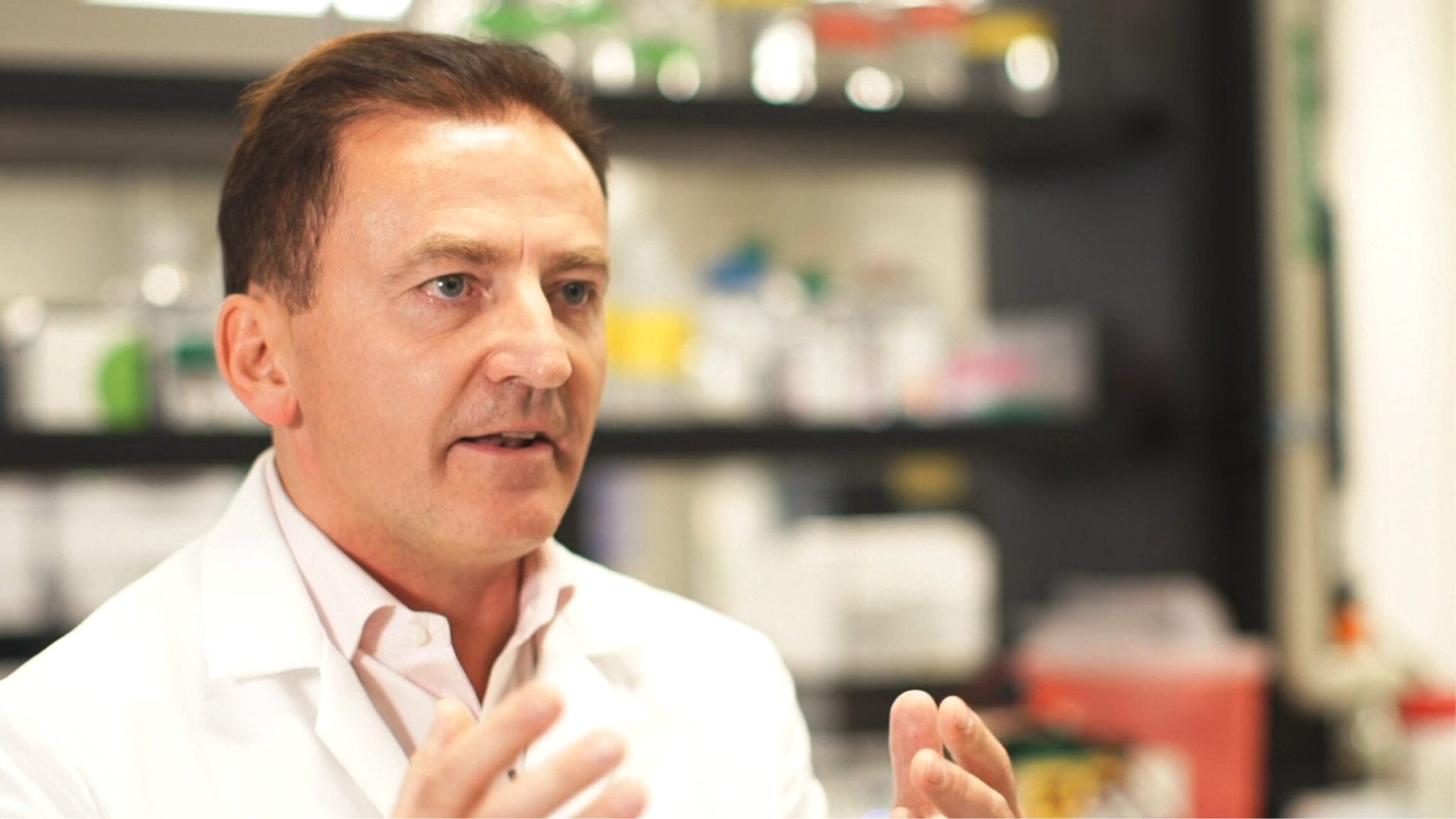 Andrew Allen, Gritstone CEO (Gritstone via website)
Grit­stone con­tin­ues Covid-19 push with deal to de­vel­op 'self-am­pli­fy­ing RNA' vac­cines, as shares con­tin­ue bal­loon­ing
Grit­stone On­col­o­gy has had a big week, and it's on­ly Wednes­day.
On Tues­day, the biotech re­vealed plans to start clin­i­cal test­ing of an ex­per­i­men­tal Covid-19 vac­cine — in tan­dem with NI­AID — that can al­so tar­get oth­er coro­n­avirus­es, with the goal of pre­vent­ing fu­ture pan­demics should SARS-CoV-2 prove dif­fi­cult to cure with cur­rent vac­cines. Then, on Wednes­day morn­ing, Grit­stone li­censed lipid nanopar­ti­cle tech­nol­o­gy from Genevant Sci­ences to de­vel­op what it's call­ing "self-am­pli­fy­ing RNA vac­cines" against Covid-19.
"As we con­tin­ue to see new strains of SARS-CoV-2 emerge, we iden­ti­fied an op­por­tu­ni­ty to ap­ply our key strengths to an in­no­v­a­tive COVID-19 vac­cine," Grit­stone CEO An­drew Allen said in a state­ment. "Specif­i­cal­ly, ex­tend­ing the anti­genic con­tent of a COVID-19 vac­cine be­yond Spike alone may open up a route to clin­i­cal pro­tec­tion even if Spike mu­ta­tions re­duce an­ti­body bind­ing."
Per the com­pa­ny's in­vestor pre­sen­ta­tion, the Genevant deal will pro­vide the foun­da­tion for the sec­ond part of the com­pa­ny's Covid-19 ap­proach, com­bin­ing RNA with ade­n­ovirus vac­cines. Grit­stone plans to give pa­tients one shot of each type of vac­cine se­quen­tial­ly, with the ade­n­ovirus shot first and the RNA-based shot sec­ond.
Should the Genevant pro­gram hit all of its mile­stones, Grit­stone would be on the hook for $192 mil­lion. Grit­stone is al­so pay­ing an undis­closed up­front pay­ment that ac­counts for part of that sum, and Genevant is el­i­gi­ble for roy­al­ties in the mid-sin­gle to mid-dou­ble dig­its.
Grit­stone was found­ed back in 2015 on the idea that tar­get­ing rare mu­ta­tions in can­cer can boost the ef­fi­ca­cy of check­point in­hibitors. The com­pa­ny has tak­en a neoanti­gen ap­proach to fight­ing can­cer, ze­ro­ing in on com­mon sol­id tu­mors like metasta­t­ic non-small cell lung can­cer and gas­troe­sophageal, blad­der and col­orec­tal can­cers since it sought its IPO in 2018.
But this week casts the spot­light on the biotech's Covid-19 ef­forts, one that has al­ready proved fi­nan­cial­ly fruit­ful for in­vestors. Shares rock­et­ed up rough­ly 250% in the wake of Tues­day's news, send­ing Grit­stone's $GRTS stock price north of $20 for the first time since De­cem­ber 2018. As the mar­ket opened Wednes­day, the stock con­tin­ued its as­cent by shoot­ing up an­oth­er 50% and hit a new all-time high.
Wednes­day's deal is an ex­ten­sion of Grit­stone's col­lab­o­ra­tion with Genevant signed back in 2017, though it won't pro­vide Grit­stone with ex­clu­sive ac­cess to the plat­form. The agree­ment was ex­pand­ed in Oc­to­ber as well to in­clude Genevant's plat­form in de­vel­op­ment for a can­cer in­di­ca­tion, with Grit­stone pay­ing up to $71 mil­lion.
For a look at all End­points News coro­n­avirus sto­ries, check out our spe­cial news chan­nel.