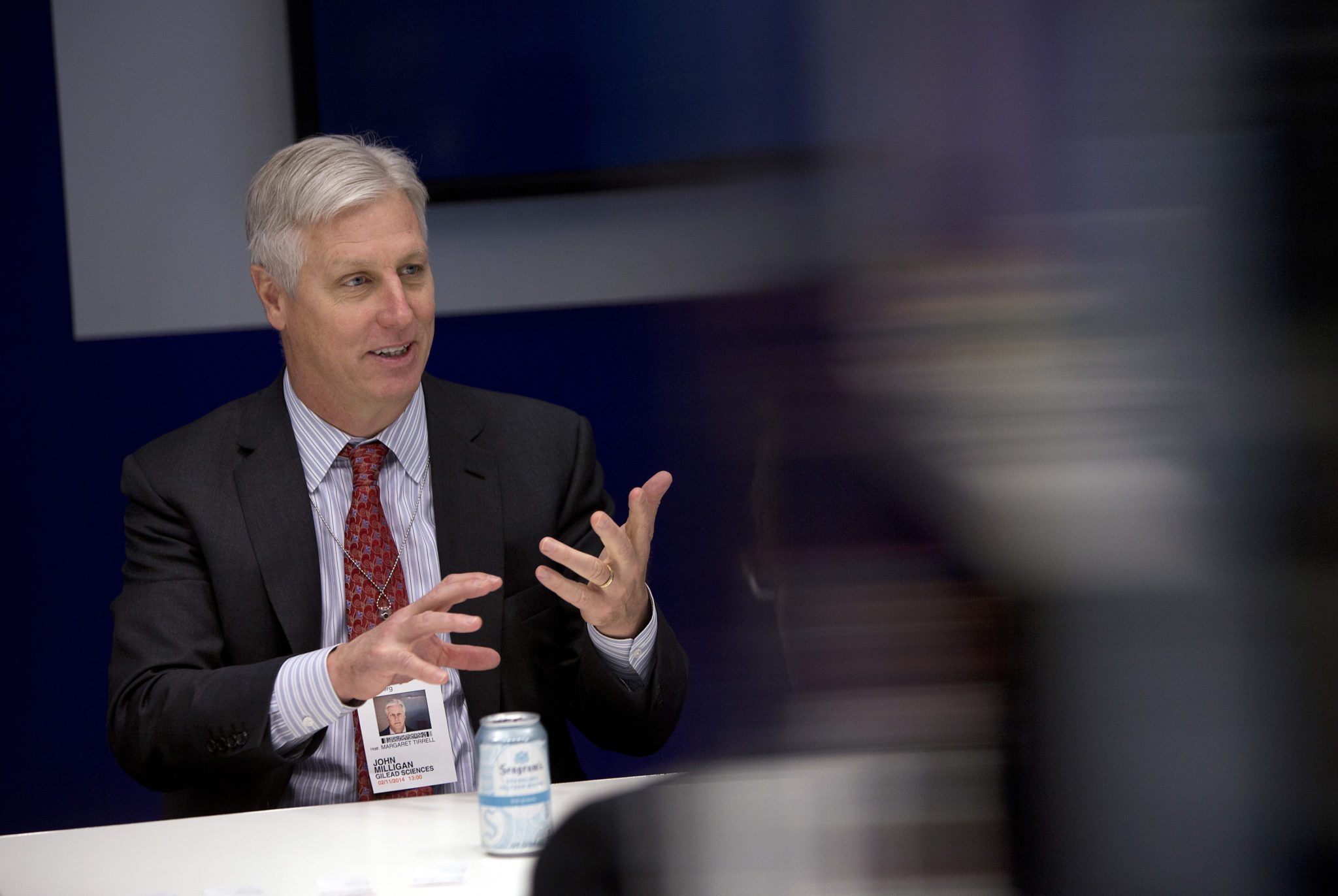 Help want­ed: New CEO to run Gilead as John Mil­li­gan steps down
Gilead $GILD CEO John Mil­li­gan is out.
In a com­plete­ly un­ex­pect­ed an­nounce­ment, the big biotech com­pa­ny re­port­ed right af­ter the mar­ket close Wednes­day evening that Mil­li­gan will re­main in his po­si­tion un­til the end of the year, as the board looks for his suc­ces­sor.
He's step­ping down, but Mil­li­gan clear­ly has an­oth­er ca­reer chap­ter in mind.
"It has been an hon­or to work at Gilead for my en­tire pro­fes­sion­al ca­reer and, now that the com­pa­ny is on sol­id foot­ing for the fu­ture, the Board and I have agreed it is a good time to turn the reins over to a new leader," said Mil­li­gan in a state­ment. "I'm look­ing for­ward to a well-de­served break and will then move on to new and dif­fer­ent op­por­tu­ni­ties."
Al­so out is Chair­man John Mar­tin, who pre­ced­ed Mil­li­gan at the helm. He plans to leave once the new CEO ar­rives.
The up­com­ing change at the top has big im­pli­ca­tions, notes Leerink's Ge­of­frey Porges, who's been watch­ing this com­pa­ny for years. His note:
These an­nounce­ments come as a sur­prise to in­vestors giv­en Dr. Mil­li­gan's 28-year ca­reer at Gilead and his rel­a­tive­ly short 2-year stint in the long-await­ed CEO po­si­tion, and no in­ter­nal suc­ces­sor has been iden­ti­fied. These an­nounce­ments clear­ly sig­nal a de­ci­sion by the com­pa­ny's board to "go in a dif­fer­ent di­rec­tion" and while we don't be­lieve the or­der­ly de­par­tures sug­gest any im­me­di­ate is­sue, the ba­sis for these changes and their im­pli­ca­tions are like­ly to dom­i­nate in­vestor con­ver­sa­tions about the com­pa­ny for sev­er­al months. In­vestor chat­ter is like­ly to switch from "what's Gilead go­ing to buy" to "who's Gilead go­ing to hire," and giv­en the com­pa­ny's mixed hir­ing record, the ap­pointee may not nec­es­sar­i­ly be an in­di­vid­ual with im­me­di­ate in­dus­try or in­vestor cred­i­bil­i­ty. Cer­tain­ly these tran­si­tions con­firm our view that de­spite the ob­vi­ous need for sig­nif­i­cant new pipeline and prod­uct op­por­tu­ni­ties, Gilead won't be mak­ing any ma­jor strate­gic moves for po­ten­tial­ly a year or more.
To­geth­er, Mar­tin and Mil­li­gan made biotech his­to­ry at Gilead. They led the team that pro­vid­ed a pain­less cure for he­pati­tis C, cre­at­ing a huge, if tem­po­rary, mega-mar­ket to prof­it from. And they con­tin­ued to dom­i­nate the HIV space, of­fer­ing new block­buster com­bi­na­tion drugs that re­main the stan­dard ther­a­py in the field over ca­reers that spanned decades.
Faced with the de­cline of the hep C fran­chise, Mil­li­gan ag­gres­sive­ly snapped up Kite to be­come a leader in CAR-T, buy­ing new tech­nolo­gies along the way.
Mar­tin and Mil­li­gan al­so en­dured end­less crit­i­cism for their ag­gres­sive pric­ing strat­e­gy, par­tic­u­lar­ly when they priced their he­pati­tis C drug at $84,000, trig­ger­ing out­rage from Wash­ing­ton DC to the Bay Area. That con­tro­ver­sy nev­er re­al­ly died out, leav­ing the in­dus­try with the worst rep it's ever had.
They'll be missed by in­vestors, but not by every­one.