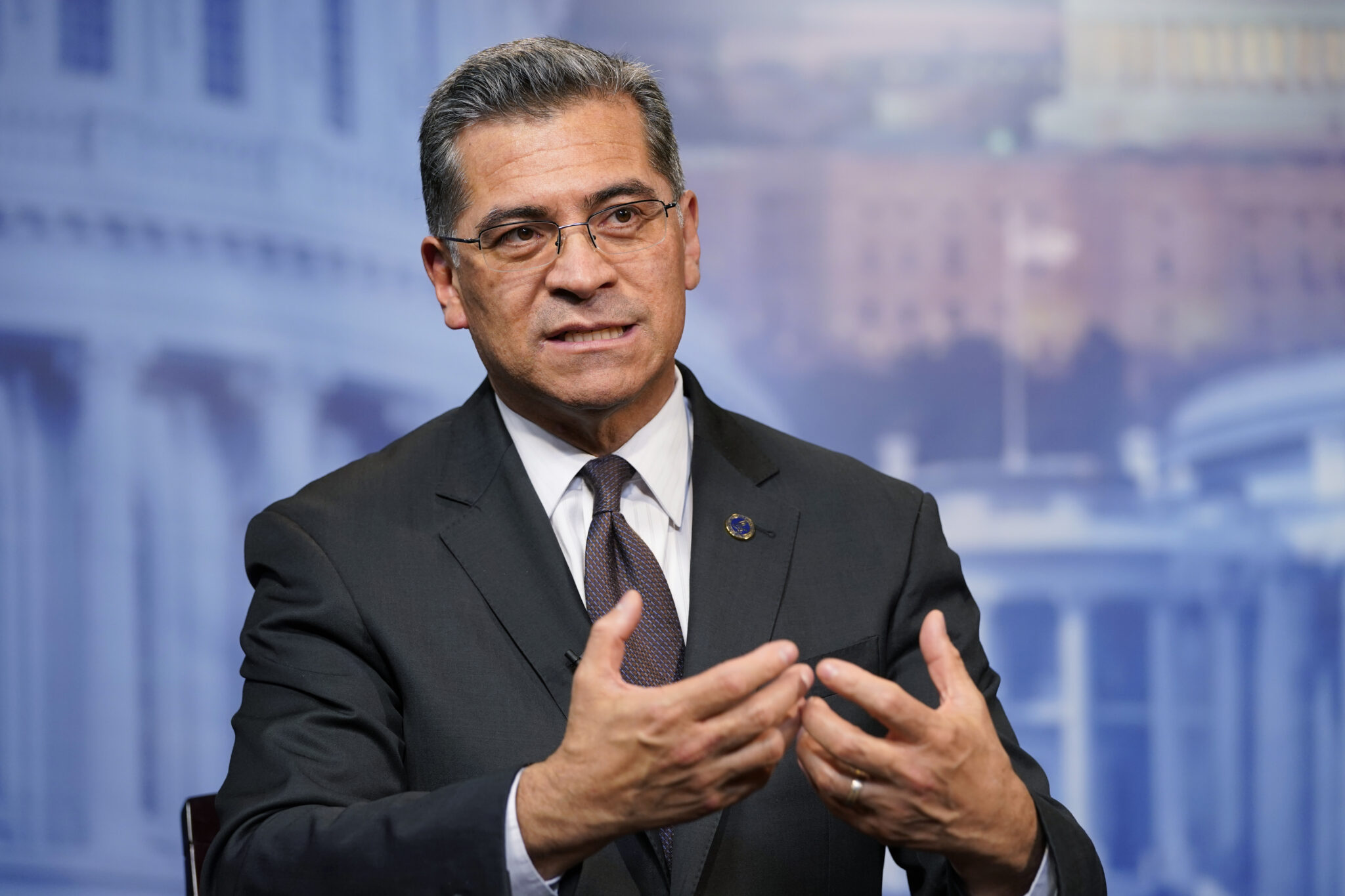 HHS Secretary Xavier Becerra (Jacquelyn Martin/AP Images)
HHS fin­ish­es off Trump-era rule that would've erased ba­sic FDA regs with­out fre­quent re­views
HHS on Thurs­day fi­nal­ized its de­ci­sion to with­draw a rule, pro­posed just be­fore for­mer Pres­i­dent Don­ald Trump left of­fice, that would've caused thou­sands of HHS and FDA reg­u­la­tions to au­to­mat­i­cal­ly ex­pire if they weren't re­viewed with­in two years, and every 10 years there­after.
The de­ci­sion fol­lows the fil­ing of a law­suit last March, in which sev­er­al non­prof­its al­leged that the out­go­ing ad­min­is­tra­tion plant­ed "a tick­ing time­bomb" for HHS, es­sen­tial­ly forc­ing it to de­vote an enor­mous amount of re­sources to the un­prece­dent­ed and in­fea­si­ble task of re­view­ing thou­sands of reg­u­la­tions reg­u­lar­ly.
"The SUN­SET fi­nal rule, if im­ple­ment­ed, would have sig­nif­i­cant­ly al­tered the op­er­a­tions of HHS with con­sid­er­able neg­a­tive reper­cus­sions for a di­verse ar­ray of stake­hold­ers," the fi­nal with­draw­al post­ing on Thurs­day said. "We now con­clude that these sig­nif­i­cant reper­cus­sions were not ad­e­quate­ly con­sid­ered in is­su­ing the SUN­SET fi­nal rule in part be­cause the process to pro­mul­gate the rule was ex­treme­ly un­usu­al, if not un­prece­dent­ed."
As far as the on­go­ing lit­i­ga­tion, HHS added, "At the par­ties' joint re­quest, the San­ta Clara lit­i­ga­tion has thus far been stayed."
Had this with­draw­al of the SUN­SET rule not gone through, the FDA, ac­cord­ing to HHS, would have faced the mas­sive task of re­view­ing over 7,000 sec­tions of the CFR that were pro­mul­gat­ed by the agency and which are more than 10 years old or would be­come more than 10 years old dur­ing the first five years the rule would be in ef­fect, rep­re­sent­ing over 95% of the FDA's cur­rent reg­u­la­tions.
And the fi­nal rule pro­vides no ex­cep­tions to avert the ex­pi­ra­tion of a reg­u­la­tion if it's not re­viewed, even in the event of a pan­dem­ic, a pub­lic health emer­gency, or an­oth­er de­clared na­tion­al emer­gency.
FDA and HHS al­so ex­plain how they reg­u­lar­ly re­view their reg­u­la­tions, par­tic­u­lar­ly for FDA in re­sponse to cer­tain cit­i­zen pe­ti­tions.
"It should be not­ed at the out­set that HHS rec­og­nizes the im­por­tance of ret­ro­spec­tive re­view, al­ready con­ducts ret­ro­spec­tive re­views, and in­tends to con­tin­ue to con­sid­er how to im­prove these ex­ist­ing process­es," the de­part­ment said in the Fed­er­al Reg­is­ter on Thurs­day.
The FDA al­so main­tains a web­site con­tain­ing its eco­nom­ic im­pact analy­ses of FDA reg­u­la­tions, with links to at least 170 reg­u­la­to­ry im­pact analy­ses the agency has de­vel­oped since 2012.
And the SUN­SET rule would've been tough on the en­ti­ties cov­ered by the reg­u­la­tions too, the with­draw­al no­tice from HHS says.
"For ex­am­ple, one com­menter ex­pressed con­cern that if the SUN­SET fi­nal rule is not with­drawn, their ad­vo­ca­cy or­ga­ni­za­tion would need to redi­rect re­sources to mon­i­tor the sta­tus of the ap­prox­i­mate­ly 2,000 FDA reg­u­la­tions and then, if need­ed, in­vest at least 40 to 100 hours per rule to pro­vide com­ments," HHS said. "The ac­tu­al ex­pi­ra­tion of reg­u­la­tions could lead to con­fu­sion among stake­hold­ers and un­der­mine pre­dictabil­i­ty and con­fi­dence in many sec­tors reg­u­lat­ed by the De­part­ment."